Going beyond a motivational or reward activity, Kahoot! is now used by many teachers to "shake up" usual assignments, instruct remotely, support exam prep, present content in a more engaging way, deepen understanding, increase class participation and improve how much information students actually remember. By combining slides with quiz and poll questions in a kahoot, you can provide additional explanation and context to a topic or a new piece of material.
To enhance Kahoot! as a teaching tool and let you use it to run full interactive lessons, we're launching Kahoot! Premium+, our new, most advanced offering for teachers. Watch this tutorial to see how you can create interactive lessons and read on to discover how Kahoot! Premium+ empowers teaching in class and via distance learning.
Save time and reuse content by importing slides
Have a good presentation that is a perfect fit for your next lesson? In Kahoot! Premium+, you can easily import slides created in PowerPoint, Keynote, Google Slides, or from a PDF file straight into your kahoots.
The ability to import slides will let you reuse existing learning content, power up review, save time on preparing your lesson, and combine instruction with interactive questions without having to switch between various tools.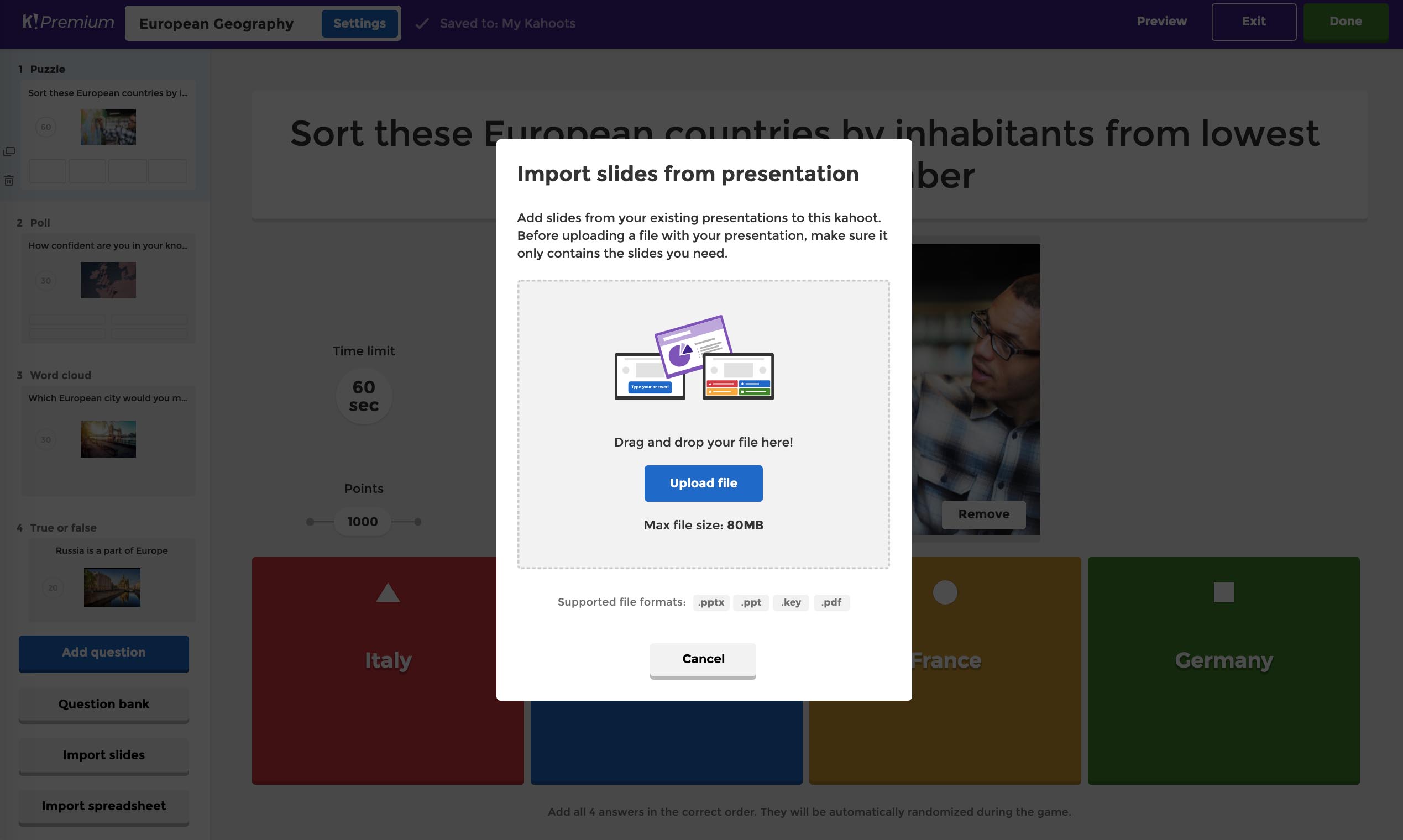 Run interactive lessons by combining slides with questions
In Kahoot! Premium+, you can decide on the optimal mix of slides and interactive kahoot questions depending on the topic, goals of your lesson, format of instruction, complexity of content, and your students' learning needs. Based on teacher feedback, there are no limitations on how many consecutive slides you can add to your kahoot. This affects both slides you create manually within Kahoot! and slides you import from existing presentations.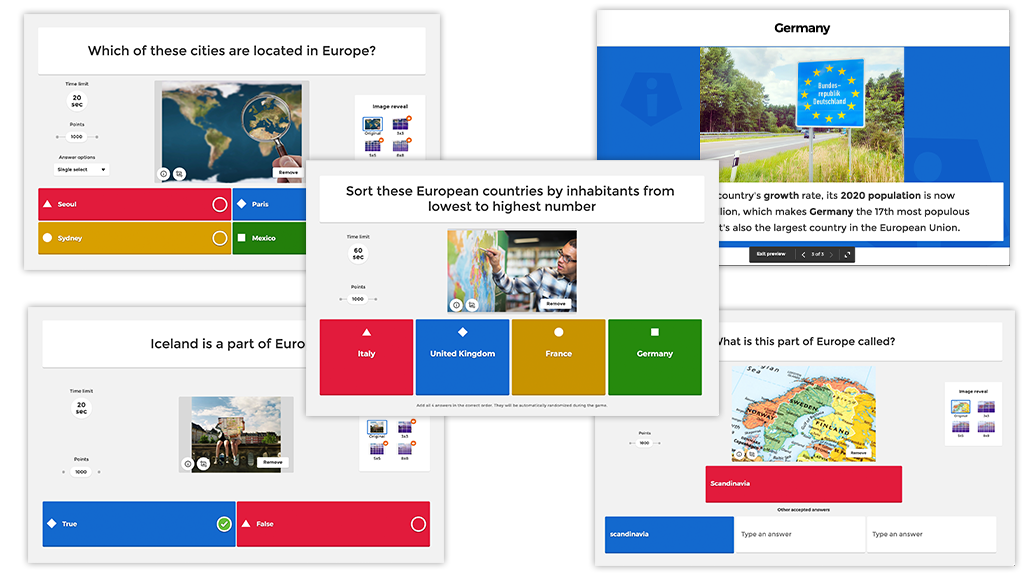 Coming soon: assess learning progress over time
Advanced analytics will help you easily identify knowledge gaps, level up formative assessment, maintain the learning pulse of your class and personalize instruction for students who may require follow up. We're working on adding the ability to combine reports from several live kahoots or student-paced challenges within Kahoot! Premium+ in order to assess student progress over time.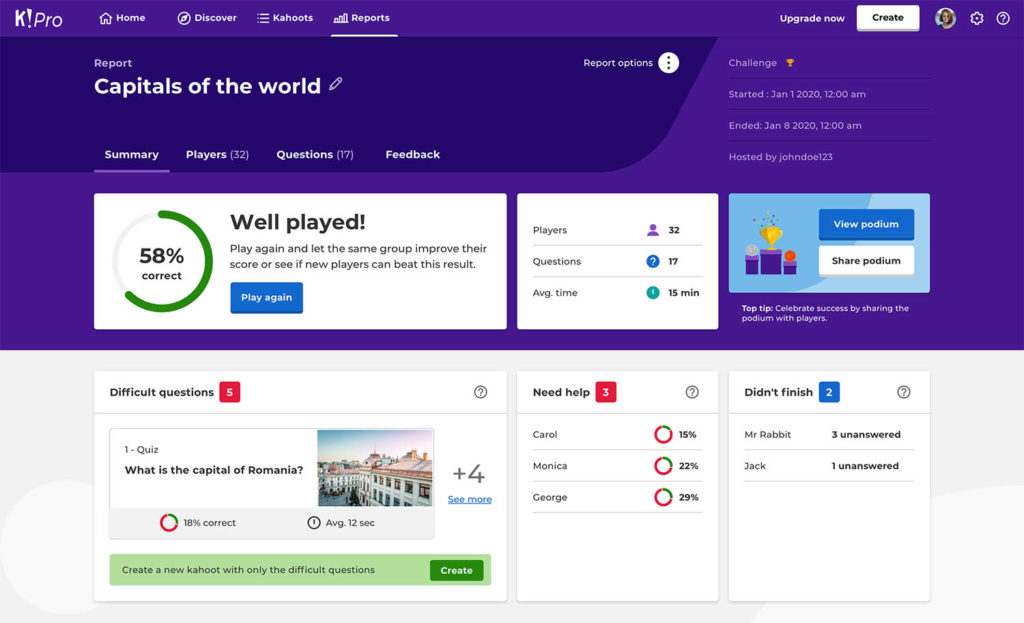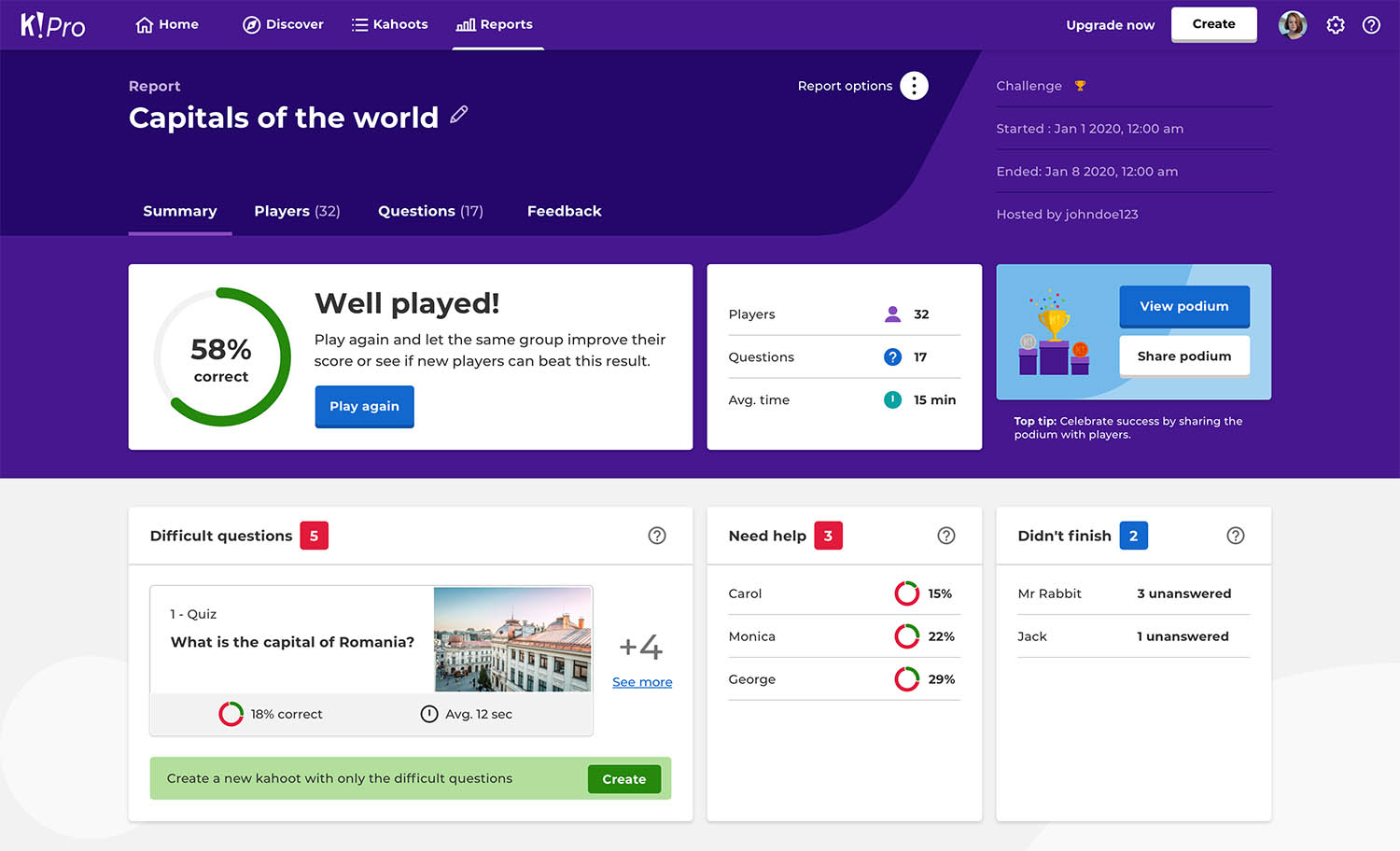 Coming soon: create lesson plans and courses
We're working on new capabilities for creating lesson plans and courses in Kahoot! Premium+ to enhance Kahoot! as a robust teaching tool your entire school can use. You'll be able to combine several interactive lessons into a course, as well as maintain and share instruction manuals for Kahoot!-based lessons with other teachers.
Custom edition for schools, districts and higher education institutions: empower teachers and collaborate at scale with a site license
Are you a school, district or IT admin? Empower your teachers to create interactive lessons, boost student engagement and collaborate at scale with Kahoot! Premium+ school and district or campus editions. In addition to all powerful features of Kahoot! Premium+ for teachers, this plan features advanced capabilities for content sharing, control and collaboration:
Equip teachers to create and teach interactive lessons in- and outside the classroom
Oversee a collection of kahoots that every teacher within your school or district can access
Provide multiple admins with greater granular control over access and content sharing including reports on usage
Add school branding to all kahoots to boost community spirit and promote the school brand
Integrate with learning management systems (coming soon)
If several teachers within your school are already using Kahoot!, you can seamlessly upgrade and connect them with Kahoot! Premium+.
Take teaching and assessment to a new level with Kahoot! Premium+! Get a detailed overview of these new plans and reach out to us if you're interested in a site license.