How East Meadow School District went from pilot program to full-scale adoption with Kahoot! EDU
Learn how Kahoot! EDU helped East Meadow bridge the EdTech gap between COVID necessity and long-term classroom teaching tools
Key Takeaways
Start simple. Try Friday fun kahoots to review that week's lesson content while having fun with your students. Create your own or search for the topic on our discover page!
Work together. Share kahoots and collaborate with teacher groups. You can create folders by subject and grade level to make finding the right content quick and easy!
Check the reports. After playing a kahoot you can immediately see which questions students answered correctly and which ones they struggled with to target your teaching.
Let the students lead. With student-led game modes and question types like brainstorm, word cloud, and open-ended questions, you can give every student in the class a voice!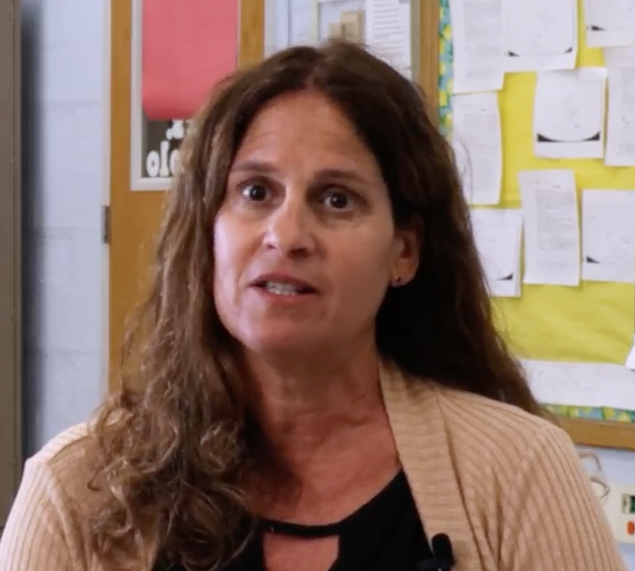 Maria Bradley
Technology Specialist and Staff DeveloperEast Meadow Union Free School District
About our Kahoot! hero
Maria Bradley is East Meadow's resident early adopter. Supporting all of East Meadow's schools from elementary through to high school, Maria is responsible for introducing and supporting teachers in the district with new technology like Kahoot!
[Kahoot!] is a tool that, aside from the fact that the kids love it, which is very important, from a teacher's perspective, it's very intuitive and easy to use.
About
Serving the communities of East Meadow and Westbury, New York, the East Meadow Union Free School District is home to over 7,400 students. It is made up of 5 elementary schools, 2 middle schools, and 2 high schools. Teachers across East Meadow, including 5th and 6th grade, Special Education, English Language, French, and Technology teachers, have all shared their unique experiences and successes using Kahoot! in their classrooms!
Story
From pilot program to COVID relief
Starting with pilot programs, pre-pandemic, Maria was already getting East Meadow teachers to use Kahoot! as a part of their lessons. In the beginning, while devices were still shared, the focus was mostly on simple review and Friday fun kahoots. However, as more and more teachers heard that catchy Kahoot! Music echoing down the hallways, there was more of an interest to see what Kahoot! was all about. At this point, the covid pandemic began, and Kahoot! went from a fun new way of learning to a near necessity during remote learning classes. Luckily the Kahoot! EDU COVID trial was an experience that gave East Meadow teachers a taste of the possibilities and made them and their students want more!
"During 2020 and 2021, we were remote and then we were hybrid, so we had to use technology in the classroom. Now that we got through [the pandemic], we invested in all of these technologies. A lot of [teachers] were introduced to them because of the pandemic, and [Kahoot!] gave us tools for free to support that effort and [the teachers] got a taste of it. So now I've picked the ones that I think will suit their needs best [like Kahoot!]." – Maria Bradley
Fostering a community of collaboration to encourage teacher adoption
Once schools started going back to classrooms, Maria was very active in suggesting the ways in which East Meadow could continue to innovate their teaching practices with the technology learned throughout the pandemic. To Maria, this wasn't merely a solution to bridge the gap but one that could elevate the learning experience for all students! 
Her biggest challenge? Teacher buy-in. Not all teachers were fully comfortable with the technology introduced during the pandemic, understandably. This is where, with Maria's help, Kahoot! comes in! Maria showed the teachers how much easier Kahoot! EDU can make the teaching experience with ready-made kahoots and collaborative groups that allow teachers to save time and work together efficiently to ensure there is always valuable learning content available for any subject and grade level! Maria hosted sessions where teachers would come together and curate kahoots into folders, assembling a combination of kahoots created by East Meadow teachers and ready-made kahoots that fit with their curriculum. Teachers realized that they could even edit ready-made kahoots to fit with their own classroom lingo!
Kahoot! is a great tool for you to use as you want to use it. It's adaptable to whatever you need. If you want to make it a game, if you want to make it a learning tool, if you want to make it a team [activity] or individual [activity] it's very user-friendly. You can [create] your own questions, or search something up, and then you can edit it. Adding questions, deleting questions, and making it your own!
Digging deeper with diverse learning and targeted instruction
The key for Maria when really digging into educational technology is putting everything into context. Technology has to make both the teaching and learning experience better, not just easier. So, when it came to understanding how Kahoot! could be a regular part of the teaching process, Maria showed teachers how to use the advanced reports that Kahoot! offers to see what topic areas their students already have a good understanding of and what needs more work. To go even further, she demonstrated how Kahoot! can show each student's difficult questions to create individualized learning experiences by assigning students unique lesson content based on their needs. When East Meadow teachers saw how they were able to target their instruction, Kahoot! became a regular part of their curriculum.
"I think you've got amazing reporting where you can [understand how] everyone did. But then [you can also see] individual questions, which I think is huge because you can see the questions that people are struggling with and tailor your lessons that way. I have to look at it and take a different approach." – MB
Giving students a voice with Kahoot!'s student-led learning tools
Now, with school-wide adoption, Maria and the teachers she is supporting started to notice a change in their students' behavior. Even the shy or quiet students are actively giving feedback through the kahoot, making their way to the top of the leaderboard, and being called out and included in a way they might not otherwise have been! Maria says that this is especially important for the students who are a part of East Meadow's special education classes where it can really level the playing field and help them focus more. Many students at East Meadow get so excited about using Kahoot! that they're even creating their own kahoots to study or share with their class.
"All students learn differently and I think this levels the playing field a little bit. So if I'm [a student] who is shy and I'm not going to raise my hand all the time, I'll be inclined to [use] Kahoot!. And you'll see the [students] going to the top [of the podium] and just being kind of mellow about it. But that's one thing that Kahoot! does. It gives a voice to people who wouldn't necessarily have a voice on their own or need that support. Even for my kids who are on the spectrum, this might make them focus a little bit more. So they're all having fun and they're learning at the same time." – MB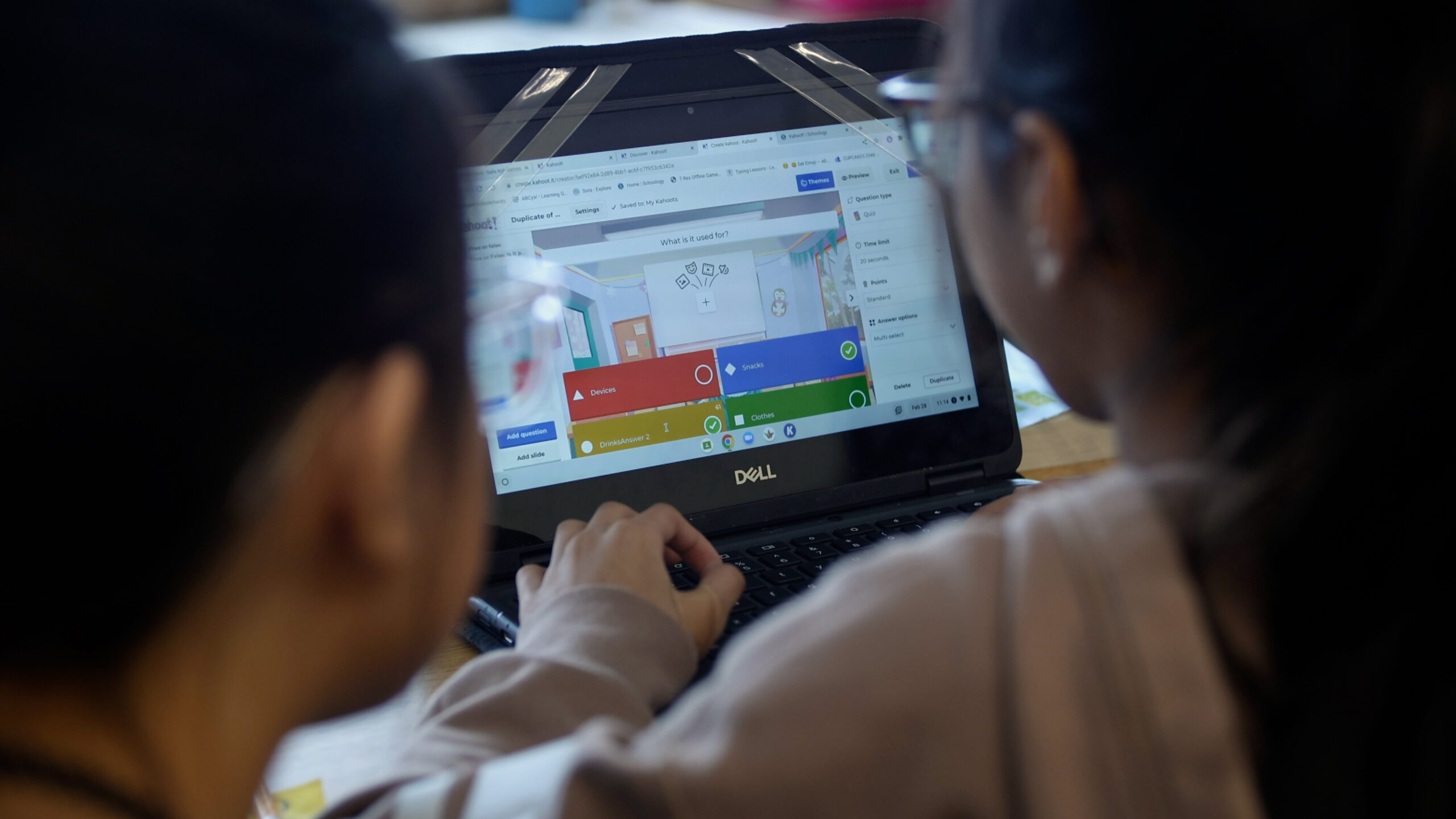 It engages students, it keeps them on task, it's a great way for them to study, or even create their own kahoots. We have a lot of students who create their own kahoots as a review after a unit or even to study for an exam that's coming up. So it's great that it's not just a teacher-led platform but it can be a student-led platform as well.
Introducing new ways to play with student-led game modes 
More recently, East Meadow schools had the opportunity to try Kahoot!'s new student-led game modes. With a game mode for every mood, teachers are able to get the class excited when energy may be lacking with Color Kingdoms or Submarine Squad, and quiet the classroom down with Chill Art. Maria says that the teachers are loving having new ways to play kahoots to keep the gameplay fresh in class and are seeing real value in the randomized and repeated questions. 
"Now as we start using these new game-based modes, they're just having a lot of fun. The teachers are saying, "Oh, this is a new way to use it," and that they love that the questions repeat themselves. So the kids, even if they didn't get it, they remember the answer." – MB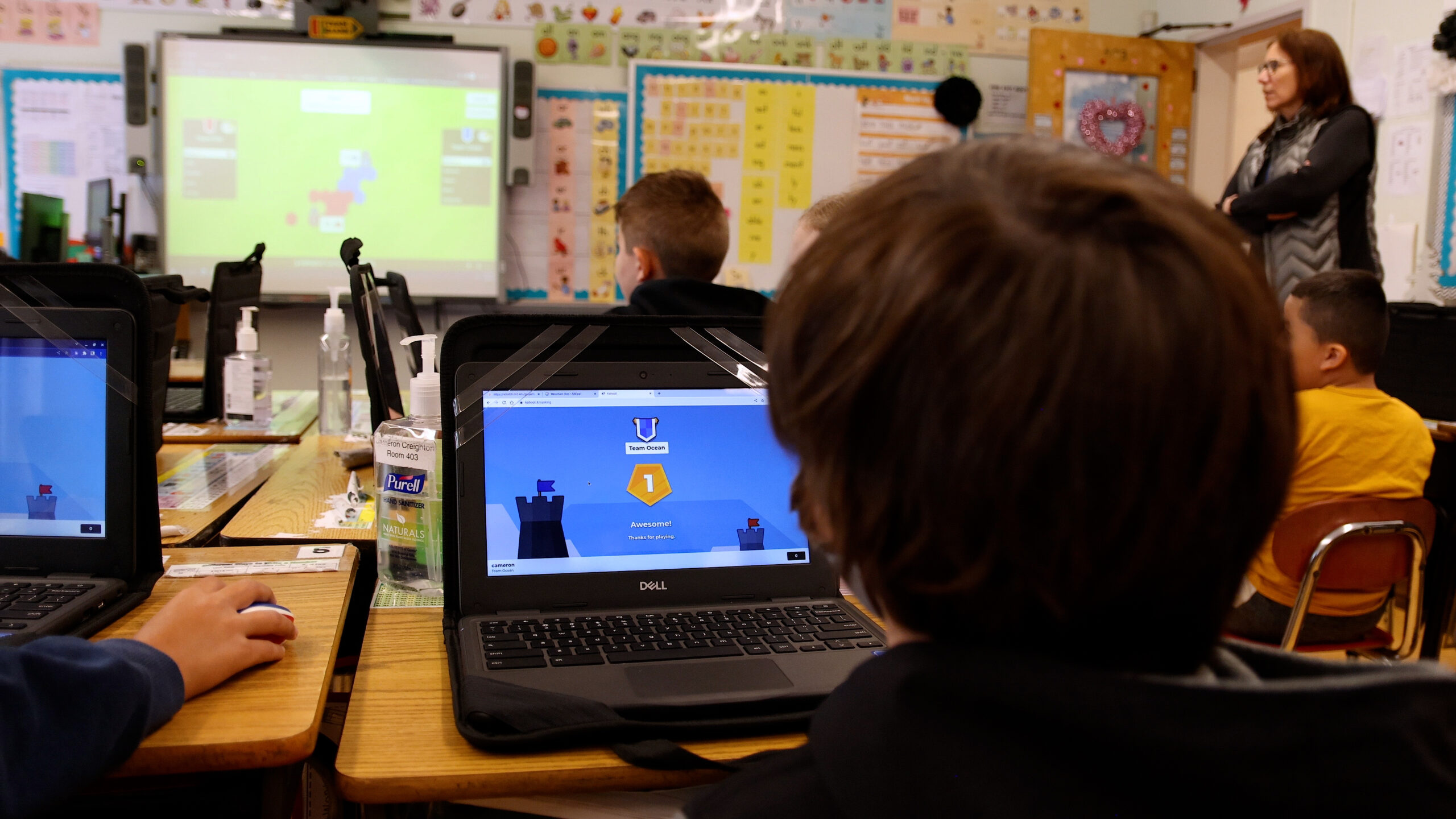 Kahoot! [game modes are] wonderful for every learner. I love the fact that it repeats information over and over again so that students with disabilities are able to reinforce their learning because they need constant repetition.
An intuitive learning platform for every school district
Maria is continuously supporting the teachers at East Meadow with new ideas and new ways to use Kahoot! in their classroom, but since introducing Kahoot! each of the teachers has found ways to make it their own. Tailoring their teaching to the unique needs of every student in the school, and finding new ways to use Kahoot!.
"I think Kahoot! is very intuitive. I think it's easy to adapt into any lesson plan. It's an engaging, easy-to-use tool so it makes my job easier because I'm pushing out a tool that I believe in. In my role, I try to figure it out first for [the teachers] and when there are tools that are seamless for them to use in their classroom and integrate, it's a no brainer and the kids love it so it's a win-win" – MB
Having premium full access to Kahoot! is a major game changer. I feel like there are no limits to what you can do or how much you can do which is great because I don't have to feel like I'm only limited to what I'm looking for, or what I can do. It's great for the kids cause they really have a lot more options.
Does your school or school district have a Kahoot! success story that you want to share! We love hearing how schools and teachers are using Kahoot! In their classrooms to elevate the learning experience for their students. Reach out to us on Twitter, Facebook, Instagram, LinkedIn, and TikTok, or send us an email at press@kahoot.com to share your story!
Are you a teacher, business or parent affected by COVID-19?
Teachers
Discover how Kahoot! makes distance and blended learning awesome!
Business
See how e-learning and virtual training tools can help your organization.
Home
Learn how our apps and games can make learning from home fun and engaging.