Corporate training is one of the most popular scenarios for Kahoot!'ing in the workplace. Training in sales, new products, customer service – you name it! Even the most complex topics become more engaging as everyone gets in the competitive spirit.
Fairtrade has another interesting Kahoot! use case in training. They play to keep the entire team up to date with all policies which is vital for their operations. And they're having FUN! Meet Chris Shelly, Executive Manager – Operations & Finance at Fairtrade Australia and New Zealand, who shares the company's best practices.
When shopping for tea, coffee, chocolate and other products, you might've noticed the Fairtrade mark on some of them. This mark on more than 2,500 products worldwide means that your purchase helps small-scale farmers and workers in developing countries secure a better deal.
Fairtrade is about stable prices, ensuring decent working conditions and empowering farmers and workers around the world. Our main goal is to tackle poverty and injustice through trade.
Being a large organization working across several countries, policies are extremely important to sync all staff with how we operate, as well as help us collaborate with regulators and funders in an optimal way. Policies aren't always the easiest content to consume, but we found a great way to master them in an interactive and engaging way – and that's through Kahoot!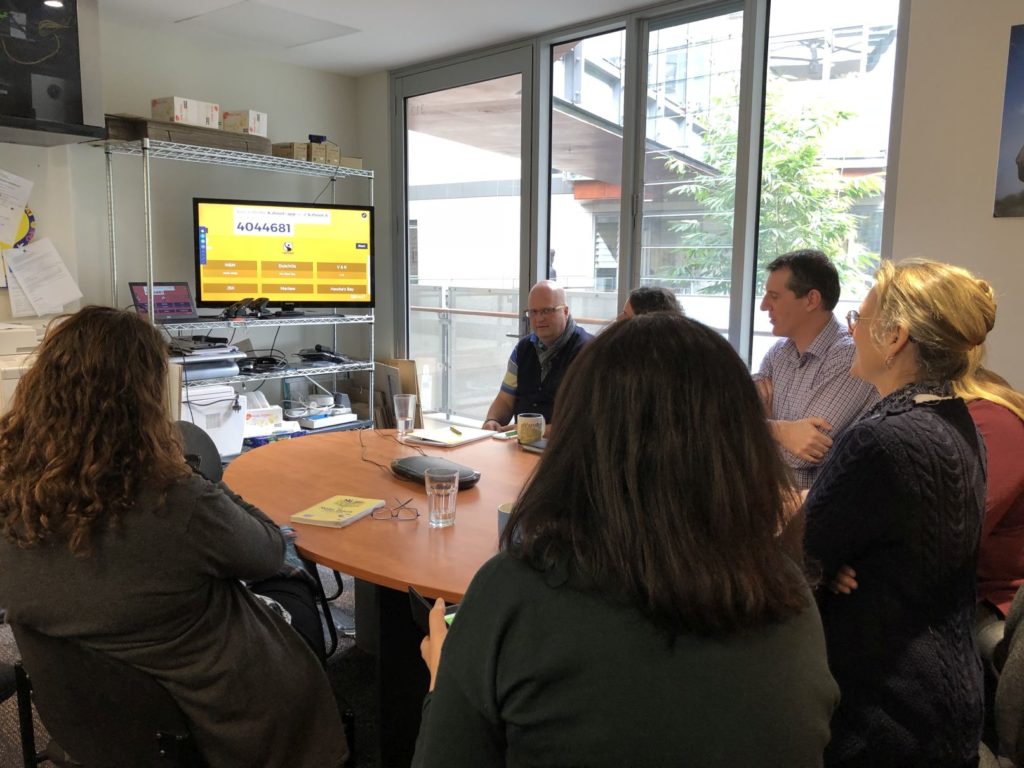 Word spreads from classroom heroes!
We discovered Kahoot! when I attended a family evening at my son's school. It was amazing to see how engaged all of the kids and their families were in the competition to try and get their answers in first. Adults were enjoying it just as much as kids, so I thought it could easily be a success in a workplace setting, too, since you can make a kahoot on any topic.
So, when we were then looking for a way to make our policy knowledge come to life at our all-staff meetings, I put forward the idea of hosting a kahoot instead of running slideshows or emailing documents to the team.
Introducing policies and reviewing knowledge with kahoots
Before we discovered Kahoot! for businesses, policy updates were emailed out to staff. There was no process other than an occasional sign-off to confirm they read and knew the policies, thus no way to see if that content was actually mastered.
Now, we play Kahoot! every month in our all-staff meetings, with between 6 and 10 questions on one of our policies. Our topics so far have included:
HR Policies
Child Protection Policy
Fairtrade Gender Strategy
Capacity Building Policy
Travel Security Policy
Counter Terrorism Policy
Policies contain a lot of important content that isn't always easy to remember. Kahoot! helps learn in a simpler, more dynamic way, having some fun along the way. A lot of learning actually happens without even realizing it. Rather than listening to one person talk about a policy, it provides an interactive session that ensures that the participants are really engaged. The team's knowledge of the policies has increased substantially, especially around HR policies.
Another advantage of reviewing policy knowledge with Kahoot! is the advanced reporting which is part of the business offering. We can share visual game reports with our funders and regulators to show them where we stand with policy training.