Keep engagement and energy levels high
With the integration, the entire Kahoot! participant experience happens within the Hopin platform. The host simply shares their screen, and attendees pin in and play directly within Hopin – removing the need to submit answers on a second screen or phone. Kahoot!'s Hopin integration is a seamless, time-saving way to make virtual events more personal while also keeping engagement and energy levels high.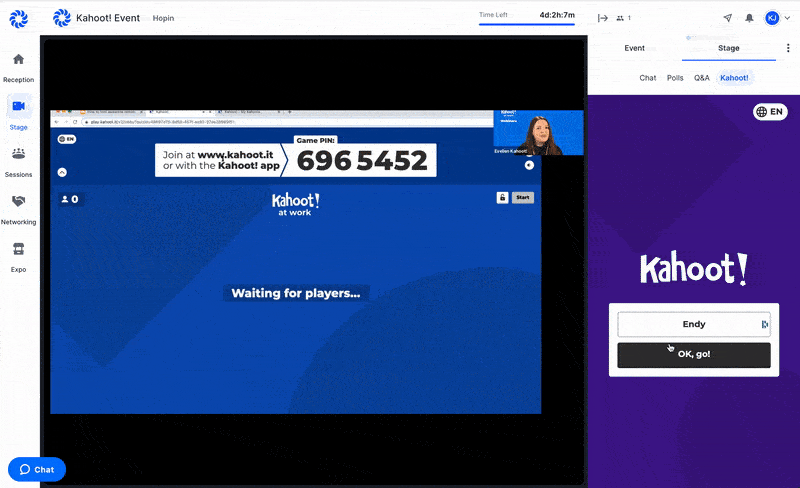 Game-based content takes virtual events to the next level
Instead of delivering lecture-style presentations, Kahoot! provides hosts with the tools to create two-way conversations with virtual attendees on Hopin. Hosts can present content in fun and engaging ways and instantly see if attendees absorbed their key points thanks to a range of question types.

How to use the hopin integration
Open PowerPoint and click the Insert tab followed by Get Add-ins. Then, search Kahoot! and click Add.
Add your key content to PowerPoint slides.
Create a kahoot – including audience participation features like polls and word clouds to facilitate discussions – and see if you landed your key points in real-time with quiz, true/false, type answer, and puzzle questions.
Copy the link of the kahoot by clicking the share icon followed by the PowerPoint icon. Paste the link into the Kahoot! for PowerPoint add-in.
Continue to edit and rearrange your slides for optimal engagement.
Deliver your PowerPoint presentation, and host the kahoot without leaving the Slide Show View.