Increasing training efficiency through digitalization with Kahoot!
Training dozens of employees every day takes a huge effort, and traditional methods can add significantly to that time commitment—both for the trainer and trainees—often with lackluster results. For Harrison Tompodung, Director of Training and Quality Management at The Apurva Kempinski Bali, transitioning to training with Kahoot! has been transformative. 
"My regular day is usually 50/50 in operations and administration, so we have a lot of training to cover," Harrison explains. "The Kahoot! platform helps us a lot, especially in the administration."
Harrison has been an avid Kahoot! user since 2016. When 5-star luxury hotel The Apurva Kempinski started its pre-opening in Bali in 2018, Harrison joined to manage their people training efforts. He and his team knew they needed a training solution that would get results. After seeing the limitations of traditional methods, they turned to Kahoot!, and haven't looked back since. 
"We're now switching our training modules from being based on traditional presentations to using Kahoot! as our main set of training tools. The feedback has been amazing, so I think it's a good sign we move forward with this." 
As Harrison explains, this has not only been a game-changer for saving his team time while boosting employee engagement, but also for ensuring that the training was effective:
"Back in the old days, we used paper, like in schools, which took hours of work to complete. Thanks to Kahoot!, we can just make a few clicks and get the result. This enables individuals to analyze the questions and participants' answers using the reports Kahoot! provides."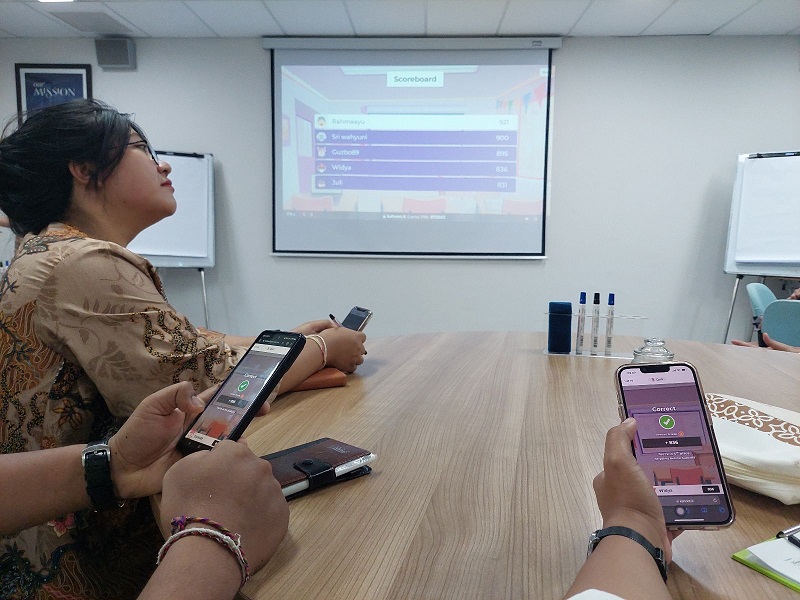 Nurturing early career employees and building cohesive company culture
As more Gen Z'ers enter the workforce, it has become clear that in many cases, employees of different generations have different needs and ways of working. Harrison's coworkers at Kempinski Hotels have been no exception.
"At the moment, the average age of our employees is about 26–27 years old. Some of them are also trainees, from 18 to 20 years old, so they're very new to the industry and ready to elevate their talents. They also need to get used to the working culture, which takes time, beyond when they first onboard."
Bringing employees of different ages, backgrounds, and experiences into alignment from their first step into the organization has been a key priority to create a more cohesive company culture:
"Now, the younger generation is completely different, so we have a generational gap. We need to find ways to gel with each other, with Gen X, Gen Z, and Millennials. So the challenge is to get that rhythm between the different generations." 
By transitioning to Kahoot!, Harrison's team has added powerful engagement across the flow of work, where everyone is invited to get involved, learn, and connect.  
Powering up learning and engagement from onboarding to training and beyond
Onboarding is a critical time to set up a new employees for success. Harrison's team onboards new employees each month—including employees in line level, supervisory, and managerial level roles—with Kahoot! as an essential step in the onboarding process. New hires must complete their kahoot sessions with a minimum score of 80% before moving on to their other departmental training, ensuring that they have learned the company fundamentals they need first.
The Kempinksi Hotels team in Bali also uses Kahoot! to build company culture by hosting kahoot sessions in town hall meetings, regularly attended by 300–400 employees, as well as provide a flexible and engaging solution for departmental training.
"Sometimes people can't attend a class, so the fastest way to deliver training is by refreshing their knowledge through Kahoot!. They stand up, listen to a five-minute briefing, and then, 'Okay, let's play a quiz.' In two minutes, we get a result, and we can share it." Harrison's team also uses Kahoot! for asynchronous learning: "Sometimes we run out of time, so I prefer that they do it at home. I give them homework, with a deadline, and Kahoot! provides a way to do that. It's amazing." 
Beyond onboarding training and townhall meetings, Harrison uses Kahoot! to train the leadership and departments across the hotel. Moreover, he also uses Kahoot! in various HR events organized at the Apurva Kempinski Hotel in Bali, such as the monthly best employee event and the annual staff party. 
Tailoring the learning experience for your audience
Harrison understands that people learn in different ways, and for many, the delivery of the training can make all the difference to participants' success:
"Sometimes I failed when I took exams in school, but it didn't mean that I didn't understand the content. Sometimes the wording is very complicated, and you just need to simplify the question or see it visually. Kahoot! gives us that opportunity."
Harrison highlighted a variety of Kahoot! features and options that help him customize the experience, as well as enriching it by involving the five senses, including new themes, music, question types, and the option to add visual media.
"Kahoot! is enhancing learning through all five senses in ways that trainers, training managers, and teachers need. Whether a participant prefers to learn in a literary, visual, kinesthetic, or other way, this gives us an opportunity to embrace their style of learning."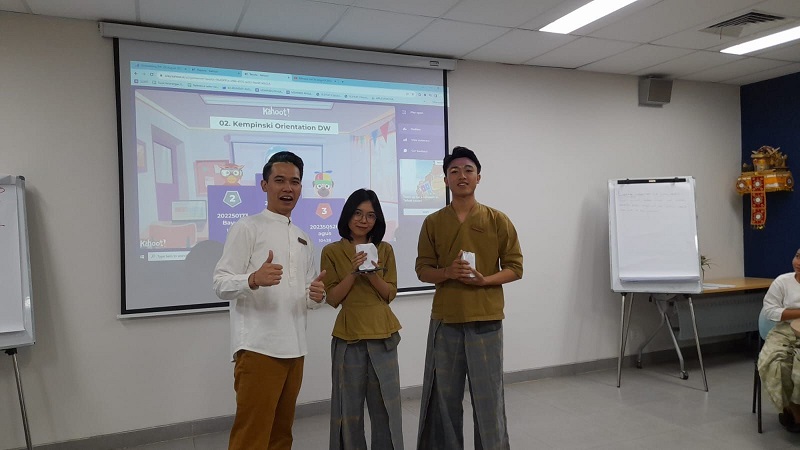 Employees say "More, please" to learning with Kahoot!
At a recent trial training, using Kahoot! instead of a traditional presentation, Harrison was impressed to receive a 95% positive response from participants. What was their feedback? According to Harrison, most of the comments were about Kahoot!, calling for more training using the platform as it made the experience more enjoyable and interactive, as well as helping the information stick. As Harrison says, "For us, it's more than fun. It's more value."
This success has been key for a company like Kempinski Hotels that recognizes the importance of their team's talent:
"By choosing Kahoot! as the partners of Kempinski, we also embrace a shared culture that is very straightforward in terms of developing people. Part of our vision is to be the world's leading luxury hotel brand through our people. Since Kempinski focuses on its people, it makes sense that we would need to help them develop. Kahoot! gives us opportunities to develop and plan together in an engaging way."
After seven years of using Kahoot!, continuing to implement it on his team in new ways has been a no-brainer. What would Harrison do without Kahoot! as a training solution? "Maybe I wouldn't be a training manager or in this field anymore," he laughs."Going back to paper? I don't think so."