This article was written by Infiniscope.
Created by the Center for Education Through eXploration at ASU's School of Earth and Space Exploration and funded by NASA's Science Mission Directorate, Infiniscope provides next-generation exploratory science activities and lessons that are engaging for audiences of all ages. These experiences use NASA science, data, and subject matter experts to demonstrate Earth and space science concepts that educators and space enthusiasts enjoy exploring.
For educators, Infiniscope provides an open education resource that empowers them to connect, collaborate, and create these types of experiences — to address the specific needs of their learners. Educators are provided training on how to build learning experiences that are exploratory in nature and adaptive to the individual needs of their learners. Additionally they are provided a space to connect and collaborate with other like-minded educators as a community of practice. These resources are provided at no cost to educators across the United States and its territories.
Infiniscope learning experiences
Are freely available to students of all ages
Align to NGSS for formal and informal classrooms
Include lesson plans with the 5E model of science instruction
Contain built-in assessment paired with an intelligent tutoring system
Can be adapted and shared back to the digital teaching network
 Sample content from Infiniscope includes learning experiences such as: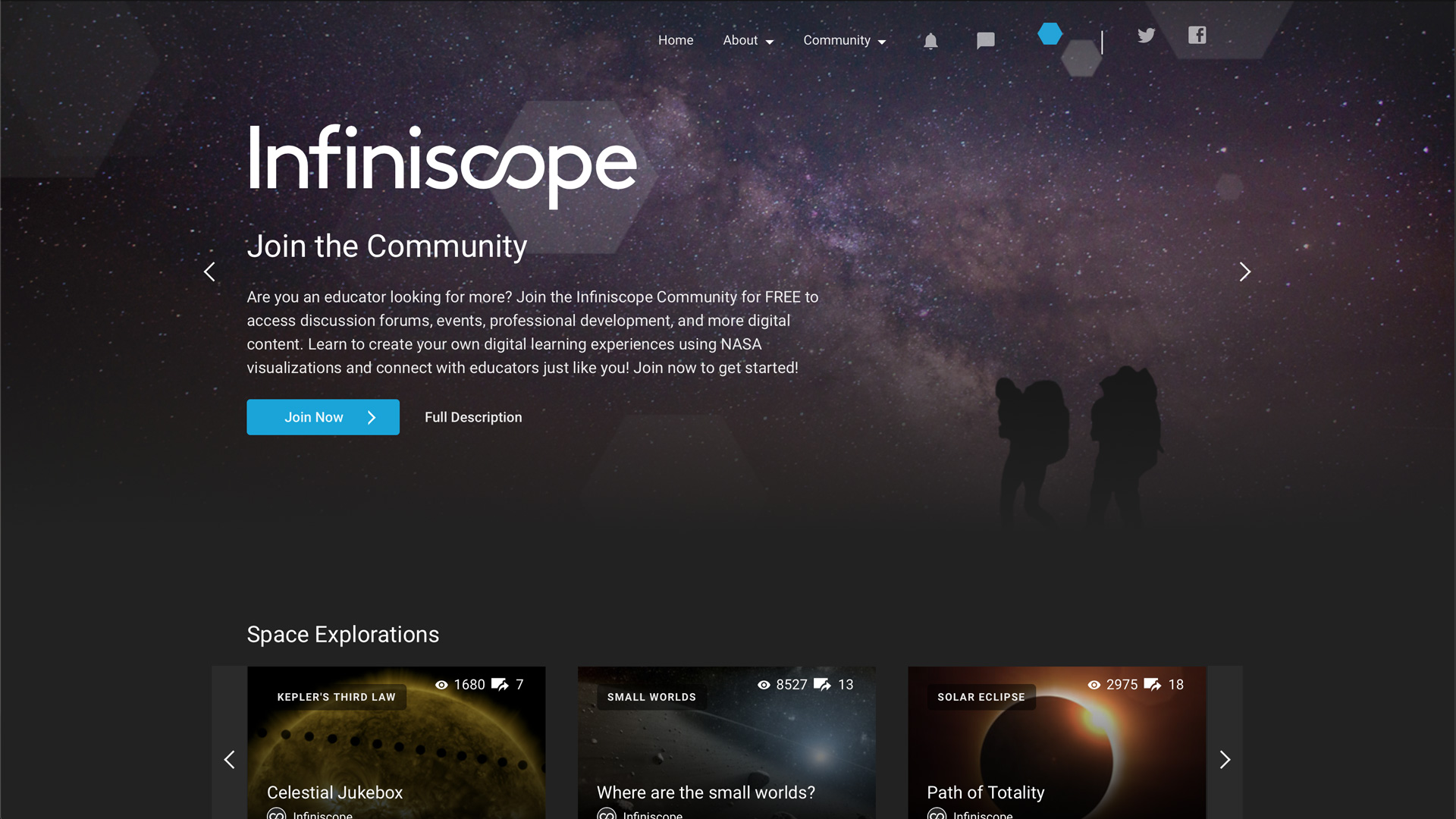 Arizona State University
Arizona State University has developed a new model for the American Research University, creating an institution that is committed to access, excellence and impact. ASU measures itself by those it includes, not by those it excludes. As the prototype for a New American University, ASU pursues research that contributes to the public good, and ASU assumes major responsibility for the economic, social and cultural vitality of the communities that surround it.
Acknowledgment & Disclaimer Statement
The material contained in these experiences are based on the work supported by NASA under grant award no. NXX16AD79A. Any opinions, findings, and conclusions or recommendations expressed in this material are those of the author(s) and do not necessarily reflect the view of the National Aeronautics and Space Administration.
What is the Infiniscope Digital Teaching Network?
How can I connect with Infiniscope?
Connect with Infiniscope on Facebook, Twitter, and Instagram and be the first to learn about new and existing lessons, standards alignment, digital teaching tips and hints, and interesting news on science, technology, engineering, the arts, and mathematics.
How can I be part of the Infiniscope Digital Teaching Network?
Connect: Join a network of educators effectively bringing NASA content into their classrooms. Collaborate: Engage with innovative educators to discuss and share resources most relevant to the students and communities you teach. Create: Build your own learning experiences with the help of a network motivated by the goal of engaging students in exploratory learning.
https://infiniscope.org/join/