Over the next weeks and months we will continue to add more kahoots to the science collection, to fit more grades, topics and standards, as well as building more collections for other subjects.
Thank you for playing!
A couple of weeks ago we launched our first ready-to-play, curriculum-aligned collection featuring math kahoots. The response made us really happy! More than 100.000 players have already played these kahoots, in 120 countries, and the numbers are growing by the minute! The feedback we've received from our community has also been overwhelmingly positive:
I am constantly shocked by how much I LOVE Kahoot! Great updates always coming! Check out Kahoot! Studio…. https://t.co/i7fSZztFAx pic.twitter.com/BXd6l2z8wl

— Tom Spall (@Tommyspall) September 7, 2017
Ready to share curriculum aligned Kahoots with Ss?! NOW YOU CAN!! https://t.co/PtC18fUlKF @GetKahoot #edtech #gamification pic.twitter.com/Q4TN0smLsa

— Tom Arntson (@MRAROOM12) August 31, 2017
Today we're really proud and excited to launch the Science collection, that you also find directly on your startpage in Kahoot!
Here is how you can find the science collection:
Log in to Kahoot!
Click on the science collection directly on the start page, or choose a science kahoot right away.
Find a ready-to-play kahoot in the collection
Play!

How to find good kahoots? Curriculum aligned and ready to play
Feel free to mark the kahoots you like as a favorite to play later, play in preview mode to review them, or simply enjoy playing them immediately. All of the science kahoots can be duplicated and edited to fit your preferences or standards: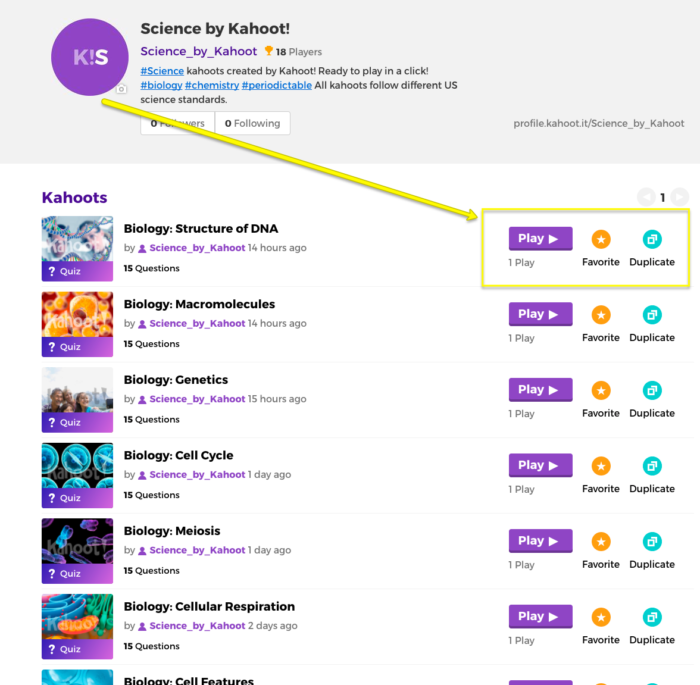 More kahoots and collections coming up!
Keep checking back in, as we will continue to add science and math kahoots to the collections over the upcoming weeks to cover more topics, grades, standards and game formats such as Jumble. We will also add several new collections in the near future, such as ELA (English Language Arts), History and Geography.