Being able to import kahoot questions from a spreadsheet has been one of our top feature requests of all time. Tada! Your wish comes true as we introduce our new spreadsheet import feature. It'll save you time on creating awesome quizzes, let you reuse content you've had from before and give you a way to merge several quizzes into one kahoot.
Learn how to use the spreadsheet importer in this practical guide:
Step 1: Prepare a kahoot in our spreadsheet template
Download our spreadsheet template and follow it to add questions, answers and time limits for each question. You can edit it in MS Excel, Numbers, Google Sheets and LibreOffice. Note: please be sure to always use our downloadable template, as it's formatted to align with our importer.
At this point, the spreadsheet importer only supports quiz creation. The same rules apply as on our web platform:
Maximum question length is 95 characters including spaces
Maximum answer length is 60 characters including spaces
Each question needs to have at least two answer alternatives and at least one correct answer
Save the completed spreadsheet template in .xlsx format and it's ready to go! Double-check that the file size doesn't exceed 1MB.
Step 2: Import kahoot questions
Hit the Create button and select the quiz game type. After you've added the title, description and cover image of the kahoot, you'll get to the game creator where you'll see an option for importing questions from a spreadsheet.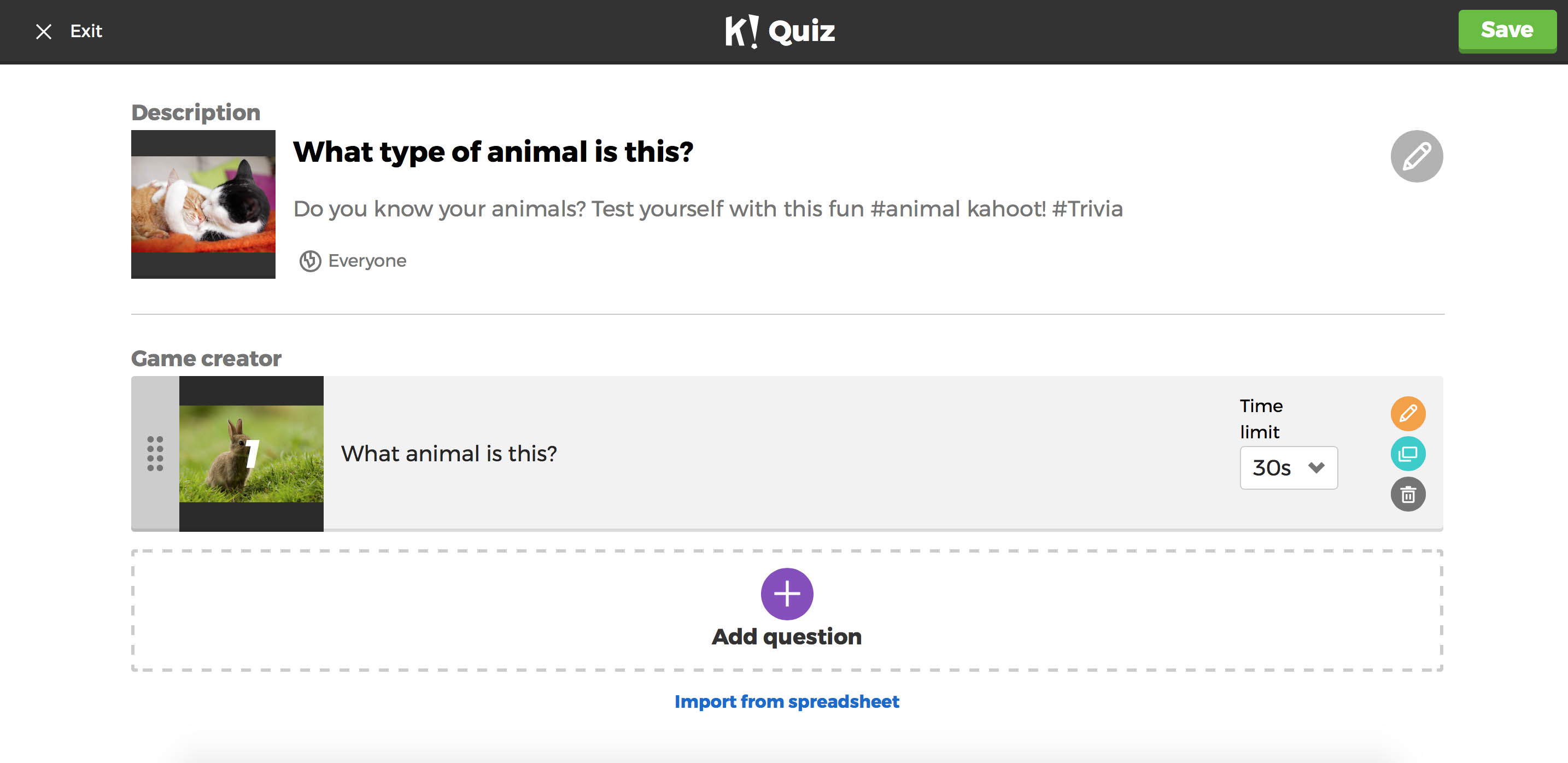 Choose your spreadsheet template or drag and drop it into the dialog and click Import. If something is missing, an error message will give you all the details. You can go back to your spreadsheet to fix those errors and reupload the file, or, alternatively, you can just skip the questions with errors and proceed without them. If you forgot to add the time limit for one of the questions or entered an unsupported number, we'll automatically set it to 20 seconds.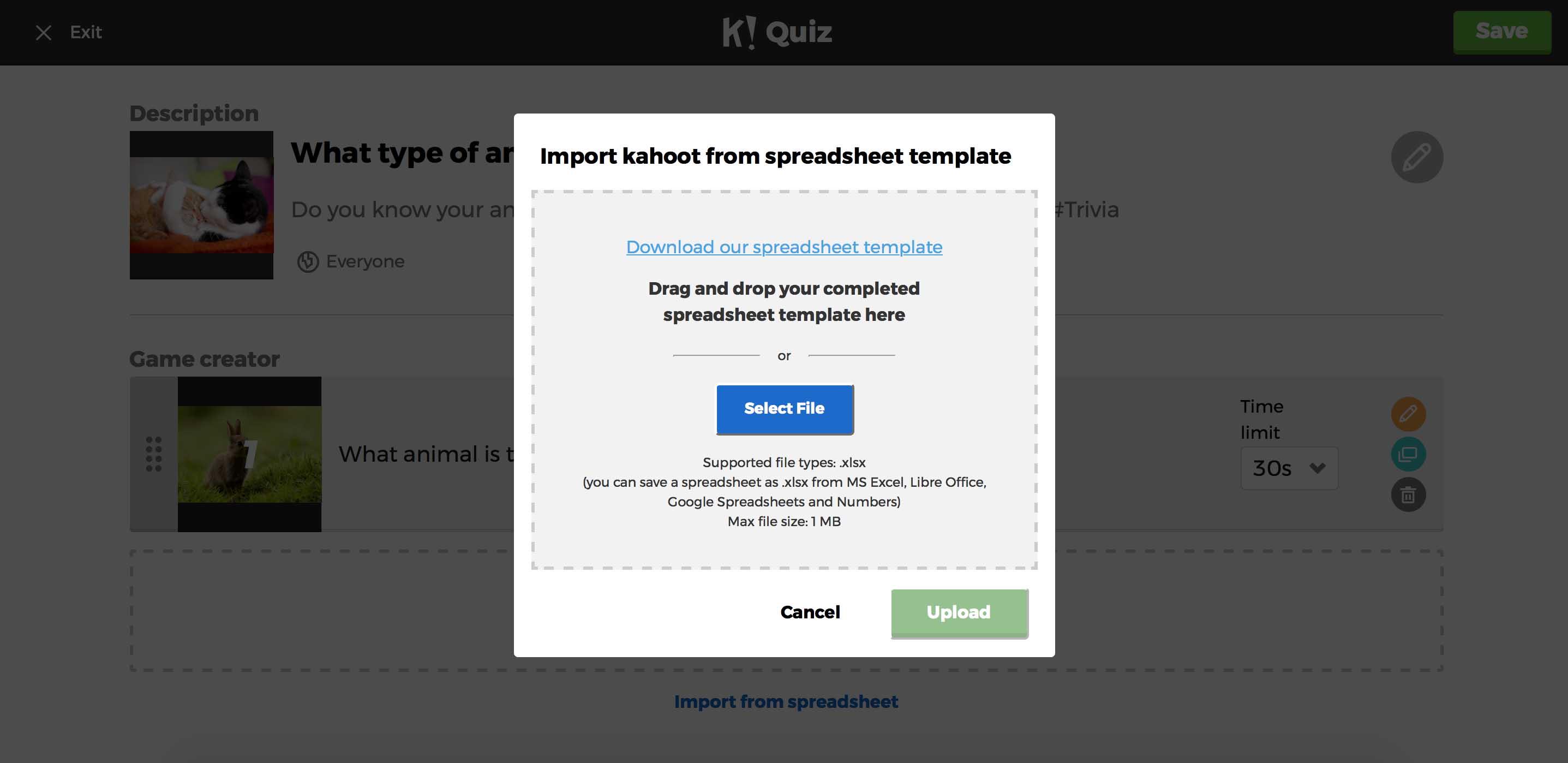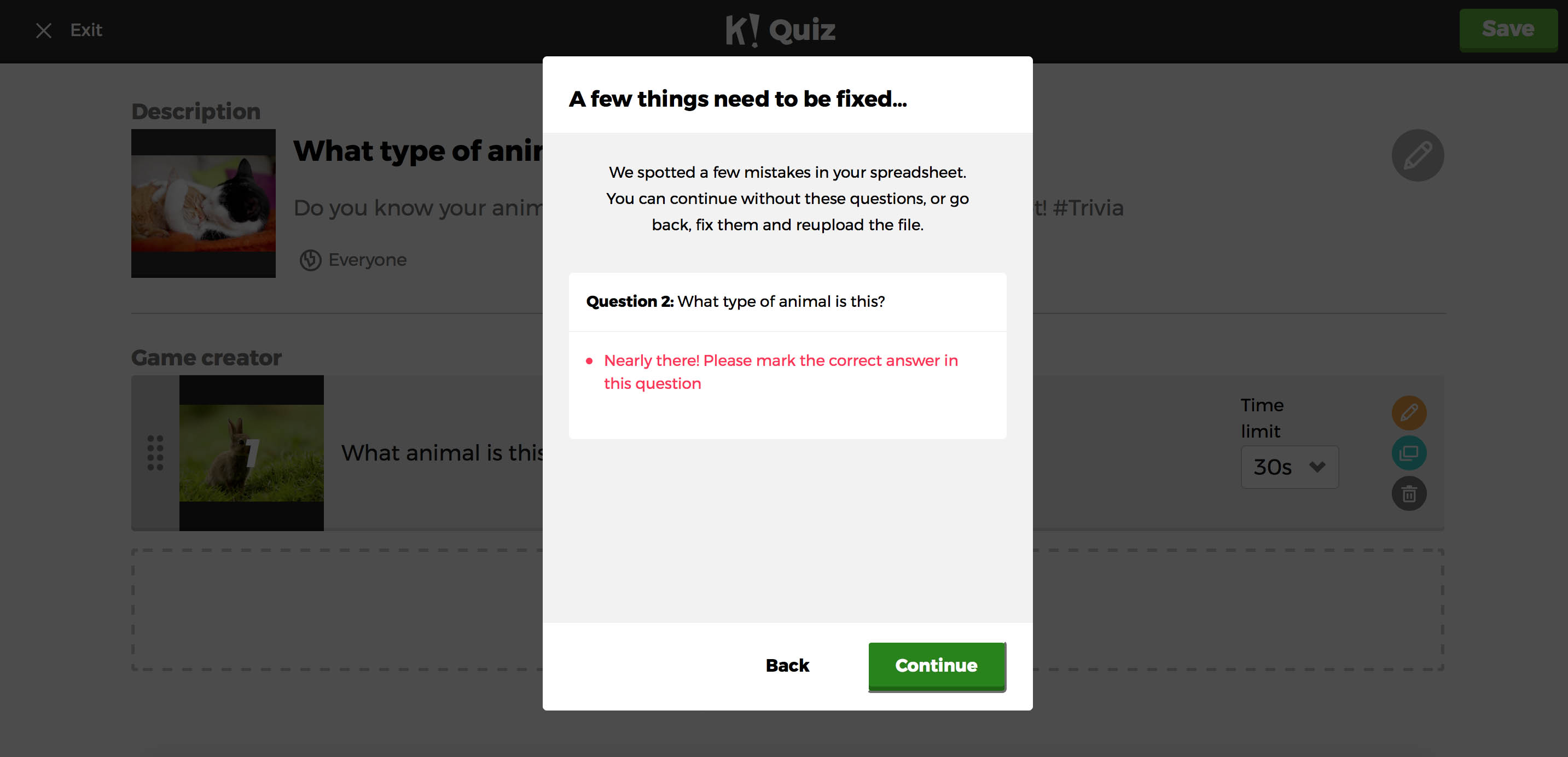 Click Continue – there they are, your questions have been imported into the game creator! All that's left to do is add images to the questions and hit Save.
Bonus: Combine several quizzes using this feature
A bonus feature of our spreadsheet import feature is that it gives you an easy way to merge several spreadsheets into one kahoot. Import them one by one and review questions in the game creator. For example, drag and drop them to change the order of questions or remove some questions if a quiz seems too long.
Have you tried importing your quizzes yet? Try our new feature and spread the word to other educators!
P.S. Are you a business user? You'll need a subscription to use the spreadsheet importer feature. Get yours here!