Coming in many forms, assessment truly is one of the greatest tools in teachers' toolboxes. We wield assessment to construct learning experiences tailored for students, and I'd call it a creative paintbrush of the educator.
Within the discipline of chemistry, assessment methods help me find key metrics such as recognition of academic language, concept application into real-world scenarios, ability to express using proper vocabulary and syntax, and applying logic to construct a process with a conclusion. Based on these insights, I adjust instruction to make sure students understand all topics, and Kahoot! plays an important role in this process.
Methods of assessment in a Socratic classroom
I use various methods of formative assessment, warm-up exercises, presentations, class surveys, and, in the light of the recent transition to distance learning, I'm looking forward to adding educational programs into my repertoire.
I use the Socratic method in organizing my classes. In the Socratic method, the learning experience is based on a continuous dialogue between teacher and students, and both sides move it forward by questioning different things. It's a genuinely engaging discussion that has much more impact in the practice of learning. Assessments reveal gaps in knowledge and give us a direction for further discussion.
Adjusting discussion-driven methods and assessment to a virtual classroom
With a transition to distance learning, some of the methods had to change – and some of them aren't so easy to implement. As I am unable to walk around the classroom and interact with students like before, all formative analysis must be done with online tools, pictures of homework, online curriculum, and classroom engagement.
I am excited about the impact distance learning will have on the future of education. Instead of a gradual evolution, we are observing very quick, and a very large step, a leap, if you will? It has the ability to change the entire landscape of what a 21st-century classroom will look like. I've enjoyed searching for different ways to take a classroom experience to digital space.
When it comes to capturing real-time assessment insights, Kahoot! has become more important than ever!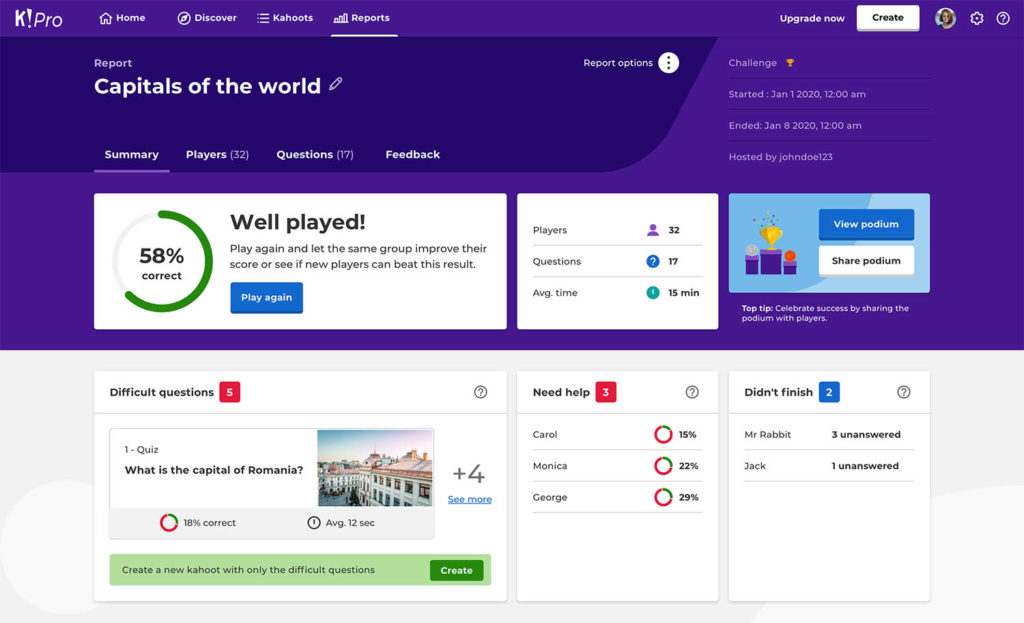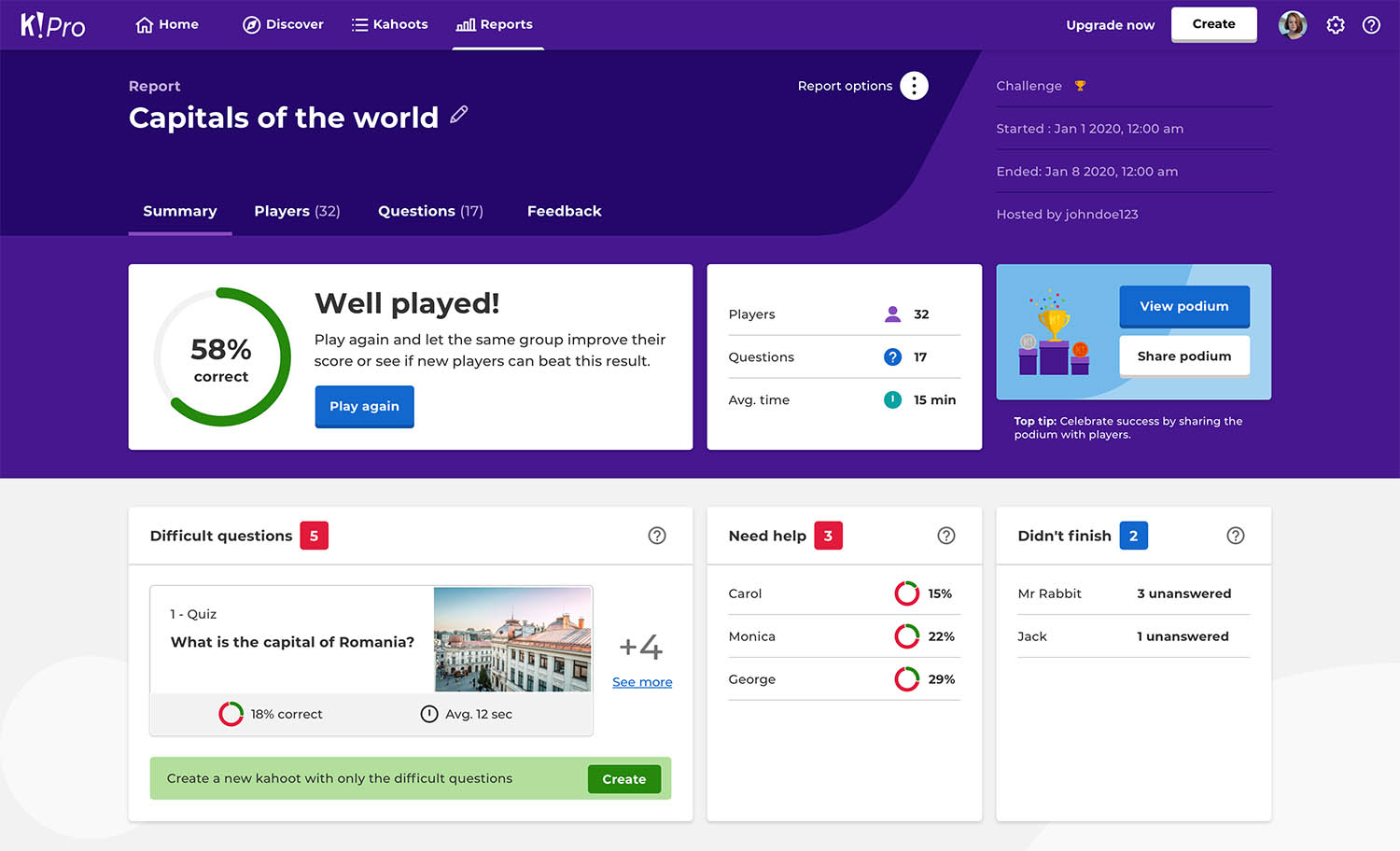 Capturing real-time assessment insights with Kahoot! reports
As I mentioned, without direct interaction with students in class, it has become more difficult to collect insights for assessment, and now online tools are mission-critical. The new Kahoot! reports are fantastic in this regard. Ease of use and accessibility are some of the strongest aspects I'd pinpoint.
I like that they give real-time assessment analytics. And I really am impressed that it breaks it down by class, by question, by students' nicknames, literally just about any metric you could imagine… all there at your fingertips.
Besides the benefits of real-time assessment, it works great for truly engaging students, whether in class or online. We play at the beginning of a class to introduce a topic, and my students love it and always ask for more. Gladly, there is a huge library of kahoots to choose from, so I don't always have to make my own! Sometimes we do play the "fun" kahoots, but I regularly use themed chemistry kahoots to get the kids engaged with class.
It's my first year of using Kahoot!, and I will definitely continue exploring its versatility and step up my usage of reporting, as well as advanced question types to activate different ways of thinking.
Try the new Kahoot! reports for formative assessment in your class!