Would you like to maximize learning with Kahoot!, explore deeper use cases, and create amazing moments for your students, no matter whether you're teaching in class or virtually? Then Kahoot! Certified for schools is just the thing for you!
Since we launched Kahoot! Certified for schools, more than 35 thousand educators have taken its courses. In time for the new school year, we've reworked the program to reflect our recent product updates, help you master basic and advanced features, and take a deeper dive into how you can use Kahoot! in distance learning or a blended learning environment. This means new videos, new guides, and new advanced courses – relevant both for new program participants and those who are already Kahoot! Certified.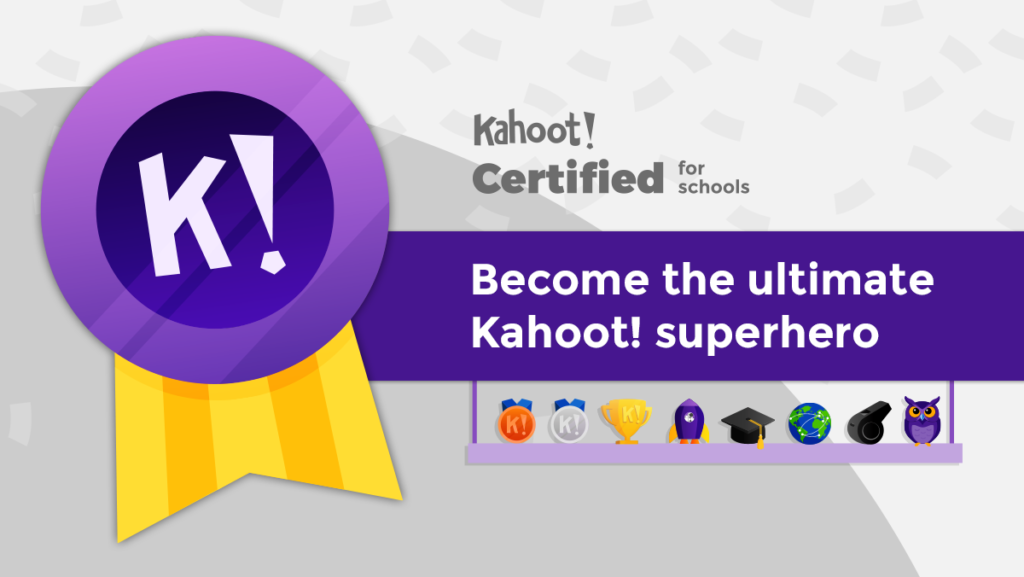 What is Kahoot! Certified for schools?
It's our free program designed to help teachers become the ultimate Kahoot! superheroes. As you complete courses, you can score diplomas and digital badges, as well as claim professional learning credits while learning everything there is to know about the Kahoot! platform.
How does the program work?
The essential Kahoot! Certified for schools has three core tiers; Bronze, Silver and Gold, each including a series of short videos and downloadable PDF guides. You'll start with the Bronze course, then progress to the next level by taking a challenge with the Kahoot! app. If successful, you'll receive a time-stamped certificate in order to claim professional learning credits and a digital badge. The program is self-paced, so you're in full control of your learning!
Once you've completed the essential courses, equivalent to 3 PD hours, you can take our advanced courses focused on deeper use cases of Kahoot!. Each course includes one video, and you can take them in any order.
What topics do the essential courses cover?
The essential courses of Kahoot! Certified for schools – Bronze, Silver and Gold – will get you all set to find your way around the platform, host live kahoots, assign student-paced challenges, create your own kahoots, and assess learning with reports.

The Silver course now features a detailed overview of all question types available in Kahoot! and a special section on how to use Kahoot! for distance learning, both through hosting live kahoots via video and through assigning student-paced challenges. We'd recommend everyone to watch the videos included in this course, even if you previously passed the Silver level.
The main focus of the Gold course is demonstrating how you can use Kahoot! reports to analyze class performance and support formative assessment. It also features the most important tips about the Kahoot! app. As we recently rebuilt our reports and enhanced them with more functionality, this course will be relevant for anyone who'd like to master insights-driven instruction.
What topics do the advanced courses cover?
Once you have mastered the essentials, you can proceed to any of our six advanced courses, each covering a specific deeper use case, or an advanced Kahoot! feature.

Learn how to apply insights-driven instruction in your classes with our ambassador Jack Quinn
Find out how you can connect with students, teachers and families all around the world with the guru of connected Kahoot!'ing Steve Auslander – extra relevant in times of distance learning!
Make the most of the "Play Again" feature, with best practices shared by Kahoot! ambassador Amber McCormick
Master the steps of creating and teaching interactive lessons with Kahoot! Premium+ in our brand new course
Empower your learners to study on their own with the new study modes within the Kahoot! app – it's a brand new course we've added as part of this overhaul!
Whether you're new to Kahoot! Certified or have completed the program before, this update has something in store for everyone. Start today to get a refresher on the essentials or try out our new advanced courses!