How do you keep participants energized and focused when delivering a presentation? It's an age-old question that causes every presenter to scratch their head in search of the perfect formula.
Kahoot!'s interactive presentation tools are designed to involve and engage audiences throughout a presentation – not just with a Q&A at the end. Such features enable presenters to facilitate a constant two-way conversation, which helps make content stick. Talking through a slide deck, with participants zoning in and out, is simply not going to cut it in the new world of work.
In this blog post, we'll give you the lowdown on how to create a gamified interactive presentation with Kahoot!'s audience participation features and brand-new range of slide layouts!
New! Make presentations even more awesome with brand-new slide layouts
We wanted to give presenters greater flexibility for displaying content and media. That's why we've launched brand-new slide layouts, making it even quicker and easier to create awesome interactive presentations with Kahoot!.
Now, you can highlight key topics in bullet points, provide extra content with flexible text components, add attention-grabbing quotes, and include media-rich slides – the choice is yours!
Kahoot! tip: Keep all eyes on your presentation by using a mix of layouts. The more diverse your use of slides, the more likely audiences are to stay focused.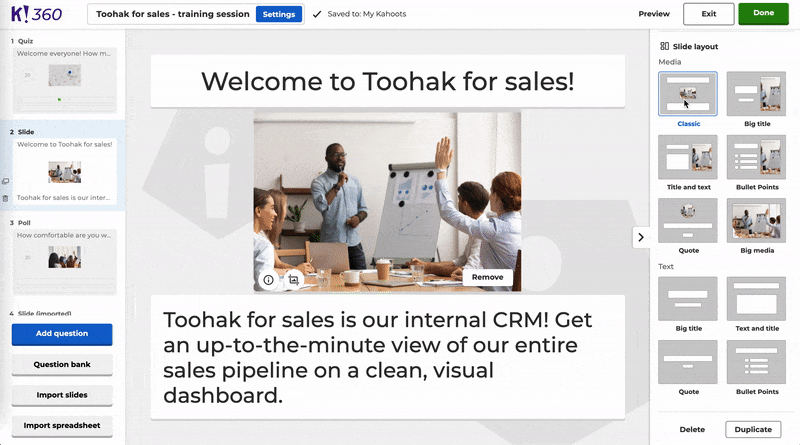 What's more, you can easily create visually appealing slides by finding the perfect picture within our premium image library, which is home to millions of high-quality pictures from Getty Images. You can also add YouTube videos and change the background color of each slide to heighten the visual impact.
Kahoot! tips: From adapting your presentation style to finding the right technical setup, check out this blog post on how to host an effective remote presentation.
Save time by importing slides directly into a kahoot
Already created an awesome slide deck? There's no need to copy and paste the content into Kahoot! slides. Within the creator, simply select Import slides and upload a presentation of up to 80 MB. The slide importer supports .ppt (PowerPoint), PDF (you can export Google Slides as PDFs), and .key (Keynote).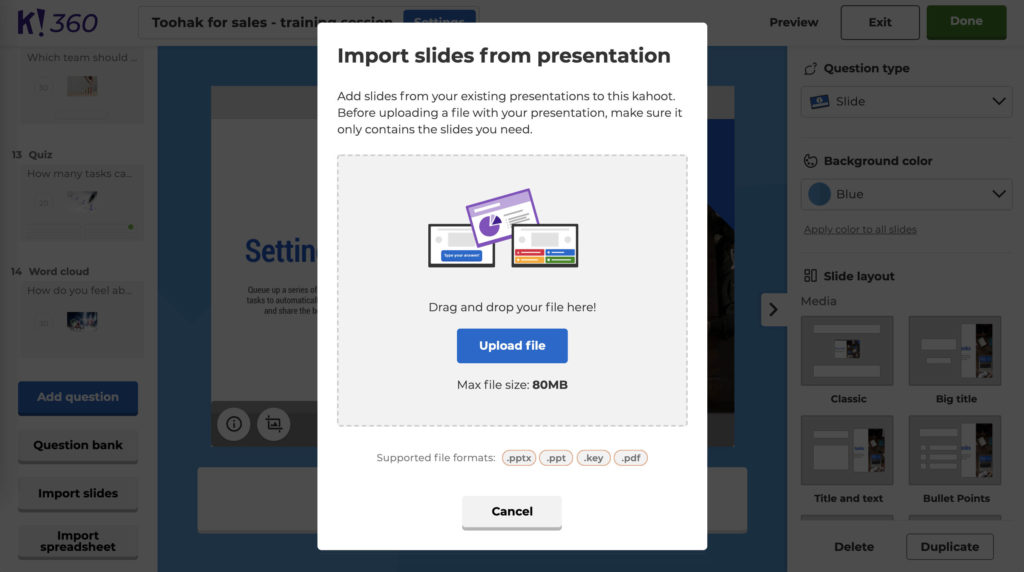 Make sure you're happy with your slides' content before importing them. Once in a kahoot, you can rearrange individual or multiple slides, delete slides, and add question types.
Land your key points and reinforce learnings
Make sure your most important points stick by adding question types that reinforce content! No matter if you're presenting in-person or via video conference, the audience pays far more attention to your slides if they know questions are coming.
With traditional presentation tools, it's near impossible to check if you've landed your key points. However, with Kahoot!, you can easily see if your audience absorbed important information, through question types such as quiz, true/false, type answer, or puzzle.
Add them after a slide to quickly measure knowledge retention. You can then address knowledge gaps during the presentation and dive into the kahoot report afterward for more in-depth data.
Community spotlight: How Lillico Learning Solutions use Kahoot! to land key points
"With Kahoot!, not only is my audience more engaged by being able to participate, but I am also able to reinforce important content. When presenting, there is nothing more valuable than knowing in real-time that I have landed the key points I want to get across," said Keith Lillico, Lillico Learning Solutions
Give your audience a voice
As well as question types that reinforce knowledge, you can also include polls, word clouds, brainstorms, and open-ended questions to transform presentations into a two-way conversation.
These polling and discussion question types help presenters spark conversations, collect opinions, and gather instant feedback by turning passive audiences into active groups, helping participants engage with your content and absorb key points.
Quick recap: How to create an interactive presentation with Kahoot!
Choose from 10 Kahoot! slide layouts or import your own presentation
Add assessment question types to check if your audience understands key points
Include audience participation features to give everyone a voice
Check the kahoot report to identify any knowledge gaps
Kahoot! tip: Assign self-paced challenges that address any knowledge gaps for participants to play asynchronously.
With Kahoot!, you can access a comprehensive presentation package that allows hosts to communicate key points, reinforce core content, and involve every participant, no matter their location. Unlock all the features mentioned in this blog post with Kahoot! 360 Pro. See plans.