According to research by Glassdoor, successful employee onboarding can improve retention by as much as 82%. However, as many companies switch to a fully remote or a hybrid model, employee onboarding strategies need to adjust to new realities. But this is easier said than done.
As most companies have seen over the past 12 months, providing a great remote onboarding experience can be a challenge. Without any or little in-person interaction, building a relationship with new hires is tricky but not impossible. After all, trust and relationships are built between meetings and during coffee breaks. That's why we've put together several tips to help use Kahoot! 360 Spirit to optimize your onboarding program to make new hires feel welcome even if they're not in the office.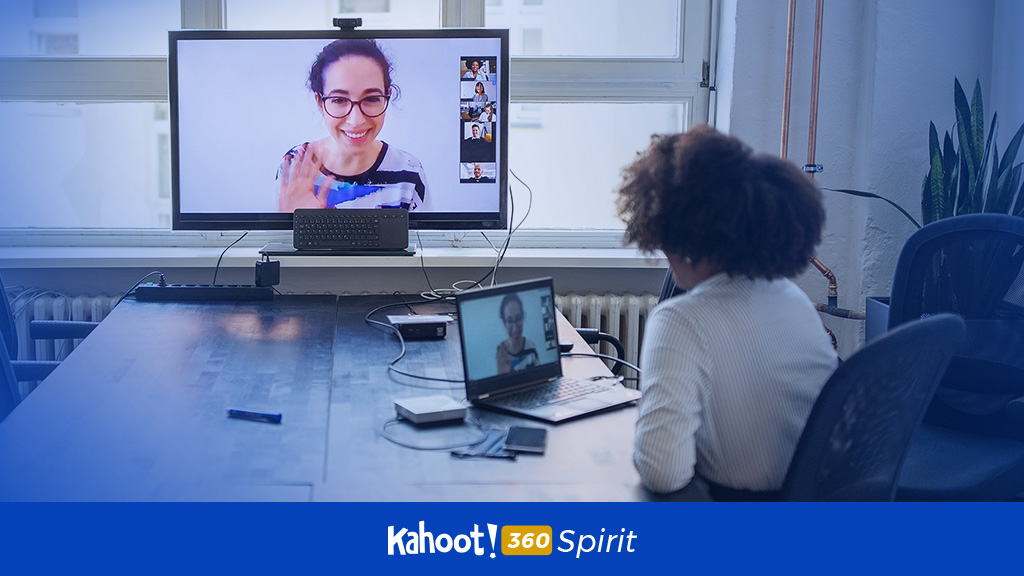 How Kahoot! 360 Spirit makes remote onboarding awesome
Kahoot! 360 Spirit is a brand-new employee engagement platform for enterprises. It empowers everyone to contribute to the company culture, provides all employees with a voice through pulse surveys, and transforms communication across an entire organization. It's also changing the way companies train and onboard their workforce.
Kahoot! 360 Spirit helps new hires get up to speed while also making them feel part of the company culture from the moment they join. Through social learning and team-building experiences, you can connect remote new hires and introduce products, processes, and people in a fun and engaging way. Each new hire can find all the information they need to be successful in their role in your company's workspace on Kahoot!. What's more, with Kahoot! 360 Spirit, trainers can easily share knowledge and resources with anyone who's facilitating onboarding sessions.
1 – Make onboarding presentations more interactive and memorable with Kahoot!
Whatever industry you're in, it's essential to get new hires up to speed as quickly as possible. But onboarding can be overwhelming as there's so much information to process in a short space of time.
That's where Kahoot! 360 Spirit's interactive presentation tools come in. With them, onboarding sessions can be both fun and engaging: Presenters convey their key topics by importing a slide deck or with Kahoot!'s presentation slide layouts and break down tricky topics into questions that reinforce knowledge and spark discussions.
Kahoot! 360 Spirit makes it easy for everyone to interact naturally through polls, word clouds, and brainstorms. Plus, anyone involved in facilitating the onboarding program can co-create and share kahoots for each other to host, saving time and making it easier to share knowledge.
Pro tip: With Kahoot! 360 Spirit, every employee has a license to share knowledge with new hires on Kahoot!.
2 – Empower learning on the go with targeted mobile courses
The opportunity for new hires to complete courses on their own can reduce the stress that they may have. But courses are not just great for learners: They also save trainers a great deal of time. They can be created in seconds: Just link a series of kahoots and assign them to new hires to complete asynchronously at any time during their onboarding program. They can reinforce knowledge from live sessions or introduce upcoming topics in the onboarding program. The new hires can complete courses on mobile or desktop in their personalized Kahoot! 360 Spirit workspace at a time that fits their schedule. Trainers can track progress in reports as they progress through a course and send reminders to boost completion rates.
Pro tip: With Kahoot! 360 Spirit, you can create courses that contain PDFs and kahoots.
3 – Set employees up for success with stand-alone self-paced challenges
As well as courses, you can assign stand-alone self-paced challenges for learners to complete on the go. After a live kahoot or course, check the report and identify knowledge gaps. Then, create a kahoot that addresses specific knowledge gaps and assign it for learners to complete anywhere and anytime. Challenges are assigned to new hires to complete independently in their Kahoot! 360 Spirit workspace to help reinforce knowledge and ensure new recruits fully understand topics key to their new role.
Pro tip: With Kahoot! 360 Spirit, every employee has a Kahoot! account so they can access all of the training assigned to them and your company's library of onboarding content for self-paced learning.
4 – Get to know new hires with "selfie kahoots"
Kahoot! 360 Spirit is a fantastic tool to get to know your new colleagues! Social learning and team-building experiences are essential in the onboarding process. Encouraging new hires to create and host a "selfie kahoot" is a great way for them to present themselves to their team or to the entire company. They're an authentic and powerful team-building activity that increases team spirit and strengthens company culture.
Coming soon: We'll soon release company and team leaderboards to bring even more fun and friendly competition to Kahoot! 360 Spirit.
5 – Connect remotely via video conference
Kahoot! is compatible with every video conference platform, making it easy to connect remotely. Just share your screen, and participants can play from their own device. Kahoot! has also integrated with Microsoft Teams and has an upcoming integration with Zoom, which makes it even easier to connect and onboard remote workers.
Coming soon: Kahoot! 360 Engage is arriving later this year! It's sure to make video calls far more engaging by creating a powerful user experience that connects participants throughout the kahoot session.
Kahoot! 360 Spirit is changing the way companies onboard remote employees, and we're excited to join you on your journey and help you build an awesome onboarding experience. Contact us today to learn more about Kahoot! 360 Spirit.