Two months ago, we made Kahoot! Poio Read, our learn-to-read app, available in German and Italian on digital app stores. Today, I'm happy to announce that Kahoot! Poio Read also supports French (including Canadian French edition) and Brazilian Portuguese.
With the addition of these two languages, Kahoot! Poio Read becomes available in 8 languages including English (US and UK editions), Spanish, German, Italian, Norwegian and Swedish.
By translating and adapting Kahoot! Poio Read in French and Brazilian Portuguese, we are empowering children from 3 to 8 years old in more countries to overcome the challenges of learning how to read through Poio's playful approach.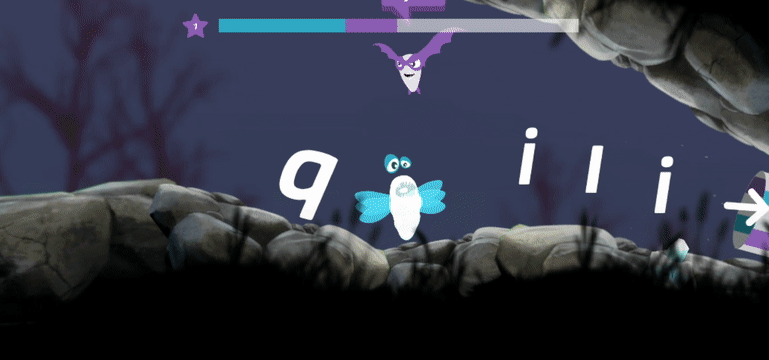 Trigger curiosity and spark joy for reading
Kahoot! Poio Read intends to foster a sense of curiosity among children and bring joy to learning how to read. The main goal of Kahoot! Poio Read is to enable children to teach themselves to read at their own pace, while they focus on having fun playing through the immersive story..
The objective of the game is to help a character named Poio learn to read the storybook he has stolen from letter bugs (characters known as 'readlings') in a magical location called Straw Island. During gameplay, the child helps Poio to unlock and collect words using phonics. During this process, the child experiences repetition of words and letters. Towards the end of the game, these words reveal a magical story that gives the child a unique feeling of creating their own book once they complete the game.
Creating a sense of achievement by boosting children's motivation
The game also focuses on increasing children's motivation to learn through play and fostering a sense of accomplishment for each step. The game adapts to the child's reading skills and shows them challenges they can complete to finish the game. These challenges are designed to keep the child engaged during the process, while they continue to learn.
When children finish the game, they will also receive a personalized diploma that recognizes their achievement in unlocking their word superpowers. If you are a parent or educator, you can print this diploma to celebrate your children's or students' achievement of cracking the code of reading.
An award-winning app making learning to read awesome
Kahoot! Poio Read is an award-winning application mainly used by parents with children at home, but is also commonly used in preschools, primary schools and kindergartens as a way to introduce children to literacy and spark joy for reading.
In 2019, Kahoot! Poio Read was chosen as the Gold Winner for Best Learning Game by the Learning Technologies Awards and the Gold Award Winner for Apps and Software for ages 5 to 8 by the Mom's Choice Awards.
In 2020, Kahoot! Poio Read was shortlisted for Educational App of 2020 by Reimagine Education Awards, and it is highly recognized by Common Sense Education as a "Great Early Reading Resource" for children. In April 2020, Kahoot! Poio Read was also featured by Apple as "Apps we love right now."
Kahoot! Poio Read is available for download in the Google Play Store and App Store and is part of the Kahoot!+ Family and Kahoot!+ Premiere subscription plans.