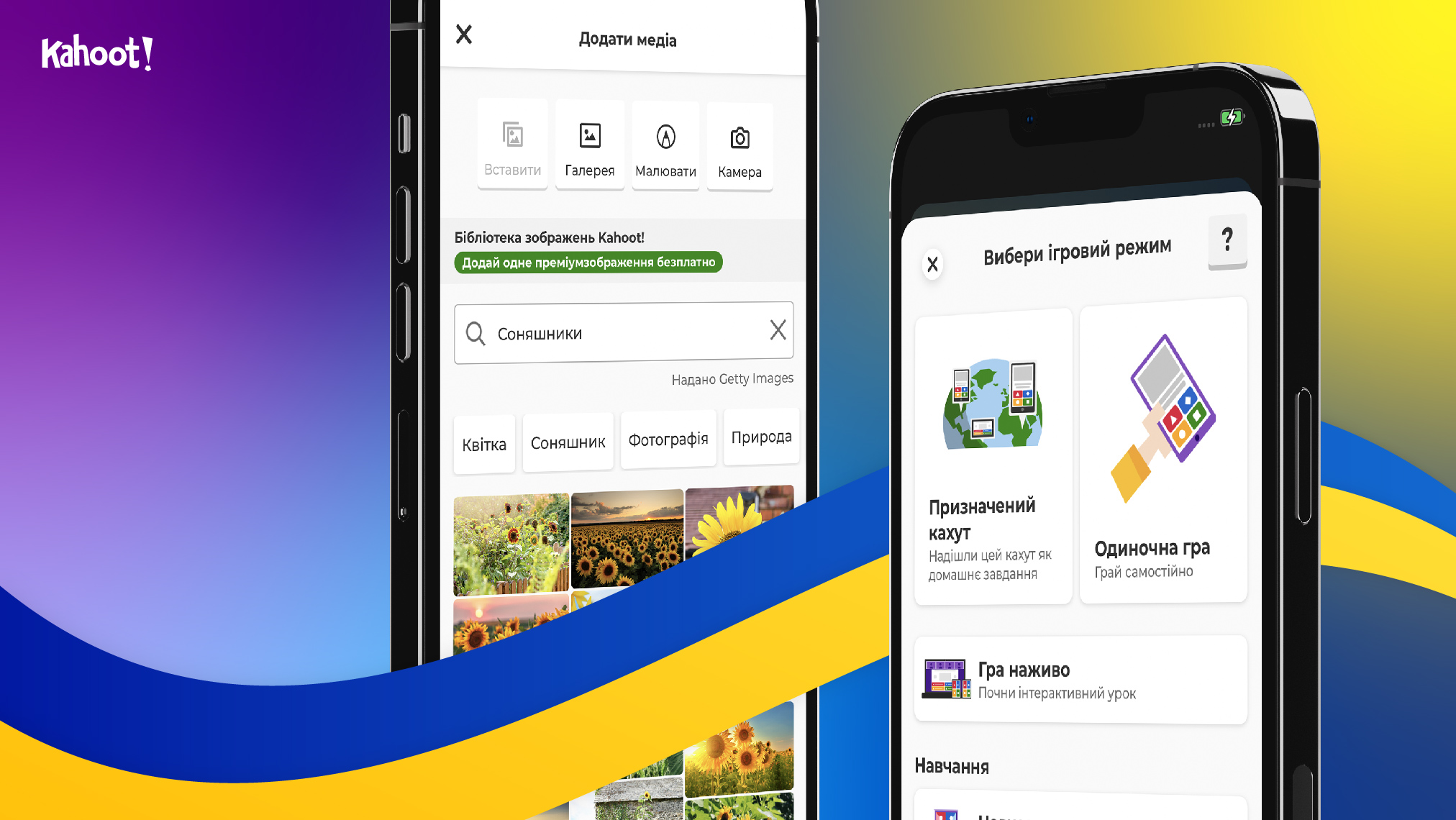 We are excited to share that, as of today, Kahoot! supports Ukrainian in the app and web platform, making it more accessible for our Ukrainian users, particularly young learners, to connect and learn with Kahoot!.
We are particularly proud of this language launch. Not only because Kahoot! is offering free subscriptions to Ukrainian schools to help them engage with their students who may be dispersed, but also because of the people that made this possible – our translators.
We hired 5 Ukrainian translators to work on this project, who had either fled Ukraine to neighboring countries or decided to stay in Ukraine despite the turmoil. Working under the most trying circumstances, they signed up for this project to further help their countrymen and women.
These are some of the stories that they shared with us:
Anna Novozhylova – Kyiv, Ukraine
Kahoot! was already familiar to Anna, having used it in her English classes and at work. When she left Kyiv with her partner and six year old daughter ten days before the war started, her mom and the rest of her family stayed behind. For Anna, working on this project was a way to keep busy and do her part for Ukraine: "the first weeks of the war were spent on the news and worries … this job for Kahoot! means a lot for me because of the opportunity to do something good for Ukraine, but it also makes me busier [so that] I don't have time for frustration, oppressive tension, anxiety, and a sense of hopelessness. I feel so much pain because of what's going on but I'm doing my best to help my country by working, paying taxes, and helping volunteers," said Novozhylova. 
Anna Foster Heraskina – Kharkiv, Ukraine
Currently located in Auckland, New Zealand, where she moved in with her husband from New Zealand, Anna left Kharkiv on the morning of the first attacks on Ukraine. From that morning, she started on a heartwrenching journey with only a single backpack filled with essentials and family photos. "At that moment, I've not realised that my visa to NZ [New Zealand] would be approved in a couple of weeks, and this backpack will be all I take to my new life," said Foster Heraskina when she shared her story with us. Anna also talked about her experience of working with Kahoot! and why it was meaningful to her: "when I translated tasks for Kahoot! and bumped into a task dedicated to "Wonderful Ukraine," I burst into tears. As a forced emigrant, I was torn and wanted to do at least [something] for my homeland."

Alina Sugoniako – Kyiv, Ukraine
After having lived in Kyiv for fifteen years, Alina and her husband moved in with her husband's parents in Bila Tserkva, a city in Ukraine approximately one hundred kilometers south of Kyiv. For the first couple weeks, her family was living in a one room apartment, and recently, houses no more than two kilometers away from them were hit in an attack. Her parents and sisters also stayed in Ukraine, but in their home town of Kharkiv. Alina said, "my family does not want to leave Kharkiv because my mother is a general doctor and my father is dentist with [patients] who are still living there, and my sister is working for the local authorities". Alina is thinking about her family every day, calling them every day, and constantly checking the news to make sure that they are safe. "I'm thankful for the opportunity to work and feel useful. To return to normal life. This work is for Ukrainian children and teachers who need to teach online because they can't go to school now, not just in the cities affected by the war, but all over Ukraine", said Sugoniako. 
Andriy Poznakhovskyy – Mykulyntsi, Ukraine
Andriy is the Head of Growth and Customer Care at Crowdin and is based in Ukraine. Crowdin is a Ukrainian company and is the translation management system Kahoot! uses to translate content, including our product user interface. When Andriy heard about our plans to make Kahoot! available in Ukrainian, he asked, "how can I help?". Volunteering his time, he translated the Kahoot! Multiplication by Dragonbox game into Ukrainian, which he had a special interest in, as he says, "my daughter Anastasia is finishing 2nd grade and she started multiplication learning recently. Well, she is not a big fan of math, I must admit, but [the Kahoot!] multiplication app made it much easier to learn basics of multiplication".
Dima Figol – Bucha, Ukraine
After his hometown of Bucha was attacked, Dima and his family were forced to separate. While Dima travelled to Kolomyia in the western Ivano-Frankivsk region of Ukraine, his wife and son moved to safety in Spain. In his own words, "[this project] helped me to keep my mind sharp, rather than doomscrolling all the time". Now, Dima is using his work with Kahoot! as a way to stay connected with his son: "when we translated the app to Ukrainian I [could] create my own games and play them with my son, who is is 5,000 kilometers away from me," said Figol, "I'm also excited about Kahoot!'s family of learning apps. My son just started learning to read and do basic maths. We'll definitely try them all!".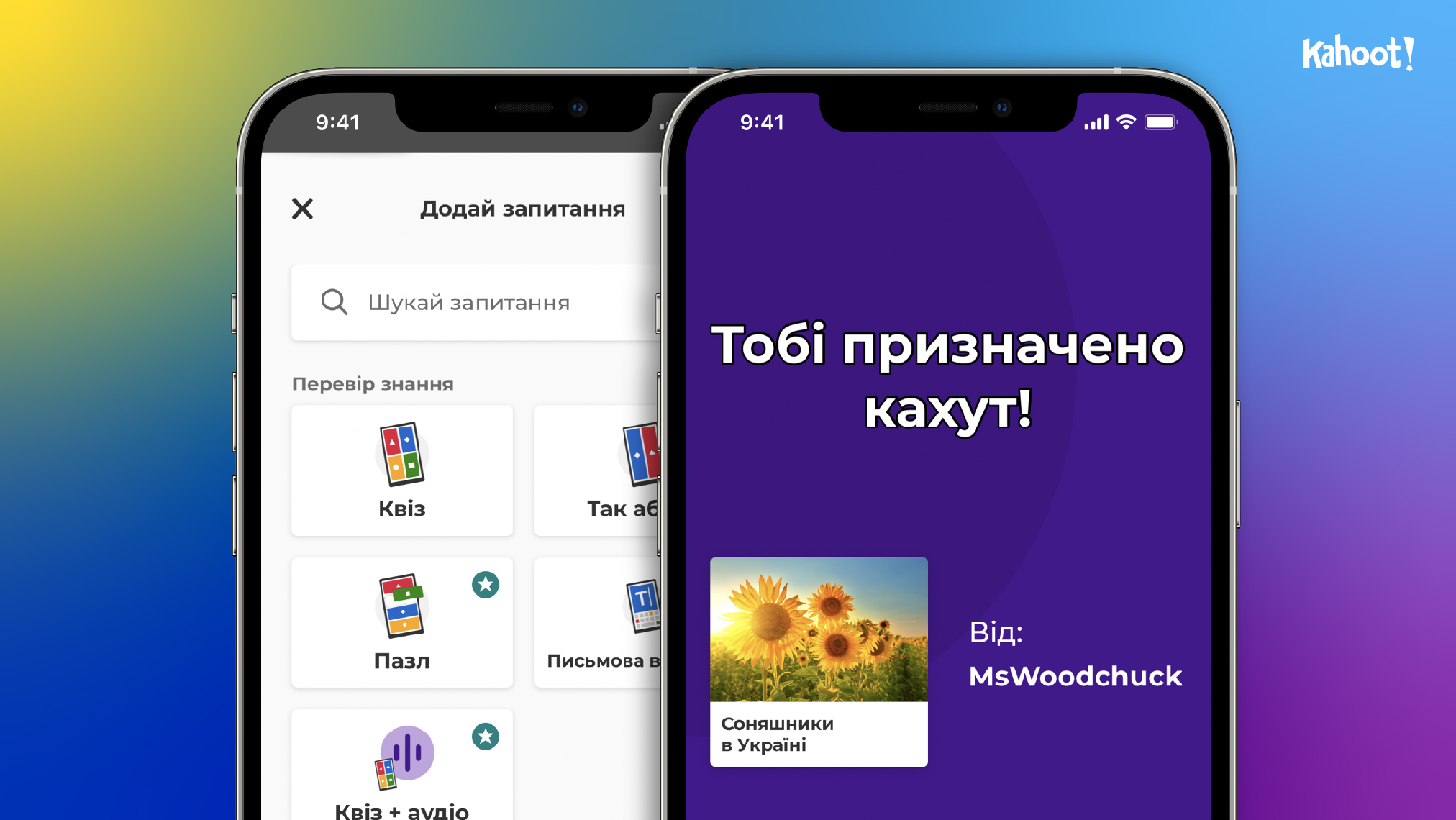 We are very grateful to have had the opportunity to work with these remarkable people, hear their stories, and share them with you. If you would like to experience their amazing work firsthand, we have several translated kahoots, and content collections about Ukraine (available in Ukrainian and English). You can also visit our support Ukraine donation page to purchase our premium content collection: 'All About Ukraine!'. One hundred percent of net proceeds will be distributed evenly between the two charities Save The Children and UNICEF for Ukraine Children. 
Kahoot! stands with Ukraine 
Making Kahoot! available in Ukrainian is only a part of our commitment to supporting Ukrainian children, families, educators, and lifelong learners affected by the current crisis. We are also proud to be offering Kahoot! EDU solutions for free for one year to K-12 schools and higher educational institutions in Ukraine, and to have set up our support Ukraine donation page, which offers several ways to make donations to Save The Children or UNICEF, either directly or through the purchase of our premium content collection: 'All About Ukraine!'. Shortly after the start of the invasion in Ukraine, the Kahoot! Group announced a donation of $100,000 USD to Save the Children and the Norwegian Refugee Council to support life-saving assistance and protection for Ukrainian children, families and refugees. 
Finally, Drops, the award-winning language app of Kahoot!, has also added the Ukrainian language to the app to help those who are seeking to connect and support Ukrainians through language. In addition, Drops provides free language courses to Ukrainian refugees by donating 70,000 language courses. These premium memberships unlock lessons in all languages including Polish, German and Hungarian.