Do you remember when working on a class project meant getting out the glue stick and poster board to create a DIY masterpiece? Building 21st-century skills means giving your students the tools they need to take control of their own learning; creating presentations for their class using digital tools that allow them to demonstrate student-centered learning in a fun and engaging way.
Enter Kahoot!'s new student passes…
Designed to engage students in active learning by taking them from kahoot players to kahoot creators! With student passes, classrooms and lecture halls from K-12 to higher education will have access to the full functionality of the Kahoot! creator. They will also have access to premium Kahoot! features including flashcards and study groups to make studying social and fun, as well as exclusive question types including word cloud, brainstorm, slider, and drop pin. Even the littlest of learners will be able to teach themselves everything from basic numeracy and reading to algebra and chess with award-winning learning apps from DragonBox and Poio.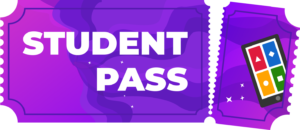 The power of the Kahoot! creator
There is no better way for students of all ages to reinforce their own learning than to challenge themselves to teach what they know to their peers. Now your students can quickly and easily start creating their own kahoots. With access to all of our exclusive question types (quizzes, polls, puzzles, type answer, drop pin, and slider), advanced slide layouts, and fun themes, students can make presentations on any chosen or assigned topic. Testing the knowledge of the class through student-led presentations will not only reinforce the learning of the presenter but will also provide complete reports that show how much the other students understood.  
Study smart, play hard
Ensure that studying outside the classroom is just as effective as inside the classroom with access to Kahoot!'s study modes with student passes. Your students can make studying social, immersive, and motivating by creating study groups with Kahoot!. Allowing them to share kahoots with their friends to engage in friendly competition while they learn the material. Of course, the key to success is reviewing, and with flashcards and practice mode, students can go through questions while reinforcing knowledge by checking the correct answer with no points or timers to rush them. Now, with our new advanced study toolkit, students can set weekly learning goals to track their progress and play solo game modes to make studying on their own more engaging!
Learning incognito with our learning apps
For our young learners, student passes give access to our award-winning learning apps from Dragonbox and Poio. Imagine letting your students play games on their smart devices that are so much fun they won't even realize they're developing their math and reading skills. Immerse students in the exciting worlds of numbers and words through engaging gameplay, your students can learn everything from basic numbers and reading skills to algebra, multiplication, geometry, and even chess!
From K-12 to higher education
The benefits of student-led learning through creating and presenting kahoots to their peers is universal whether the kahoot is a book report about Romeo and Juliet or a detailed account of economic policy in the European union. When students are empowered to show what they know and are given the tools to engage other students in playful learning, the knowledge retained is much more powerful than when taught through endless slides. Creating kahoots is a great opportunity for group projects or presentations, and the study modes included in our student passes makes connecting and learning with others outside the classroom fun and easy!
Looking for ideas to get started?
Here are 3 ways you can engage your students in active learning with our new student passes:
Help students divide and conquer their learning by assigning each student a section of the class material to cover in a kahoot that they host with the whole class.

Have your students present a kahoot on a topic that interests them for an interactive show and tell.

Ask students what they want to learn with a kahoot brainstorm session and encourage students to follow up on their ideas by presenting a kahoot.
How to share Student passes with your students
Simply log in to your Kahoot! account, or open your profile in the Kahoot! app. Then navigate to the new student passes section where you will see the number of passes you have available and for how long they are available for. Click share to instantly give your students access to the Kahoot! creator with all of our premium features and our award-winning learning apps.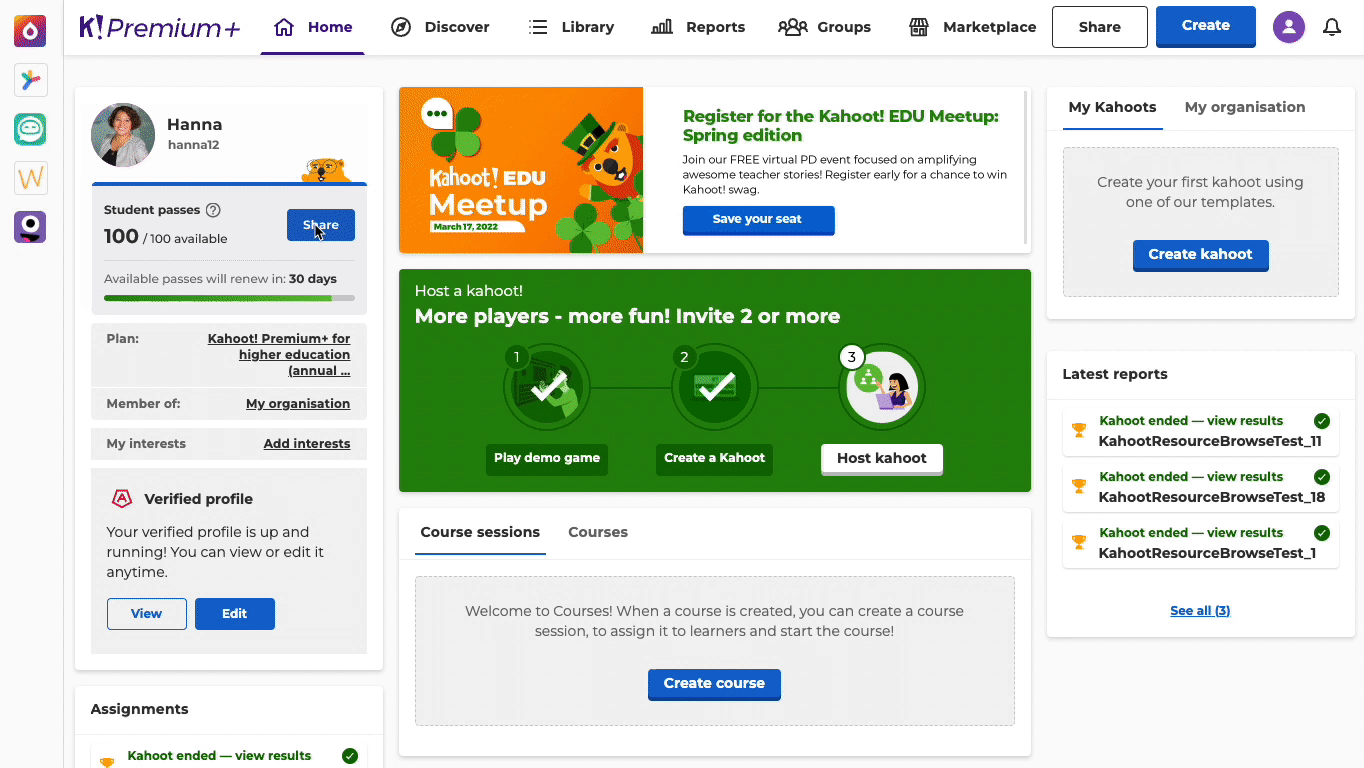 Give your students access to award-winning learning apps today with Kahoot+ Max for teachers. Learn more about Kahoot!+ Max for higher education or talk to your school admin about a Kahoot! EDU site license for your entire school or district to get access to student passes for the whole school year!
We hope that you enjoy this new feature! If you have any feedback or simply want to share a success story with us, please let us know on Twitter!