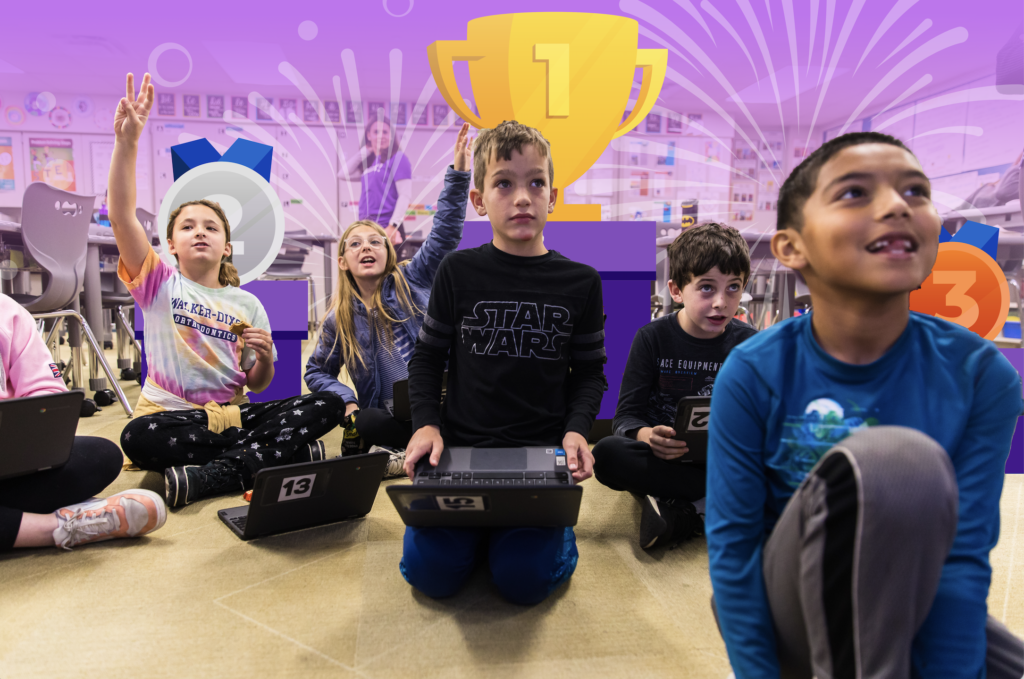 What started in 2017 as a community building event quickly took off and became a worldwide brain buster – the Kahoot! Cup has now been reinvented and replayed in a variety of classroom settings, student demographics, and community representations. With feedback and insight from Kahoot! Cup hosts across the world, we bring you the ultimate how-to guide in planning, hosting, and playing your very own!
Back to the roots
Kahoot! Ambassador, Steve Auslander, organized the first-annual Kahoot! cup in 2017, streaming live from his classroom in Allisonville, Indiana. With hopes to bridge connections and relationships between students around the world, he partnered with a global group of classroom teachers to inspire community and connection! Steve created a series of pop-culture based kahoots, including content, themes, news, and events relevant to audiences, everywhere – the World Cup, trending music, movie plot lines, just to name a few. In the years since the inaugural event, Steve has since hosted six separate Kahoot! Cup events, each bringing together more teachers, students, nationalities, and cultures! In the latest event, the Kahoot! Cup linked 3,740 students across 59 countries. Steve's inspired celebrations and relationships across the world. Kahoot! is more than just a quizzing tool or assessment platform. Teachers everywhere, like Steve, have boosted foundational skills in empathy, relationships, and perspective – all with Kahoot!. 
Calibrate on content and questions
Recognizing your audience is a key element to creating and curating an engaging Kahoot! Cup experience. Steve Auslander, Kahoot! Cup organizer in Indiana, USA, creates gaming content that reflects popular culture trends, current events, and world news. Monika Khan's class in Warsaw, Poland brainstorms Kahoot! questions that are relevant to classroom and curriculum standards. Understanding your Kahoot!'ing audience and community will help you to customize your games to spark excitement, while also keeping competition level-set. Consider these questions to help guide your planning:
Will your audience be composed of a wide or narrow age range? Will the experience levels differ between individuals and players?

Will your Kahoot! theme appeal community members, or just those with specific content knowledge and interests?

Will all Kahoot!'ers feel included in Kahoot! content? Be sure to add questions that are accessible and relevant to all audience members.
Timezone technicalities
With loads of prep work and hours of coordinating, making the most of your Kahoot! Cup event is crucial! If possible, create a Kahoot! Cup event schedule that includes multiple game sessions and live event times. Steve hosts sessions across two days, giving him ample scheduling time to coordinate across European and US time zones. GohKok Ming in Malaysia suggests hosting a rehearsal session with any new Kahoot!'ers. During this time, he provides live tutorials and demonstrations around the "how-to" features of Kahoot! so the audience feels comfortable engaging throughout the competition! 
Planning your Kahoot! Cup requires diligence and careful planning around timelines and timezones! Consider these factors when coordinating your event:
As you publish and share dates and times, list timezones within the event invitation to eliminate confusion around event logistics.

Plan to coordinate multiple live sessions, spaced between different hours and days to reach the largest audience as possible.

Promote and share about your event across different platforms to reach different audiences and people! Want to reach a global audience? Share in our Facebook communities and connect with Ambassadors for greater visibility and reach.