Kahoot! ranked in the top 20 in Financial Times' FT 1000 fastest growing companies in Europe 2023
Supported by a large global user base, strong long-term growth fueled by continuous product innovation and a scalable business model places Kahoot! among the top companies on the Financial Times' prestigious ranking.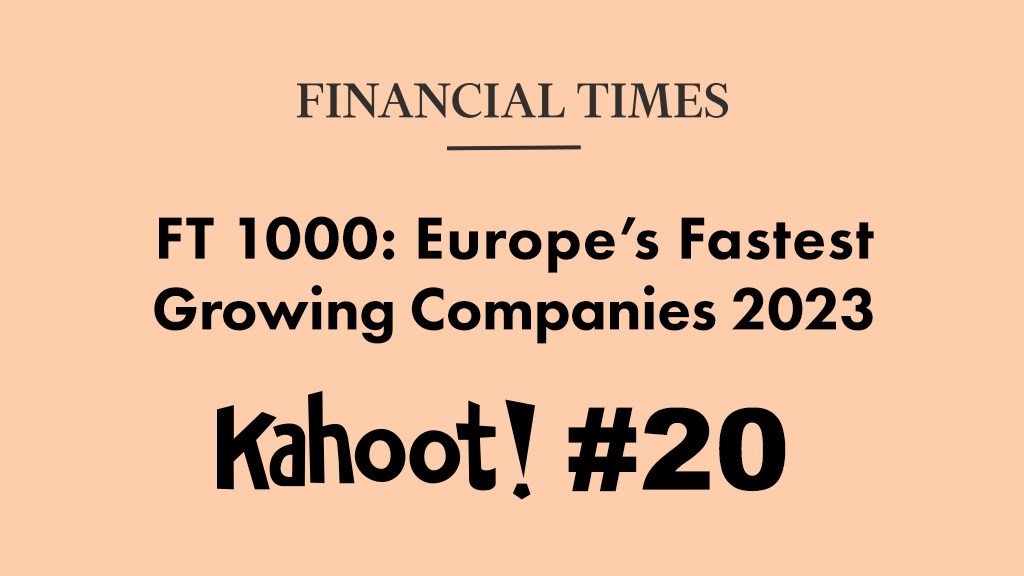 We are happy to announce that Kahoot! was ranked in the top 20 in the 2023 edition of The FT1000: Europe's Fastest Growing Companies, the Financial Times' annual ranking of the fastest growing companies in Europe. Kahoot! also appeared 2nd in the "IT and Software" category.
The FT 1000 list measures and ranks companies based on their average growth rate in revenues from 2018 to 2021. 
"Our most important growth lever since the launch ten years ago has been the product itself. Kahoot!'s unique and highly engaging user experience creates the basis for a viral spread, which over the years has led to a strong trend of users converting from free to paid usage," said Eilert Hanoa, CEO, Kahoot!.  "This product-led strategy has yielded sustainable and profitable growth in revenue, supported by our scalable platform. This momentum provides a springboard into our next phase of development, and we look forward to continuing to innovate world-class solutions for the future of learning."  
Kahoot! was founded on the fundamental idea of making learning awesome, and has grown from a classroom quiz to a full suite of complementary learning and engagement applications for school, work and home. The company entered its commercialization phase in 2018, and today has more than 1.3 million paying subscribers, contributing to strong topline growth and positive operating cash flow for the past 14 consecutive quarters.
*Financial Times has updated the list after it was published on March 1st, 2023*