I am excited to announce the launch of Kahoot! 360 Engage, the latest addition to our Kahoot! 360 Enterprise offering! With this launch, trainers and employers now have a powerful tool to create and deliver engaging learning experiences at scale that employees feel motivated to complete. Kahoot! 360 Engage makes learning awesome and accessible on-the-go for all, both desk and non-desk workers.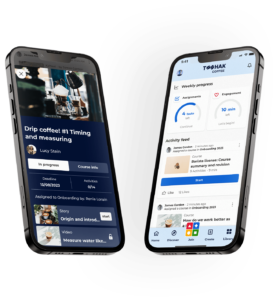 Learning that sticks—anytime, anywhere
With Kahoot! 360 Engage, companies can empower learners with self-directed learning journeys and a personalized content library to boost knowledge retention. Deliver bite-sized learning content with visually impactful and easy-to-consume content formats like Story. The app enables employees to complete the content at their own pace within the flow of work, while also fostering collaboration with asynchronous discussions between learners and trainers.
Level up your corporate learning impact
Training should be fun and rewarding! That's why we have added a new certificate feature to Kahoot! 360 Engage, enabling trainers to easily assign certificates to courses, incentivizing employees to complete the learning and retain more information on the way. And with leaderboards, we further incentivize both formal and informal knowledge sharing as employees can now track their progress against their colleagues, promoting friendly competition and driving engagement across the organization.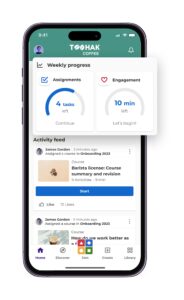 Enterprise-ready services that fit your business
Reflect your brand identity with a custom, consistent look across your app, kahoots, and courses, making every learning moment perfectly on brand! Kahoots can be embedded on your company's intranet for easy access for all employees,  and of course, we are as always offering a secure platform including SSO for seamless onboarding of new colleagues. Once employees have completed an activity on the app, track their progress over time by automatically exporting your Kahoot! data using reports API with enterprise-level security.
Later this year, we will also be including AI-assisted creation tools to make it easier than ever for trainers to create compelling learning material for their teams. 
We're proud to say that Kahoot! is already used in 97% of Fortune 500 companies, and with the addition of Kahoot! 360 Engage, we're confident that even more employers and trainers will be able to create engaging  self-paced training that reaches, connects, and empowers learners.
Kahoot! 360 Engage will be generally available in June 2023. Signup for early access and to learn more today!