Introducing the Kahoot! question generator powered by AI!
Do you love hosting game nights but spend hours looking for new content and creating games from scratch? Save time searching for trivia content or researching topics to create your own games! With the new Kahoot! question generator, you can search any topic of interest and choose from the list of AI-generated questions and answers to create a kahoot ready to play in seconds! Whether you're familiar with Kahoot! or just getting started, the Kahoot! question generator powered by AI will help you create and host unique game night experiences quickly and easily!

Want to try it out? Get early access with 20% off Kahoot!+ Max for personal users from $19.99/month and start creating memorable get-togethers instantly!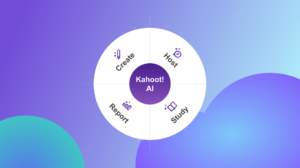 How does it work? 
You and your family and friends can search for any topic in the Kahoot! creator and our generative AI will automatically create kahoot questions matching your chosen topic. Simply click create and select the question generator to start creating your kahoot, or choose the question generator when adding a question in an existing kahoot. Search your topic, choose the questions that best suit your topic and difficulty level, edit the questions, if necessary to add your own answers, and you have a kahoot ready to host live or create a challenge in seconds!
Log in to your Kahoot! Account

Select "Create" and then "Kahoot" from the home screen of your user dashboard

Select "Question generator" to start creating a kahoot with AI (

OR

start creating a kahoot as normal, click "Add question", and select "Question generator" from the top menu beside "Question bank")

Enter your topic, click continue, and watch Kahoot! AI automatically generate the most relevant questions related to your chosen topic

You can now preview the questions by clicking on the down arrow to view the answers

When you have found the questions you want to add to your kahoot, simply select "Add" and the question will automatically be included in your kahoot

Make sure to review and edit the AI-generated questions if necessary, as it is possible for the AI service to "hallucinate" producing factually incorrect results (ultimately, the creator takes responsibility for the content and should always verify the content generated by the Question generator)
Click here for more detailed instructions on how to use the Kahoot! AI question generator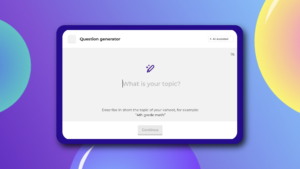 Quickly and easily create unique games
Spark some friendly competition and curiosity at your next game night by having your family and friends choose new and interesting topics to test each other's knowledge or learn about something new together! Whether you want to challenge each other's knowledge of movies, tv shows, music, pop culture, history, and more, or combine them all together to create your very own living room game show, with the Kahoot! question generator, you will never run out of ideas for your next game night!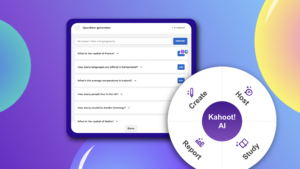 Protecting your data
As you test out the AI-powered question generator tool, rest assured that Kahoot! prioritizes data privacy and security. In Kahoot!, we hold our users' privacy and data protection in high regard. We are not using personal data as part of the AI algorithms. The platform adheres to strict guidelines and ensures that your data remains protected at all times. 
Try the Kahoot! question generator today!
All users with a Kahoot!+ Max plan can get early access to the Kahoot! question generator starting today with more AI-enhanced features coming this year!
Not a Kahoot!+ subscriber? Save over 20% on Kahoot!+ Max for personal users from $19.99/month when you upgrade now for a limited time!

Stay tuned for more updates on Kahoot! AI and share your thoughts with us on Twitter, Instagram, Facebook, and TikTok!