Introducing the Kahoot! AI question generator – powered by AI
Creating impactful and engaging learning experiences has just gotten easier. With the launch of our latest feature the Kahoot! question generator, you can bring presentations and training to life in half the time. No need to start from scratch every time! 
Powered by AI, the Kahoot! question generator can generate questions from a simple text prompt. Support idea generation, reduce the time spent preparing content, and boost engagement to make corporate learning more accessible and scalable.
How does it work? 
You can now enter any topic of interest in the Kahoot! creator and our generative AI will automatically create kahoot questions matching your chosen topic. Simply click Create and select the question generator to start building your kahoot, or choose the question generator when adding a question to an existing kahoot. Search your topic, choose the questions, and edit if necessary, and you have a kahoot ready to present to your professional audience in seconds!
Log in to your Kahoot! Account

Select "Create" and then "Kahoot" from the home screen of your user dashboard

Select "Question generator" to start creating a kahoot with AI (

OR

start creating a kahoot as normal, click "Add question", and select "Question generator" from the top menu beside "Question bank")

Enter your topic, click continue, and watch Kahoot! AI automatically generate the most relevant questions related to your chosen topic

You can now preview the questions by clicking on the down arrow to view the answers

When you have found the questions you want to add to your kahoot, simply select "Add" and the question will automatically be included in your kahoot

Make sure to review and edit the AI-generated questions if necessary, as it is possible for the AI service to "hallucinate" producing factually incorrect results (ultimately, the creator takes responsibility for the content and should always verify the content generated by the Question generator)
Click here for more detailed instructions on how to use the Kahoot! AI question generator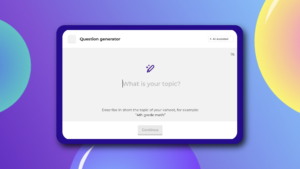 Upskill your team on popular corporate learning topics
Want to build high-performing teams? According to The World Economic Forum, one billion workers need to be reskilled, and this remains a key challenge for many organizations. With our question generator, you can quickly create content on some of the most popular corporate learning topics such as project management & leadership, and customer experience management.
Achieve your organizational learning goals with AI
This powerful tool takes the familiar Kahoot! experience and leverages the capabilities of AI to innovate the process of creating kahoots to make it even easier and more engaging. 
Make creating training material for highly specialized topics time efficient by leveraging readily available information to create content in seconds that you can customize, and distribute to your teams. Now you can access 'first draft' content on any business topic, such as SEO, high-performing teams, how to give feedback, sales negotiation, and digital strategy.
Coming soon: AI-powered creation tools for self-paced kahoot experiences such as courses!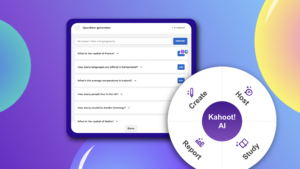 Protecting your data 
As you test out the AI question generator tool, be rest assured that Kahoot! prioritizes data privacy and security. In Kahoot!, we hold our users' privacy and data protection in high regard. We are not using personal data as part of the AI algorithms. The platform adheres to strict guidelines and ensures that your data remains protected at all times.
Try the Kahoot! question generator today
Why not try it out today? The Kahoot! generator is now available as part of Kahoot! 360 Pro, Kahoot! 360 Pro Max, and all our team plans.  
If you don't yet have a Kahoot! subscription, you can test drive our question generator today and host your kahoot for up to 3 participants. Upgrade to Kahoot! 360 Pro today to get the full experience and save over 15% on our limited-time offer!