Introducing slide reactions
Have you ever wondered if your course slides have been clear and communicated the key concepts effectively to your students? Now, with Kahoot! slide reactions you can get instant feedback from your students in the form of small reaction icons. Students can independently send a reaction as you go, or you can invite students to share a reaction for a quick check-in.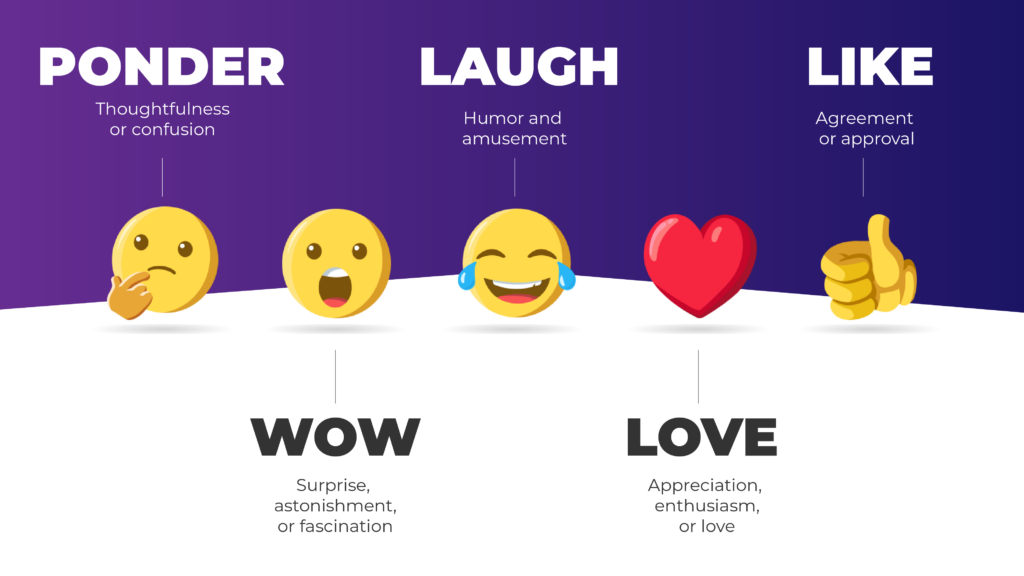 Keep students engaged
As students follow along with your instruction they can stay immersed in the lesson by reacting to specific slides. This helps keep engagement up throughout the lesson as students can share their fascination, confusion, humor, or approval as you present the lesson. 
Find out what students think
Learning what students enjoy and gaining insight on how certain presentations of course content are received by the students can help instructors  finely tune their slides and lecture notes. Is there an instruction technique that accompanies your slides that you think students enjoy? Get their reactions with Kahoot!'s slide reactions. By the time the new school year starts, student reactions will be captured in the game reports, allowing you to get clear insight into how your lesson was received.
Create a caring classroom 
Some concepts are complex and can easily overwhelm students when first introduced. Letting students know you care by inviting their reactions creates a connected and caring classroom atmosphere. Not only do students understand that you, as their instructor, care, but when students realize that their peers also have the same struggle, it allows some of the least confident students to recognize that these feelings are normal, and not uncommon. Even when your lecture content is easily understood, it can be valuable to take pauses from time to time, and invite students' reactions. 
Create new slides or import 
Already have your course slides prepared in PowerPoint or Google Slides? You can easily import pre-existing slides into Kahoot! It is as simple as clicking "add slides" and then selecting the "import slides" option. 
How to turn on (or off) reactions
While gaining real-time feedback from students is important, we know that it might be distracting or less relevant to invite or receive feedback on each of your slides. You can easily turn on or off slide reactions for each specific slide in your kahoot. This allows you more control over where students can provide their reactions and provides valuable insight on how the class is responding to your lesson.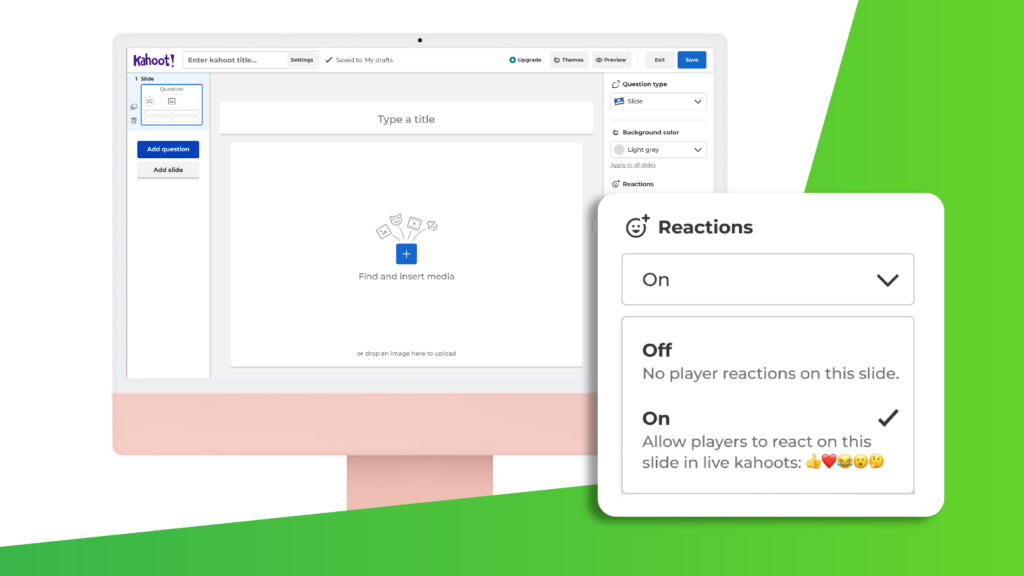 Start your school year off with slide reactions
As you get ready to start the new school year, try out Kahoot!'s new slide reactions. Available for both K12 Kahoot!+Premier and Higher Ed Kahoot! +Premier.