As we are well into the last quarter of the year, business leaders are focused on holiday campaigns, budget reviews, financial reporting, meeting the full-year targets and so much more. For many, Q4 is also the time to create strategies, budgets, and plans that will secure an even stronger next year. 
But the strategy and goal-setting process is not a solo adventure: it should be a team effort! Incorporating your employees' input into the 2024 plans will not only capitalize on the knowledge and expertise of the workforce, but also foster a culture of collaboration, empowerment, and innovation. A win-win!  
So let me share my "secret" little tip for a more inclusive, adaptable, and successful planning session: the brainstorm function in Kahoot!.

A gamified way to collect, discuss, and vote on ideas
During the pandemic, we realized that brainstorming over video calls, using a mishmash of traditional methods and hastily typed documents, was so far from an engaging experience. And even in person, a traditional brainstorming session can take hours! That led us to reimagine and digitize brainstorming for the modern era of work.
The result: a gamified way for teams to collect, discuss, and vote on ideas that has become extremely popular with our users. Our brainstorming feature is super efficient, it takes around five minutes to gather and prioritize ideas from the group, and is designed to keep everyone engaged, energized, and involved during virtual, hybrid and in-person meetings and workshops.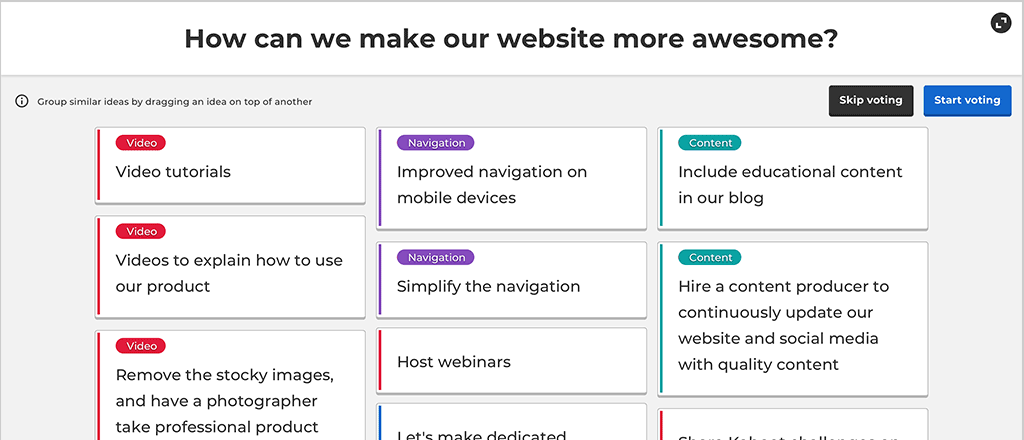 Kick off the discussion by simply asking a question, and participants can submit up to three ideas. When the ideas are displayed on the shared screen, you can discuss and everyone can vote for their favorites. It's a structured, engaging way to share knowledge and ideas in a virtual or in-person setting. 

Turbocharged planning with AI
Earlier this year, we made our brainstorming feature even better by turbo charging it with AI. With embeddings and Microsoft Azure OpenAI, we can now automatically group ideas based on similarity-matching. For example, let's assume that you are hosting a brainstorming session on how to improve your corporate website next year: one colleague might suggest making "videos to explain how to use our products" while another one simply suggests "video tutorials." Basically the same idea, right? So let AI group them for you automatically, increasing the efficiency of your session! 
The brainstorming function is available through our Kahoot! 360 Presenter plan and higher plans. Get started with brainstorming and planning for 2024 today!