Ready to hone your English language skills for work? As the world grows more connected than ever, English has become one of the key skills to level up your career opportunities and professional success. However, it can be challenging to fit language learning into a busy professional's day, as well as to find learning resources that are both effective and engaging.
Kahoot! is dedicated to empowering everyone to reach their learning potential, which is why we have teamed up with the English language experts at Cambridge Assessment English to offer a series of kahoots that help adult learners build confidence in their English skills.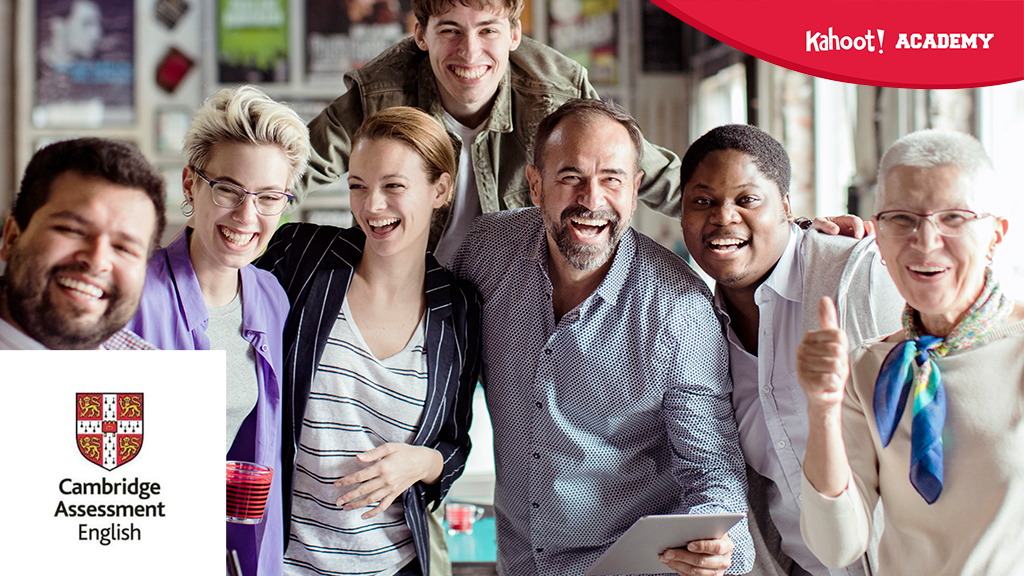 With these kahoots, you can practice your English and other core professional skills with interactive language learning games that break down content into bite-sized chunks. Listen to real-life workplace conversations, and learn practical words and phrases that you can use right away with your coworkers and clients.
"It's exciting to take this next step in our partnership with Cambridge English," said Craig Narveson, Director of Strategic Partnerships at Kahoot!. "Soft skills have never been more important, and it's great to see these included within the English language kahoots—offering a fun and engaging way for adult learners to see how they're doing with both their English and other core skills for work."
The first of these kahoots can be played right here on Kahoot! Academy, with collections of additional kahoots available exclusively on the Cambridge English kahoots for work website. The kahoots are designed for a variety of work settings, helping professionals of all kinds reinforce their language learning through memorable and fun experiences.
"We've developed these games so they're a fun way of learning relevant English skills for the workplace. It's great that there is so much choice nowadays in what we learn and how we learn, but it can be really hard to find high-quality, enjoyable resources which fit in with busy lifestyles," said Belinda Cerdá, Head of Digital Partnerships at Cambridge Assessment English.
Make English learning for work awesome and start playing these kahoots today on Kahoot! Academy and the Cambridge English kahoots for work website.
About Kahoot!
Kahoot! is on a mission to make learning awesome! We want to empower everyone, including children, students, and employees to unlock their full learning potential. Our learning platform makes it easy for any individual or corporation to create, share, and play learning games that drive compelling engagement. Launched in 2013, Kahoot!'s vision is to build the leading learning platform in the world. In the last 12 months, over 275 million games have been played on the Kahoot! platform with 1.6 billion participating players in more than 200 countries. The Kahoot! family also includes award-winning DragonBox math learning apps, the Poio learn to read app, the Drops language learning apps, the Actimo and Motimate employee engagement and corporate platforms and Whiteboard.fi, the online whiteboard tool for all educators, teachers and classrooms. The Kahoot! Group is headquartered in Oslo, Norway with offices in the US, the UK, France, Finland, Estonia, Denmark and Spain. Kahoot! is currently listed on the Oslo Stock Exchange under the ticker KAHOT.OL. Let's play!
About Cambridge Assessment English
Cambridge Assessment English is part of the University of Cambridge and we help millions of people learn English and prove their skills to the world. Learning English is more than just exams and grades. It's about having the confidence to communicate and access a lifetime of enriching experiences and opportunities.
We provide the world's leading range of qualifications and tests for learners and teachers of English. Globally recognised by more than 25,000 leading universities, employers and governments, our research-based qualifications and tests are a mark of excellence that open doors.
Our work is supported around the world by a network of 2,800 exam centres, over 50,000 schools and tens of thousands of examiners, teachers, education experts and publishers. Working together, we inspire learners to go further. With the right support, learning a language is an exhilarating journey. We're there with learners every step of the way.
At Cambridge Assessment English, our teams seek out new opportunities to deliver first-class language-learning and assessment solutions. Our partners are key in helping us to blend our expertise with world-class products and technologies, and the pilot of Cambridge English kahoots for work is part of our innovation work