As we look to the future, almost anyone can see that STEM skills will be key to tackling challenges big and small around the world. Innovations in science, engineering and technology can bring us solutions that enhance our homes, improve our health and benefit our communities in countless ways. However, to truly unleash students' learning potential in STEM, it takes more than simply memorizing the periodic table and learning how to code. It also takes creativity, curiosity, teamwork and fun!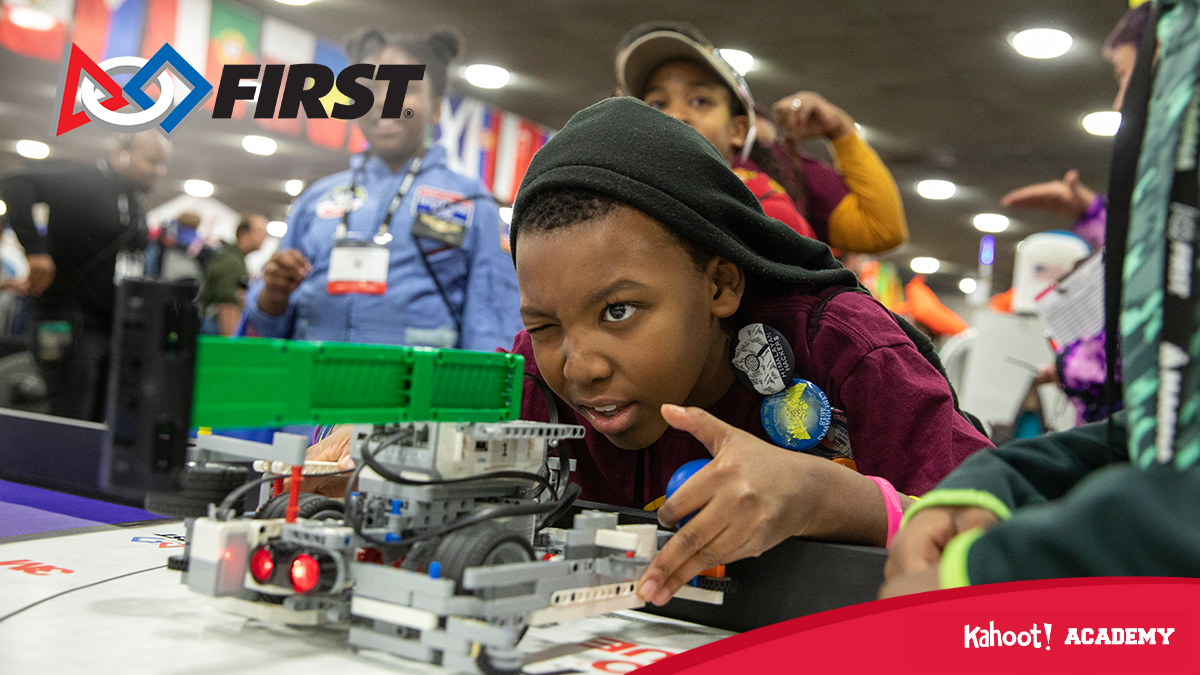 As the next step in Kahoot!'s mission to make learning awesome, we're teaming up with the global robotics community FIRST® to offer a brand-new collection of kahoots for young STEM learners everywhere. Available to play now for free on Kahoot! Academy, this collection of kahoots will inspire students to get curious, think creatively and explore how they can use their STEM knowledge to make the world a better place for all.
FIRST is a leading global nonprofit powering STEM education through robotics for students ages 4–18. Through hands-on and team-based programs, students deepen STEM knowledge while also building holistic social-emotional skills such as leadership, collaboration and creativity in problem solving. More than half a million students in over 110 countries participate in FIRST programs year after year.
Play this new kahoot from the FIRST collection on Kahoot! Academy:

Learn about key ideas related to robotics, including how robots function and a few real-world robots!
By playing this series of thrilling kahoots, students will explore how robots work, where they are used, and how robotics can help solve complex problems in today's world. These kahoots also bring excitement to learning how to work with others in a team, what it means to engage with STEM ethically, and how to turn innovative ideas into real-world solutions that make a positive impact. Through these interactive learning experiences, educators and families can ignite students' interest in STEM to boost learning outcomes and lay the foundation for lifelong learning.
Discover the full collection from FIRST on Kahoot! Academy
"With our common goal of bringing next-level engagement to learning, we at Kahoot! are thrilled to partner with FIRST to inspire students to explore robotics and STEM," said Craig Narveson, Director of Strategic Partnerships at Kahoot!. "By combining FIRST's innovative approach to STEM education with the unique excitement of Kahoot!, we believe these new kahoots will help students ignite their creativity and build key skills for the future as they grow into positive leaders and innovators for good."
"FIRST is excited to be launching our Kahoot! series that focuses on STEM, robotics, computer science, social-emotional learning and FIRST Core Values," said Libby Simpson, Director of Education at FIRST. "Creating relevant content for our educators and FIRST community using a platform like Kahoot! is a win-win for putting knowledge in a fun package for our students." 
Get your gears turning and play these kahoots today on the FIRST Kahoot! Academy Premium partner page.
About Kahoot!
Kahoot! is on a mission to make learning awesome! We want to empower everyone, including children, students, and employees to unlock their full learning potential. Our learning platform makes it easy for any individual or corporation to create, share, and host learning sessions that drive compelling engagement. Launched in 2013, Kahoot!'s vision is to build the leading learning platform in the world. In the last 12 months, 300 million sessions have been hosted on the Kahoot! platform by 30 million active accounts, with 1.9 billion participants (non-unique) in more than 200 countries and regions. The Kahoot! Group also includes Clever, the leading US K-12 EdTech learning platform, together with the learning apps DragonBox, Poio, Drops, Actimo, Motimate, and Whiteboard.fi. The Kahoot! Group is headquartered in Oslo, Norway with offices in the US, the UK, France, Finland, Estonia, Denmark and Spain. Kahoot! is listed on the Oslo Stock Exchange under the ticker KAHOT. Let's play!
About FIRST® 
FIRST® is a robotics community that prepares young people for the future through a suite of inclusive, team-based robotics programs for ages 4-18 (PreK-12) that can be facilitated in school or in structured afterschool programs. An international not-for-profit organization founded by accomplished inventor Dean Kamen in 1989, FIRST has a proven impact on STEM learning, interest, and skill-building well beyond high school. Boosted by a global support system of mentors, coaches, volunteers, alumni, and sponsors that include over 200 of the Fortune 500 companies, teams operate under a signature set of FIRST Core Values to conduct research, fundraise, design, and build robots, then compete and celebrate at local, regional, and international events. High school students are eligible for more than $80 million in college scholarships. Learn more at firstinspires.org.