Kahoot! and BenQ, a leading display technology and solutions provider, are partnering to further enrich the classroom experience with education technology — just in time for the reopening of schools and hybrid learning.
We are excited to launch our latest Android app designed for BenQ interactive displays. This new integration allows educators to install the Kahoot! app directly from the BenQ Suggests app store for free.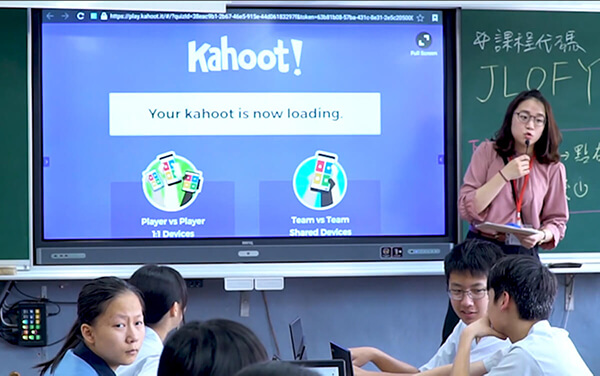 Thousands of K-12 classrooms around the world already use BenQ interactive displays to deliver dynamic lessons. Now, they can use Kahoot! on their BenQ displays to collect, discuss, and vote on ideas.
The new Kahoot! app takes full advantage of the connectivity and interactivity offered by BenQ displays to help turn regular lessons into fun and exciting learning experiences. With Kahoot!, teachers can instantly create polls, learning games, and team competitions so that their students are always engaged and focused.
Kahoot! allows students to participate from the comfort of their own seats, making it easier for schools to adhere to social distancing measures in the classroom. Empower students to unlock their full learning potential with Kahoot! and BenQ. Available now on all BenQ interactive displays.
About Kahoot!
Kahoot! is on a mission to make learning awesome! We want to empower everyone, including children, students, and employees to unlock their full learning potential. Our learning platform makes it easy for any individual or corporation to create, share, and play learning games that drive compelling engagement. Launched in 2013, Kahoot!'s vision is to build the leading learning platform in the world. In the last 12 months, more than 250 million games have been played on the Kahoot! platform with 1.5 billion participating players in 200 countries. The Kahoot! family also includes award-winning DragonBox math learning apps, the Poio learn to read app, the Drops language learning apps, the Actimo employee engagement platform and Whiteboard.fi, the online whiteboard tool for all educators, teachers and classrooms.The Kahoot Group is headquartered in Oslo, Norway with offices in the US, the UK, France, Finland, Estonia, Denmark and Spain. Let's play!