We are happy to announce that Kahoot! has been named a Top Rated product on TrustRadius, the business technology review platform, based on excellent customer reviews and ratings.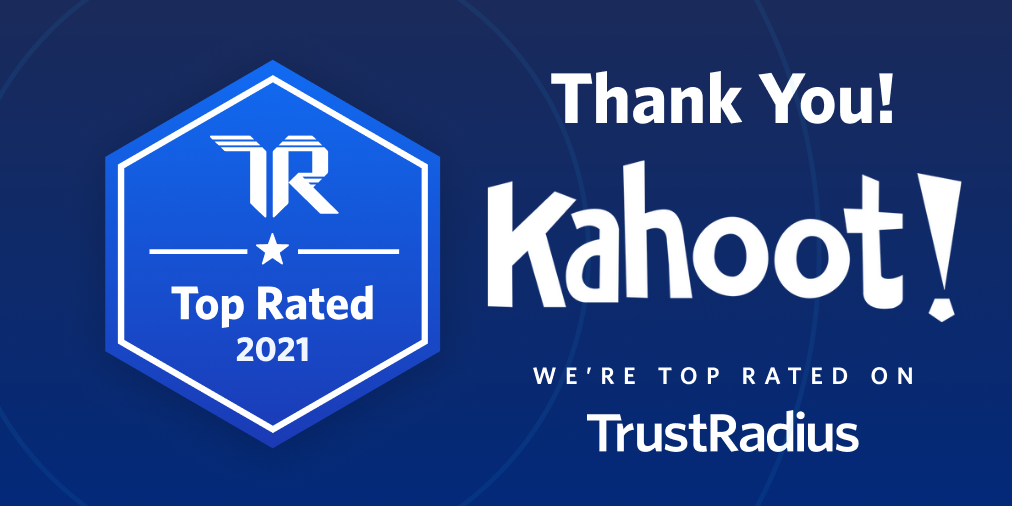 With awards recognizing business technology products across all organizational areas, including finance, human resources, customer support and marketing, the TrustRadius community declared Kahoot! Top Rated in the Gamification Software category.
Now in their sixth year, the TrustRadius Top Rated Awards are a leading award program spotlighting the best in B2B technology products. The awards recognize the most highly-rated digital platforms and tools as chosen by the businesses and professionals who use them, empowering customer voice and centering user experience.
"Kahoot! has earned a Top Rated award in the Gamification Software category, based entirely on feedback from their customers," said Megan Headley, VP of Research at TrustRadius. "Reviewers on TrustRadius love how user-friendly, interactive, and fun and engaging the Kahoot! platform is."
As the world looks ahead to a future or work with more distributed teams and flexible locations, adaptable ways of supporting learning, engagement and company culture have become more important than ever. Hundreds of thousands of organizations in over 150 countries, including 97% of Fortune 500 companies, now use Kahoot! to connect their teams, foster creative collaboration and make learning awesome, whether at the office or at home. In the last year, more than 1.6 billion participating players from over 200 countries have played 279 million games on Kahoot!
To stay up to date on company news and updates, visit and subscribe to Kahoot! News.
About Kahoot!
Kahoot! is on a mission to make learning awesome! We want to empower everyone, including children, students, and employees to unlock their full learning potential. Our learning platform makes it easy for any individual or corporation to create, share, and play learning games that drive compelling engagement. Launched in 2013, Kahoot!'s vision is to build the leading learning platform in the world. In the last 12 months, 279 million games have been played on the Kahoot! platform with 1.6 billion participating players in more than 200 countries. The Kahoot! family also includes award-winning DragonBox math learning apps, the Poio learn to read app, the Drops language learning apps, the Actimo and Motimate employee engagement and corporate platforms and Whiteboard.fi, the online whiteboard tool for all educators, teachers and classrooms. The Kahoot! Group is headquartered in Oslo, Norway with offices in the US, the UK, France, Finland, Estonia, Denmark and Spain. Let's play!