As tackling climate change becomes a bigger priority around the world, raising awareness and building climate literacy is more important than ever. However, many educators and parents have found it challenging to break down these complex topics and make them engaging for learners.
Kahoot! is passionate about helping to create a sustainable future for all, beginning with making learning awesome, no matter how old you are, where you live or where learning is taking place. To help make the topic of climate change more accessible and engaging for learners of all ages, Rovio Entertainment is bringing their much-loved Angry Birds flock (and pigs too!) to a new collection of games on Kahoot! Academy.
This collection invites users to test their knowledge and learn something new about climate change while flying high with beloved Angry Birds characters. Available to play for free on Kahoot! Academy, these games can be played anywhere—in the classroom, virtually or independently at home.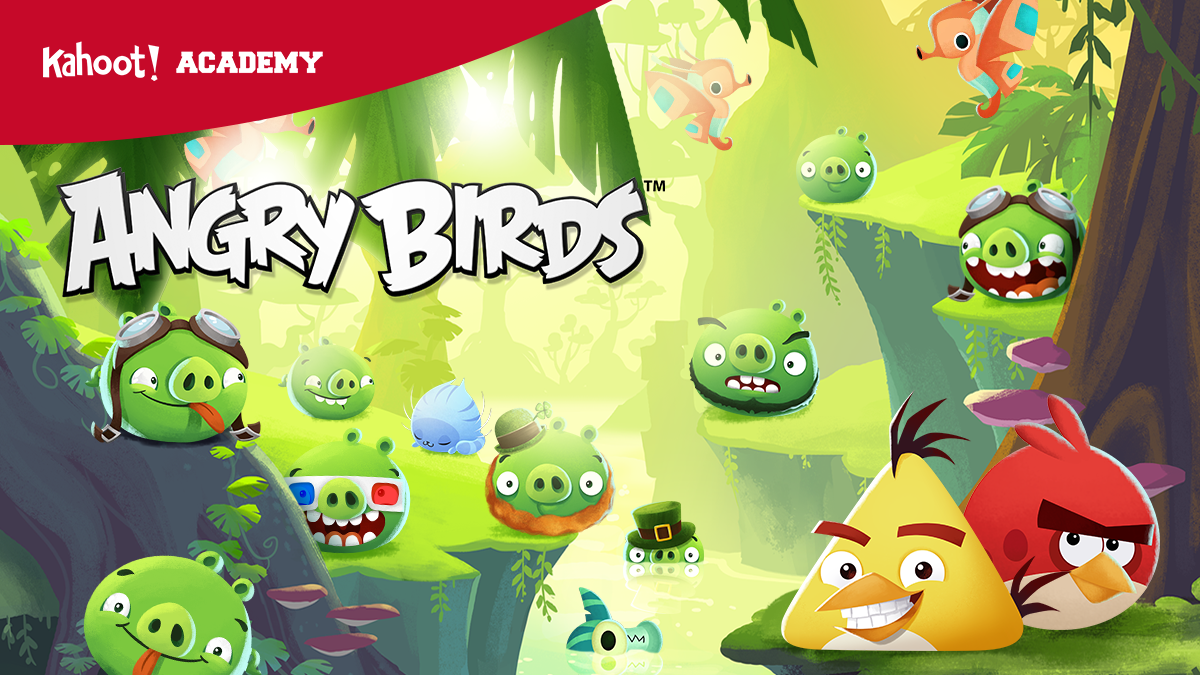 Angry Birds, created by the Finnish mobile game developer Rovio Entertainment, began as a popular mobile game in 2009, now downloaded billions of times, and has since evolved into a global brand in entertainment, including The Angry Birds Movie and The Angry Birds Movie 2. The brand has also launched a series of initiatives using "anger for good," such as participating in the UN's ActNow Climate Campaign to raise awareness and inspire action on climate change with the help of their feathered friends.
"We at Kahoot! are passionate about making the world a better place by bringing learning to life with fun and play, so joining forces with Angry Birds to make learning about climate change more engaging is an awesome fit," said Craig Narveson, Director of Strategic Partnerships at Kahoot!. "Climate change can be an overwhelming subject, especially for young learners. We're excited to be working together with Angry Birds to introduce climate science in a fresh and interactive way, which learners of all ages can enjoy whether they're in the classroom or at home."
By playing the six learning games in the collection, users can take a bird's-eye view of the effects of climate change on our environment, investigate the science behind it and explore what we can do to care for the Earth. Learners can discover the answers to questions such as: Where do greenhouse gases come from? Why is biodiversity so important? What is a carbon footprint, and how can we reduce ours?
"We're thrilled to join forces with Kahoot! to bring an Angry Birds flair to their learning games," said Stephen Porter, Brand Director at Rovio Entertainment. "Environmental education and climate change awareness are extremely important and pressing topics for Rovio, and Kahoot!'s massive audience gives us a fantastic opportunity to contribute in these areas."
This collection is available to play now on Kahoot! Academy, a knowledge platform and online community, which allows educators and publishers to share and access content that supports engaging and meaningful learning experiences for learners of all ages, worldwide. All Kahoot! Academy content is available for all Kahoot! users, both through the website and on the mobile app.
Join the flock and play these kahoots with your kids or students today on the Angry Birds Kahoot! Academy Premium partner page.
About Kahoot!
Kahoot! is on a mission to make learning awesome! We want to empower everyone, including children, students, and employees to unlock their full learning potential. Our learning platform makes it easy for any individual or corporation to create, share, and play learning games that drive compelling engagement. In addition, our family of apps takes math learning to a new level and empowers children to learn to read through play. Learners of all ages can make language learning natural with immersive visuals and play through our Drops apps. Organizations can connect and engage their work teams with Actimo, our employee engagement platform. Launched in 2013, Kahoot!'s vision is to build the leading learning platform in the world. In the last 12 months, more than 250 million games have been played on the Kahoot! platform with 1.5 billion participating players in 200 countries. The company is headquartered in Norway with offices in the US, the UK, France, Finland, Estonia, Denmark and Spain. Let's play!