Don't you wish you learned how money works earlier in life? Banking, budgeting, investing in the stock market—these are all important skills in the 21st century! Making smart financial choices in today's world can be especially challenging for young people just starting their financial journey.
At Kahoot!, we want to empower everyone to reach their full learning potential in the classroom and beyond. That's why we've teamed up with Next Gen Personal Finance (NGPF) to support students—and learners of all ages—in developing financial literacy skills. NGPF has launched a collection of kahoots that will bring financial education to life in your classroom!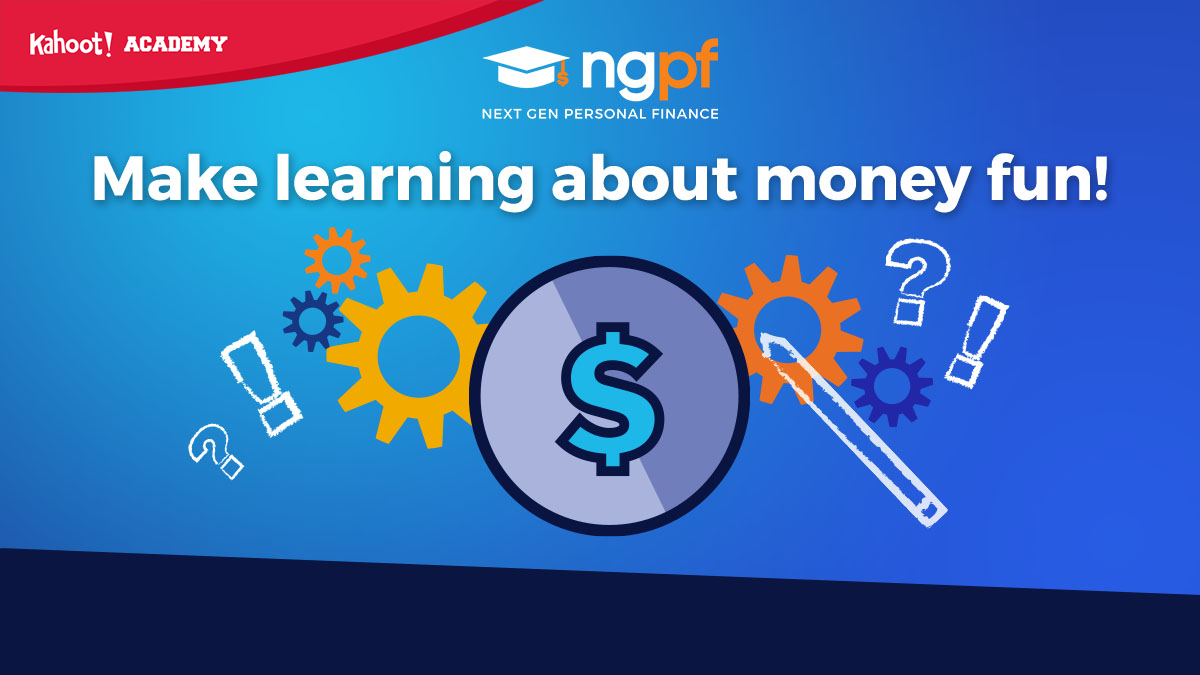 In these kahoots, learners can test their knowledge in a wide range of important topics in personal finance, including budgeting, saving, credit scores, investing, insurance, managing student loans and more. Available to play for free on Kahoot! Academy, this collection can support learning both in the classroom and at home. Financial literacy has never been more accessible or more engaging!
Play this featured kahoot from NGPF's collection here:
NGPF is a non-profit organization with a mission of revolutionizing the teaching of personal finance in all schools. They work to equip the next generation with financial decision-making skills needed to thrive in the future. Founded to partner with high school and middle school educators, NGPF offers free curricular resources and free teacher professional development training to help educators bring up-to-date information to their students while keeping them engaged and excited to learn. 
NGPF's curriculum and professional development have been accessed by nearly 50,000 teachers nationwide, reaching more than 2 million students. NGPF has been using kahoots to engage students for years, creating over 180 kahoots played by over 1.6 million participating players!

Test your knowledge of "financial FOMO" and how it can affect your spending habits!
See the full collection from NGPF on Kahoot! Academy here 
"Kahoot! is all about empowering learners, and we believe financial literacy is essential for young people to foster confidence and independence," said Craig Narveson, Director of Strategic Partnerships at Kahoot!. "Building healthy financial habits from the start is more important than ever, so we're thrilled to be collaborating with NGPF to make financial education fun and accessible for young learners."
"Creating interactive quizzes with Kahoot! has allowed us to reach over a million students through NGPF's FinCap Friday current events series. We pride ourselves on making personal finance education engaging and interactive, so launching a collection on Kahoot! Academy was a no-brainer!" shared Yanely Espinal, NGPF's Director of Educational Outreach. 
With this collection of learning quizzes and games, students can build the skills they need to create a budget, invest wisely, know when and how to save, analyze their spending choices and even navigate the first steps onto a career path. The kahoots are available to play now on Kahoot! Academy, a knowledge platform and online community, which allows educators and publishers to share and access content that supports engaging and meaningful learning experiences for learners of all ages, worldwide. All the kahoot games in this collection are available to play for free on Kahoot! Academy, and can be played via the web or through the Kahoot! app.
Play these kahoots today and make financial learning awesome on the NGPF Kahoot! Academy Premium partner page!
About Kahoot!
Kahoot! is on a mission to make learning awesome! We want to empower everyone, including children, students, and employees to unlock their full learning potential. Our learning platform makes it easy for any individual or corporation to create, share, and play learning games that drive compelling engagement. Launched in 2013, Kahoot!'s vision is to build the leading learning platform in the world. In the last 12 months, 300 million games have been played on the Kahoot! platform with 1.8 billion participating players in more than 200 countries. The Kahoot! family also includes award-winning DragonBox math learning apps, the Poio learn to read app, the Drops language learning apps, the Actimo and Motimate employee engagement and corporate platforms and Whiteboard.fi, the online whiteboard tool for all educators, teachers and classrooms. The Kahoot! Group is headquartered in Oslo, Norway with offices in the US, the UK, France, Finland, Estonia, Denmark and Spain. Kahoot! is currently listed on the Oslo Stock Exchange under the ticker KAHOT. Let's play!
About NGPF
Next Gen Personal Finance (NGPF) is on a mission to get guaranteed access to a full semester class in personal finance for all high school students. NGPF.org has become the "one-stop shop" for financial educators looking for high-quality, engaging curriculum to build the financial capability of their students. NGPF's curriculum, teacher professional development training, and advocacy resources – all available for free – have reached over 50,000 teachers and millions of students nationwide.