Oslo, Norway (August 24, 2021) – Kahoot!, the global learning platform company, today announced that the Kahoot! Poio Read app, the game that has helped hundreds of thousands of children to learn how to read, is now available in French (including Canadian French edition) and Brazilian Portuguese. With the addition of these two new languages, this award-winning learning-to-read app now supports 8 languages, including English (US and UK editions), Spanish, German, Italian, Norwegian and Swedish.
"We are delighted to introduce French (including Canadian French edition) and Brazilian Portuguese as new languages in Kahoot! Poio Read after the successful introduction of German and Italian a month ago. Our goal is to encourage more parents worldwide to support their children throughout the process of learning how to read in their native language and at their own pace," said Sean D'Arcy, VP for Kahoot! At Home and School.
Kahoot! Poio Read is an intuitive game designed to help children from 3 to 8 years old learn how to read on their own. The objective of the game is to help a troll, named Poio, learn to read the storybook he has stolen from letter bugs (characters known as 'readlings') in a magical location called Straw Island.
The game intends to trigger curiosity among children and offers them a unique approach to understanding how reading works through playing with continuous training on phonics.
The main goal of Kahoot! Poio Read is for the child to complete the storybook and be capable and confident in reading it back to anyone they want to.
Creating a sense of achievement by boosting motivation
Kahoot! Poio Read is oriented towards keeping children motivated during the process of learning how to read. The game adapts to the child's reading skills and shows them challenges they can complete to boost their motivation to finish the game. These challenges are designed to keep children engaged during the process while helping them to continue learning more.
Children who finish the game will also receive a personalized diploma that recognizes their achievement in unlocking their word superpowers. Parents and educators can print this diploma to celebrate the achievement together with their children or students.
Adapted by local translators and linguists
In order to translate and adapt the language into the Poio story carefully, Kahoot! worked with a group of linguists and speech therapists in Brazil, France and Canada who made lists of words based on their professional knowledge. These international linguists and university professors also provided advice on how to pronounce phonemes or phonics in Brazilian Portuguese, French and Canadian French.
The learn to read app uses the phonics method—the repetitive practice of letter sounds—which can then be blended together to form complete words. This method is widely used to introduce learners to the fundamental principles of reading.
"We work with international linguists dedicated to identifying the variations in the language and dialects according to certain regions of the world. This makes Kahoot! Poio unique as it is the only learning to read app specially crafted to teach young learners how to read in these languages," said D'Arcy.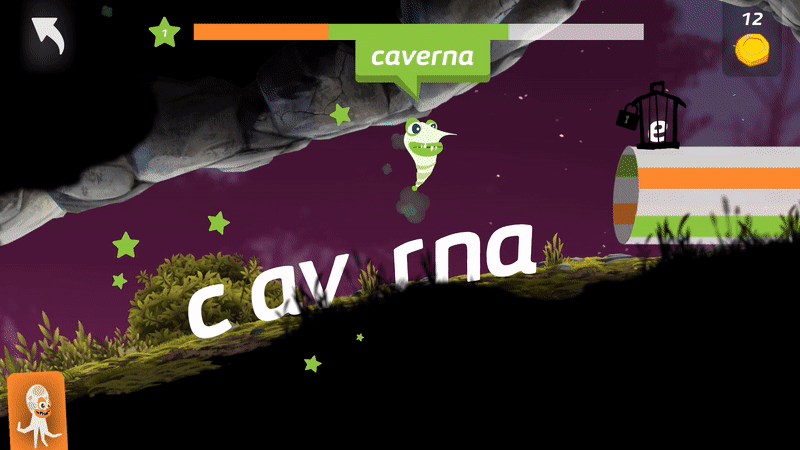 Learn to read through play with an award-winning app
Kahoot! Poio Read is mainly used by parents with children at home but is also commonly used in preschools, primary schools and kindergartens as an introduction for children to literacy and spark the joy for reading.
Since its launch in 2017 in Scandinavia, Kahoot! Poio Read has helped more than 100,000 children to develop the necessary reading skills they need to achieve reading proficiency.
In 2019, the app was chosen as the Gold Winner for Best Learning Game by the Learning Technologies Awards, and the Gold Award Winner for Apps and Software for ages 5 to 8 by the Mom's Choice Awards.
In 2020, Kahoot! Poio Read was shortlisted for Educational App of 2020, by Reimagine Education Awards, and it is highly recognized by Common Sense Education as a "Great Early Reading Resource" for children. In April 2020, Kahoot! Poio Read has been featured by Apple as "Apps we love right now"
Kahoot! Poio Read is now available for download in the Google Play Store and App Store and is part of the Kahoot!+ Family subscription starting at $5 USD per month, and Kahoot!+ Premier starting at $15 USD per month. For more information about prices, please visit our pricing page.
About Kahoot!
Kahoot! is on a mission to make learning awesome! We want to empower everyone, including children, students, and employees to unlock their full learning potential. Our learning platform makes it easy for any individual or corporation to create, share, and play learning games that drive compelling engagement. Launched in 2013, Kahoot!'s vision is to build the leading learning platform in the world. In the last 12 months, 300 million games have been played on the Kahoot! platform with 1.8 billion participating players in more than 200 countries. The Kahoot! family also includes award-winning DragonBox math learning apps, the Poio learn to read app, the Drops language learning apps, the Actimo and Motimate employee engagement and corporate platforms and Whiteboard.fi, the online whiteboard tool for all educators, teachers and classrooms. The Kahoot! Group is headquartered in Oslo, Norway with offices in the US, the UK, France, Finland, Estonia, Denmark and Spain. Kahoot! is currently listed on the Oslo Stock Exchange under the ticker KAHOT. Let's play!