Austin, Texas (August 25, 2021): Kahoot!, the global learning platform company, shed light today on the results of its recent survey among 10,000 educators in the United States. The results of the survey show that keeping students healthy and safe from COVID-19, learning loss and helping students stay engaged and focused in the classroom, are the three main challenges among educators for the new academic year.
The results of the survey indicate that almost half (48%) of the educators agreed that health and safety is the top challenge to face during the new 2021-2022 academic year. Moreover, 46% of the respondents agreed that learning loss is one of the most important issues, while 36% stated that engagement in the classroom is a top priority.
The survey also shows that during the pandemic, nearly 50% of the surveyed educators adopted a variety of learning modalities including virtual learning and hybrid learning models.
According to the educators surveyed, the adoption of virtual and hybrid learning modalities is expected to change for the new academic year. Nearly 8 in 10 teachers in the United States expect classes to resume full-time in-person learning for this school year, with the remaining 2 in 10 teachers expecting to adopt Hybrid, HyFlex or fully remote learning models.
"During the pandemic, educators rapidly adopted education technology platforms and hybrid teaching models to engage with their students in a major effort to avoid learning loss after school closures," said Sean D'Arcy, Vice President Kahoot! at School and Home. "For this in-person academic year, education technology will be crucial as thousands of educators will now be equipped with essential tools to help them break the ice in the classroom, identify knowledge gaps instantly and engage students in social learning experiences."
Closing the knowledge gap
According to UNESCO, the pandemic affected more than 1.6 billion learners in more than 190 countries. In the United States, schools have been closed for more than 58 weeks, a phenomenon that has caused major disruptions in the learning process of millions of students, causing learning loss across the curriculum. These issues have also disproportionately impacted students of color and students from lower-income families, widening educational inequality and gaps to success.
As educators struggle with the process of identifying learning gaps among their students, the ease of education technology platforms like Whiteboard.fi, can help them address the knowledge gaps among students and reinforce learning immediately.
With Whiteboard.fi, teachers get a real-time assessment of which students are understanding the topic shown in class, and which students are struggling with it.
Whiteboard.fi also allows teachers to generate a link, room code or QR code which they provide to their students so all of them can access the same whiteboard. Once students access it, they will see an individual whiteboard on their devices in which they can draw, write or add images of the answers they consider correct according to an assignment. As the students answer, the teacher can see all the incoming answers and follow the progress of each student individually while keeping safe distance with the students.
Whiteboard.fi was acquired by Kahoot! earlier this year. The acquisition of Whiteboard.fi represents more opportunities for Kahoot! to teachers and educators more digital tools to increase engagement and improve education in the classroom.
Boosting student engagement during in-person learning
Engagement in the classroom was voted in the survey as the third top priority for the 2021-2022 academic year.
More than 8 million educators globally have used Kahoot! in the last 12 months to bring engagement to their classes, both in-person and virtually. Educators use Kahoot! to drive engagement by harnessing the power of play, friendly competition and students' natural curiosity. With Kahoot!, educators can create interactive lessons, assess students' learning and keep students motivated throughout class with interactive learning games.
Kahoot! can help students and educators deliver a meaningful learning experience while keeping safe distance among participants. Educators can deliver an engaging and interactive lecture using images, videos, Bitmoji avatars, and GIFs, creating a more relatable and dynamic learning experience for students.
A unique back to school season
Despite the fact that the world is experiencing one of the most challenging back to school seasons, educators and school districts can make use of education technology platforms to make in-person learning safe and engaging for the millions of students preparing to go back to the classroom.
Educators interested in getting to know more about Whiteboard.fi and Kahoot! can visit www.kahoot.com or look into https://kahoot.com/schools/ for more information about plans for their school or individual interest.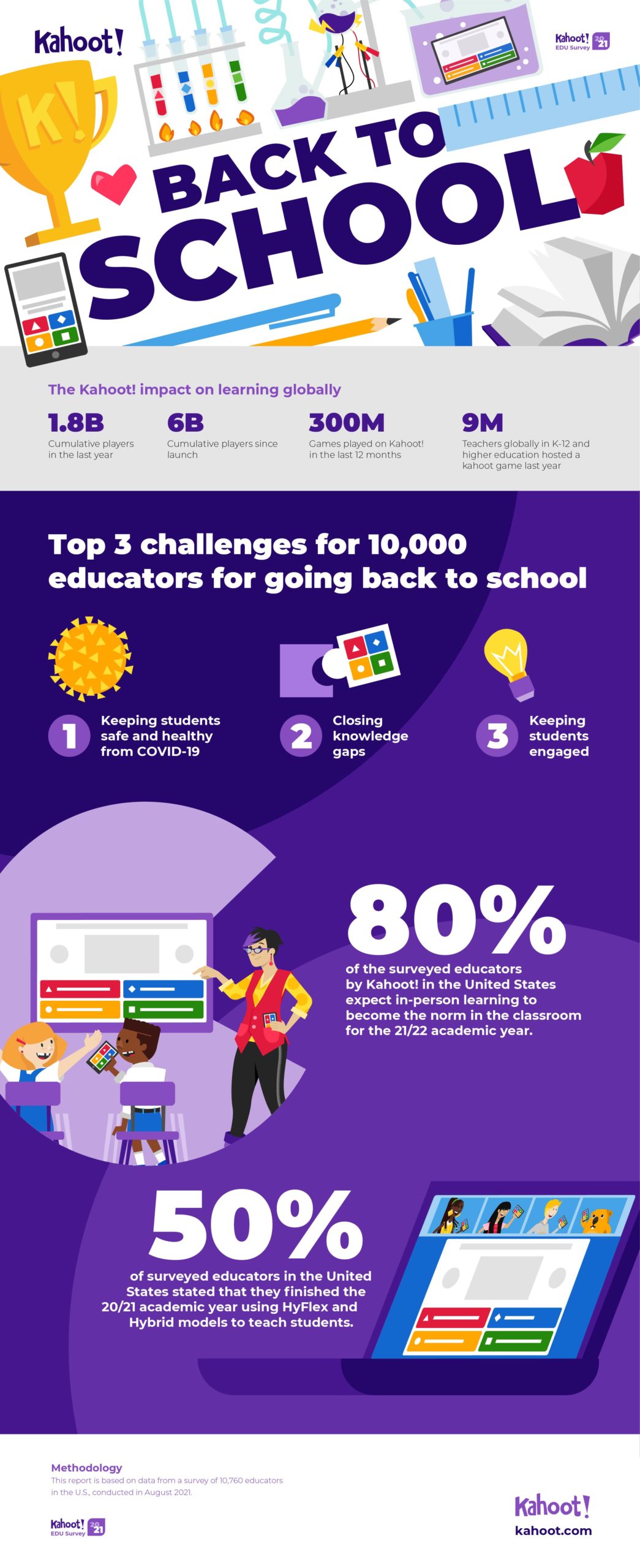 About Kahoot!
Kahoot! is on a mission to make learning awesome! We want to empower everyone, including children, students, and employees to unlock their full learning potential. Our learning platform makes it easy for any individual or corporation to create, share, and play learning games that drive compelling engagement. Launched in 2013, Kahoot!'s vision is to build the leading learning platform in the world. In the last 12 months, 300 million games have been played on the Kahoot! platform with 1.8 billion participating players in more than 200 countries. The Kahoot! family also includes award-winning DragonBox math learning apps, the Poio learn to read app, the Drops language learning apps, the Actimo and Motimate employee engagement and corporate platforms and Whiteboard.fi, the online whiteboard tool for all educators, teachers and classrooms. The Kahoot! Group is headquartered in Oslo, Norway with offices in the US, the UK, France, Finland, Estonia, Denmark and Spain. Kahoot! is currently listed on the Oslo Stock Exchange under the ticker KAHOT. Let's play!