Oslo, Norway (March 17, 2022) – Kahoot!, the global learning and engagement platform company, announced today the launch of Kahoot! Kids for Android, the  digital learning playground and kid-friendly app experience within the Kahoot! app for all Kahoot!+ users. 
Kahoot! Kids for Android offers a collection of interactive learning content designed to support children ages 3 and older to develop early childhood skills. All of the content on Kahoot! Kids is safe, engaging and ad-free. It has been curated by childhood learning experts, and includes content from trusted Kahoot! Academy educators and partners. 
"There are millions of parents using Android devices today. Many of them use these devices to entertain their kids in different ways. Some may prefer to watch cartoons and movies, while others simply enjoy playing games together with them," said Eilert Hanoa, CEO at Kahoot! "Our goal is to provide these parents with a playful and exploratory environment where they can spend quality time with their kids and support their kids' development of foundational skills such as literacy, numeracy, cognitive and social emotional skills."
A digital playground for sparking curiosity everywhere 
Parents with Android devices and a Kahoot!+ subscription account can play with their kids whether at home or on the go, and make learning more interactive and collaborative with siblings, other family members, or friends. In addition to unlocking Kahoot! Kids, subscribers also get access to 8 additional award winning learning apps from Kahoot!. These include Kahoot! Numbers by DragonBox, Kahoot! Algebra by DragonBox, Kahoot! Multiplication by DragonBox, Kahoot! Learn to Read by Poio and more. 
Unleashing awesome learning around the world!
Kahoot! Kids is now available for download in the Google Play Store. Users can also access the app, as well as premium Kahoot! features and 8 other award-winning learning apps, with a Kahoot!+ subscription. For more information about prices, please visit our pricing page.
To learn more about Kahoot! Kids for Android, read our blog post.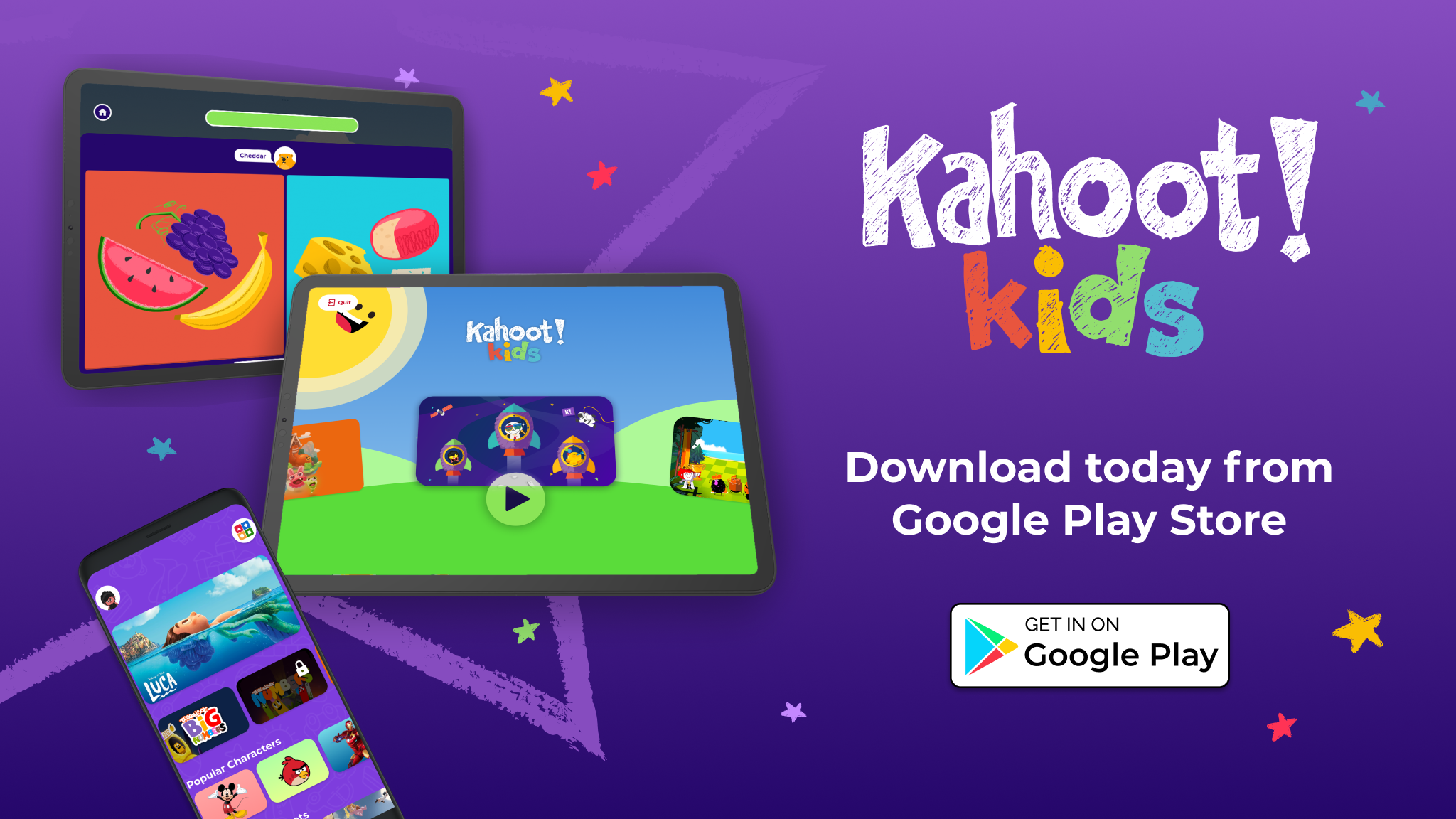 About Kahoot! 
Kahoot! is on a mission to make learning awesome! We want to empower everyone, including children, students, and employees to unlock their full learning potential. Our learning platform makes it easy for any individual or corporation to create, share, and host learning sessions that drive compelling engagement. Launched in 2013, Kahoot!'s vision is to build the leading learning platform in the world. In the last 12 months, 300 million sessions have been hosted on the Kahoot! platform by 30+ million active accounts, with 2 billion participants (non-unique) in more than 200 countries and regions. The Kahoot! Group includes Clever, the leading US K-12 EdTech learning platform, together with the learning apps DragonBox, Poio, Drops, Actimo, Motimate, and Whiteboard.fi. The Kahoot! Group is headquartered in Oslo, Norway with offices in the US, the UK, France, Finland, Estonia, Denmark and Spain. Kahoot! is listed on the Oslo Stock Exchange under the ticker KAHOOT. Let's play!