Oslo, Norway (May 4, 2022): Kahoot!, the global learning and engagement platform company, today announced that its new premium content subscription Kahoot!+ AccessPass is available in Spanish. Starting today, millions of Spanish-speaking Kahoot! users globally can supercharge their learning and boost engagement in their own language.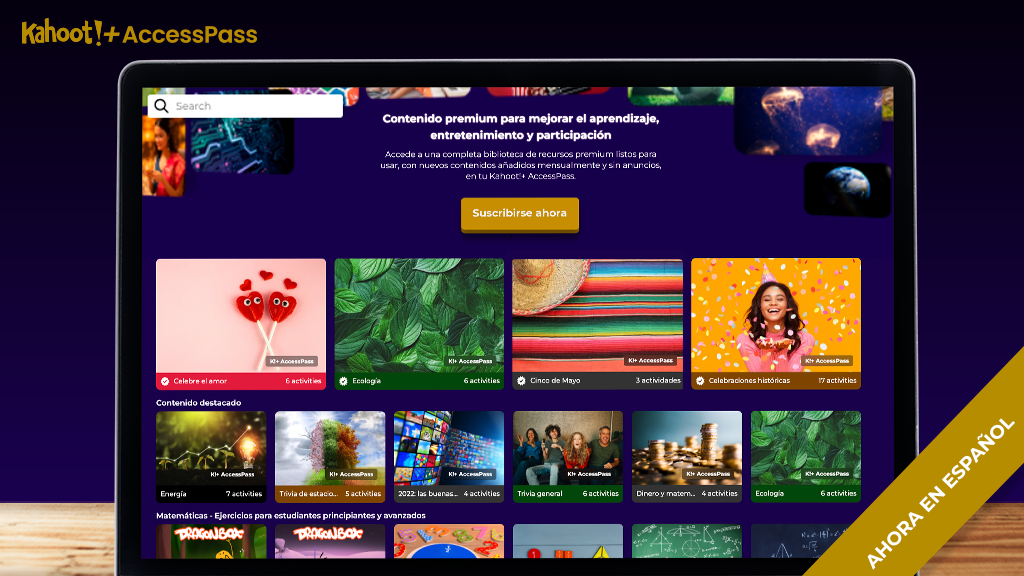 Kahoot!+ AccessPass, first launched in English in December 2021, offers access to a comprehensive library of ready-to-use kahoots, courses and other learning resources on a wide range of topics, enabling learners and learning providers to bring joy to learning at home, virtually or in the classroom.
"As our first all-access pass subscription service, Kahoot!+ AccessPass is our first step towards building the largest digital marketplace for learning resources," said Eilert Hanoa, CEO at Kahoot!. "With millions of Spanish speakers already using Kahoot!, offering the Kahoot!+ AccessPass experience in Spanish has been one of our key priorities. We are excited to invite Spanish-speaking learners and learning providers worldwide to explore the growing library of premium resources now available in their language, and make learning awesome whether at school, at work or at home."
With Kahoot!+ AccessPass, subscribers now get unlimited access to thousands of ready-to-use kahoots, courses and other resources in both Spanish and English, with new content added continuously. Learners, parents, educators, and other learning providers can discover content to spark engagement and joy in a wide variety of subjects, from math and science to language learning, history, geography, general knowledge, trivia, STEM and more. Subscribers can access this premium content anywhere, using it for at-home study, in-person or virtual live sessions, self-paced assignments or for fun and engaging learning in the workplace.
Kahoot! Academy, the global community and knowledge platform for all creators, learners and learning providers, is the proud provider of this premium content offering. Kahoot!+ AccessPass and is an integral part of Kahoot!'s marketplace for learning content created by trusted creators and publishers in multiple languages. 
Kahoot!+ AccessPass in Spanish is available globally on Kahoot!'s web platform and the Kahoot! app for iOS and Android as an annual and monthly subscription service, starting with an introductory offer of $3/month, available for a limited time only.
To learn more about Kahoot!+ AccessPass, read the blog post or visit kahoot.com/accesspass.
Please visit Kahoot! News to stay up to date on company news and updates.
About Kahoot! 
Kahoot! is on a mission to make learning awesome! We want to empower everyone, including children, students, and employees to unlock their full learning potential. Our learning platform makes it easy for any individual or corporation to create, share, and host learning sessions that drive compelling engagement. Launched in 2013, Kahoot!'s vision is to build the leading learning platform in the world. In the last 12 months, 300 million sessions have been hosted on the Kahoot! platform by 30+ million active accounts, with 2 billion participants (non-unique) in more than 200 countries and regions. The Kahoot! Group includes Clever, the leading US K-12 EdTech learning platform, together with the learning apps DragonBox, Poio, Drops, Actimo, Motimate, and Whiteboard.fi. The Kahoot! Group is headquartered in Oslo, Norway with offices in the US, the UK, France, Finland, Estonia, Denmark and Spain. Kahoot! is listed on the Oslo Stock Exchange under the ticker KAHOT. To learn more, visit us at kahoot.com. Let's play!