Press
Kahoot! launches Danish language support, bringing interactive learning and engagement to Danish speakers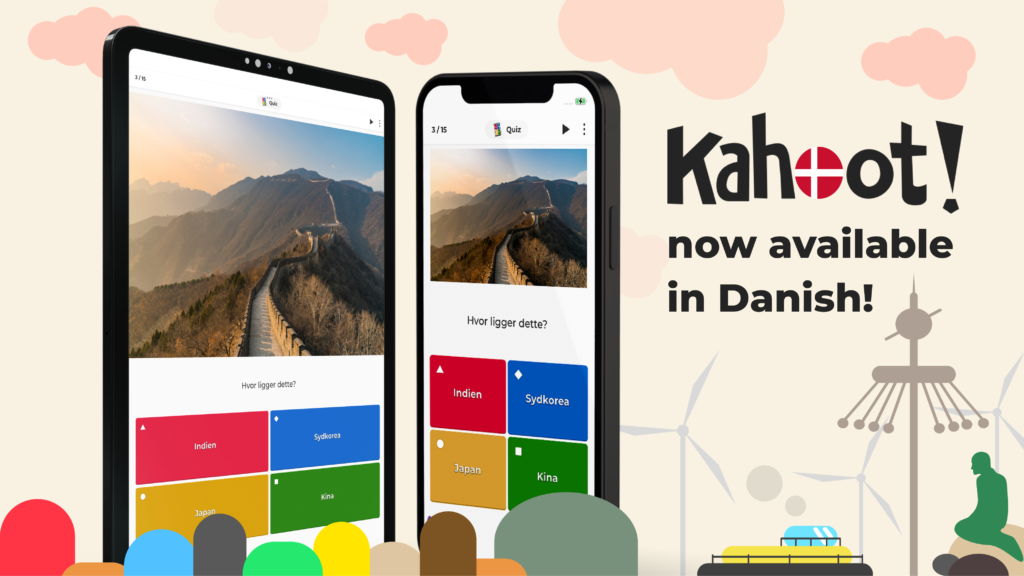 Oslo, Norway (February 21, 2023): Kahoot!, the global learning and engagement platform company, announced today the availability of its web platform and mobile app for Android and iOS in Danish, bringing interactive and engaging learning experiences to Danish speakers. 
In Denmark, thousands of teachers have used Kahoot! in primary schools, high-schools and universities to boost engagement through the uniquely engaging game-based learning experience of Kahoot!.
In the last 12 months, more than 10 million non-unique participants in Denmark played over 1.5 million kahoots with 80% of them being Danish teachers and students. 
"Kahoot! is popular in Denmark because of its use at social gatherings and events. However, in the last year we have seen that 50% of the hosted sessions in Denmark are from students" said Eilert Hanoa, CEO at Kahoot!. "These numbers show us that Kahoot! is increasing its popularity within the education sphere. Our goal is to empower every student with a powerful platform to share their learning in the classroom and during solo learning sessions ahead of the exam seasons." 
Elevate engagement at the workplace
Beyond its success in the classrooms and social settings, Kahoot! is also being rapidly adopted by businesses across Denmark. More than 500 thousand participating players in Denmark used Kahoot! at the workplace in the last year. 
"Businesses in Denmark are among the most innovative in the world when it comes to building a great company culture", said Hanoa. "Companies who introduce Kahoot! solutions at their workplace can make company presentations and meetings more interactive and enjoyable thanks to the unique learning experience that our products offer in physical, hybrid and remote settings." 
With the introduction of Danish language support, Kahoot! is now available in 18 different languages, making it easier for users to create and participate in Kahoot! sessions in their preferred language. 
Since its launch, more than 8 billion (non-unique) participants have played Kahoot! in over 200 countries and territories and has become a popular platform for educators, students, and professionals alike. The platform allows users to create, share and host engaging learning games, surveys, and quizzes.
Read more about Kahoot!'s ready-to-play games available in Danish in our blog post, and visit Kahoot! News to stay up to date on company news and updates.
About Kahoot!
Kahoot! is on a mission to make learning awesome! We want to empower everyone, including children, students, and employees to unlock their full learning potential. Our learning platform makes it easy for any individual or corporation to create, share, and host learning sessions that drive compelling engagement. Launched in 2013, Kahoot!'s vision is to build the leading learning platform in the world. Since launch, Kahoot! has hosted hundreds of millions of learning sessions with 8 billion participants (non-unique) in more than 200 countries and regions. The Kahoot! Group includes Clever, the leading US K-12 EdTech learning platform, together with the learning apps DragonBox, Poio, Drops, Actimo, Motimate, and Whiteboard.fi. The Kahoot! Group is headquartered in Oslo, Norway with offices in the US, the UK, France, Finland, Estonia, Denmark, Spain and Poland. Kahoot! is listed on the Oslo Stock Exchange under the ticker KAHOT. To learn more, visit us at kahoot.com. Let's play.
Are you a teacher, business or parent affected by COVID-19?
Teachers
Discover how Kahoot! makes distance and blended learning awesome!
Business
See how e-learning and virtual training tools can help your organization.
Home
Learn how our apps and games can make learning from home fun and engaging.