Kahoot! EDU Meetup: Spring edition 2022
Share your story, connect, and amplify awesome.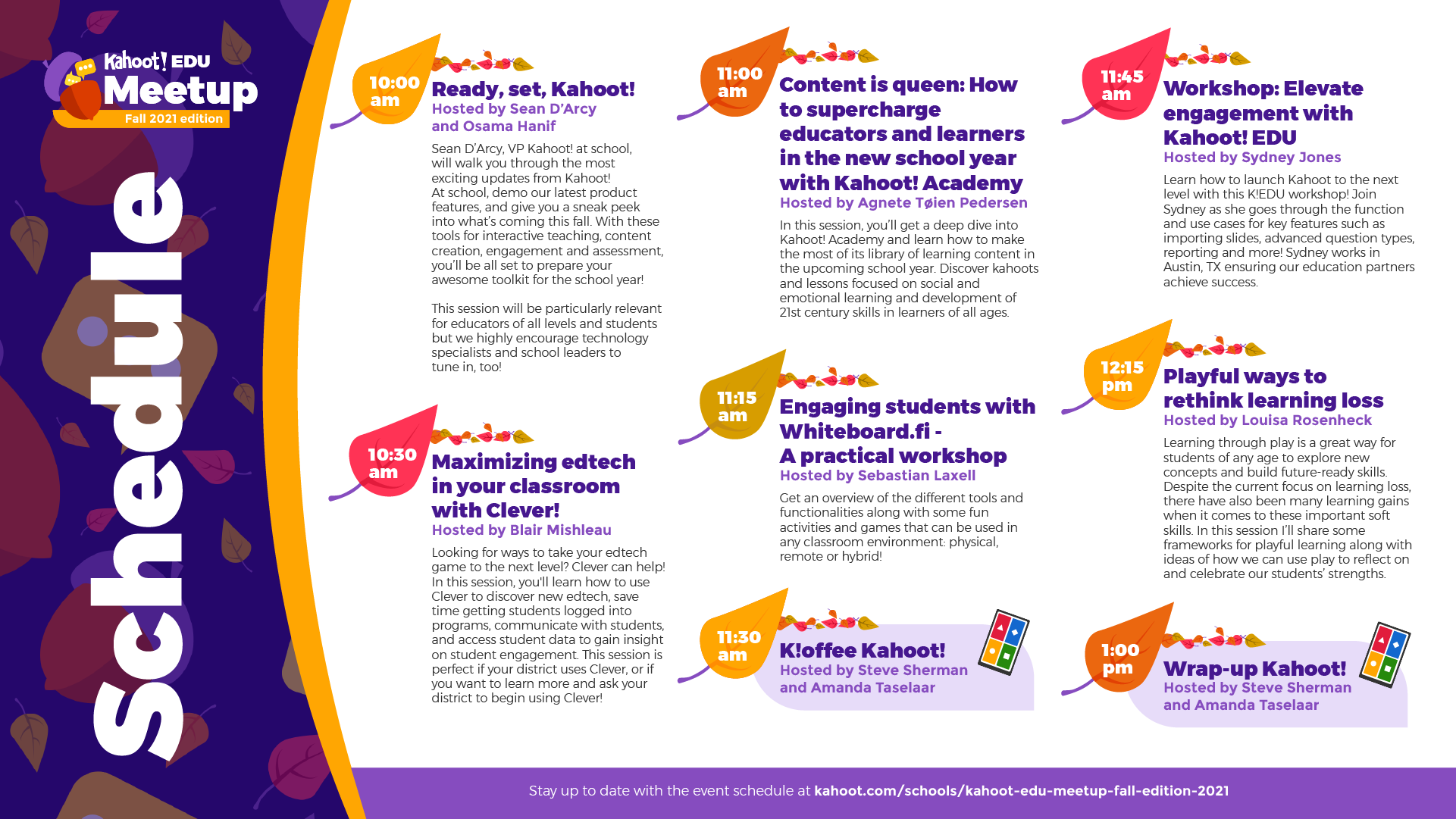 10:00 am PDT
Ready, set, Kahoot!
Sean D'arcy
Sean D'Arcy, VP Kahoot! at school, will walk you through the most exciting updates from Kahoot! At school, demo our latest product features, and give you a sneak peek into what's coming this fall. With these tools for interactive teaching, content creation, engagement and assessment, you'll be all set to prepare your awesome toolkit for the school year!
This session will be particularly relevant for educators of all levels and students but we highly encourage technology specialists and school leaders to tune in too!
10:30 am PDT
Maximizing edtech in your classroom with Clever!
Blair Mishleau, Senior Customer Education Program Manager
Looking for ways to take your edtech game to the next level? Clever can help! In this session, you'll learn how to use Clever to discover new edtech, save time getting students logged into programs, communicate with students, and access student data to gain insight on student engagement. This session is perfect if your district uses Clever, or if you want to learn more and ask your district to begin using Clever.
11 am PDT
Content is queen: How to supercharge educators and learners in the new school year with Kahoot! Academy
Agnete Tøien Pedersen
In this session, you'll get a deep dive into Kahoot! Academy and learn how to make the most of its library of learning content in the upcoming school year. Discover kahoots and lessons focused on social and emotional learning and development of 21st century skills in learners of all ages.
11:15 am PDT
Engaging students with Whiteboard.fi – A practical workshop
Sebastian Laxell
Get an overview of the different tools and functionalities along with some fun activities and games that can be used in any classroom environment: physical, remote or hybrid!
11:30 am PDT
K!offee Kahoot!
Hosted by Steve Sherman and Amanda Taselaar
11:45 am PDT
Workshop: Elevate engagement with K!EDU
Sydney Jones
Learn how to launch Kahoot to the next level with this K!EDU workshop! Join Sydney as she goes through the function and use cases for key features such as importing slides, advanced question types, reporting and more! Sydney works in Austin, TX ensuring our education partners achieve success.
12:15 pm PDT
Playful learning session + kahoot
Louisa Rosenheck
Learning through play is a great way for students of any age to explore new concepts and build future-ready skills. Despite the current focus on learning loss, there have also been many learning gains when it comes to these important soft skills. In this session I'll share some frameworks for playful learning along with ideas of how we can use play to reflect on and celebrate our students' strengths.
1 pm PDT
Wrap-up Kahoot!
Hosted by Steve Sherman and Amanda Taselaar
Frequently asked questions