When we saw these great pictures on Twitter which had been posted by Veronica at Mosby Woods Elementary (@MosbywoodsPE) We wanted to know more about her experience!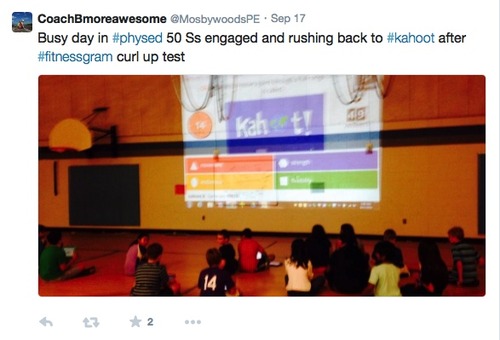 Veronica teaches school grades K-6 with over 1000 students! Mosby Woods is a diverse school with over 30 languages spoken. The teachers have been assessing the same fitness information for a few years now to help create our fitness plan and smart goals. However, times are changing for Veronica and her fellow PE teachers 🙂
Fast forward to….present day and… enter KAHOOT! Here is what the class did…
Ready, Set… Kahoot!
The team projected their Kahoot for ES Fitness which created a "big screen" (the wall of the gym) and had all 60 kids (they teach 50-60 Students at a time) participate.  While this was going on they were also conducting their pre-test of the Fitnessgram Curl-up Cadence test.  The kids would finish their curl up test and RACE back to the ipads to get back in the game! Many times they were yelling to their friends to enter an answer if they were away.  All grade levels 4-6 were 100% engaged and excited about it!
The best part was that while it was "competitive" and the top five scores were being displayed the kids didn't focus on that. They were more excited when the realised they got an answer correct.  As they shouted "YESSSSS" with each correct answer.
Teacher feedback
Veronica – "I liked that only the top 5 scores were displayed so the kids near the bottom didn't have to be embarrassed and could be free to take chances on the answers without everyone knowing they were wrong. Another exciting part was when they would watch the instant feedback screen.  The more kids that had entered the correct answer the louder the cheers…they were cheering and getting excited about the fact that the class was mastering the content!
We played through the Kahoot 2-3 times during our 30 minute class….The kids got excited when they got an answer correct that they had missed in the first round I was able to see what I needed to re-teach."
Feedback from a teachers point of view was that as a teacher she loved seeing students engagement and excitement and  really appreciated the easy access to the feedback spreadsheet because now she has instant data to support the use of this technology in the gym!
Thanks to @MosbywoodsPE for sharing these pictures