As a result of the recent shift to remote work, business leaders and trainers have the constant complication of maintaining a connected workforce. We've found that business users are increasingly using Kahoot! in a live video conference setting or by sharing self-paced challenges, and we wrote recently about how to make the most of using Kahoot! over video conference with Teams, as a leading collaboration and communication tool.
Play Kahoot! together or at your own pace in Teams!
Now, we're proud to announce our deep integration with Teams. Users can now launch live kahoots without leaving the Teams application, with the kahoot launched by screen sharing from a Teams virtual meeting. Live kahoots offer an engaging and social experience encouraging friendly competition, which helps remote teams of all sizes connect!
Users can also conveniently assign self-paced challenges to groups within Teams. Reminders are periodically sent to the group, which ensures a more social experience as the game unfolds, culminating in the final podium shared in the group when the challenge ends. The host can then access a full report on the group's performance afterwards – great for understanding which content is particularly challenging!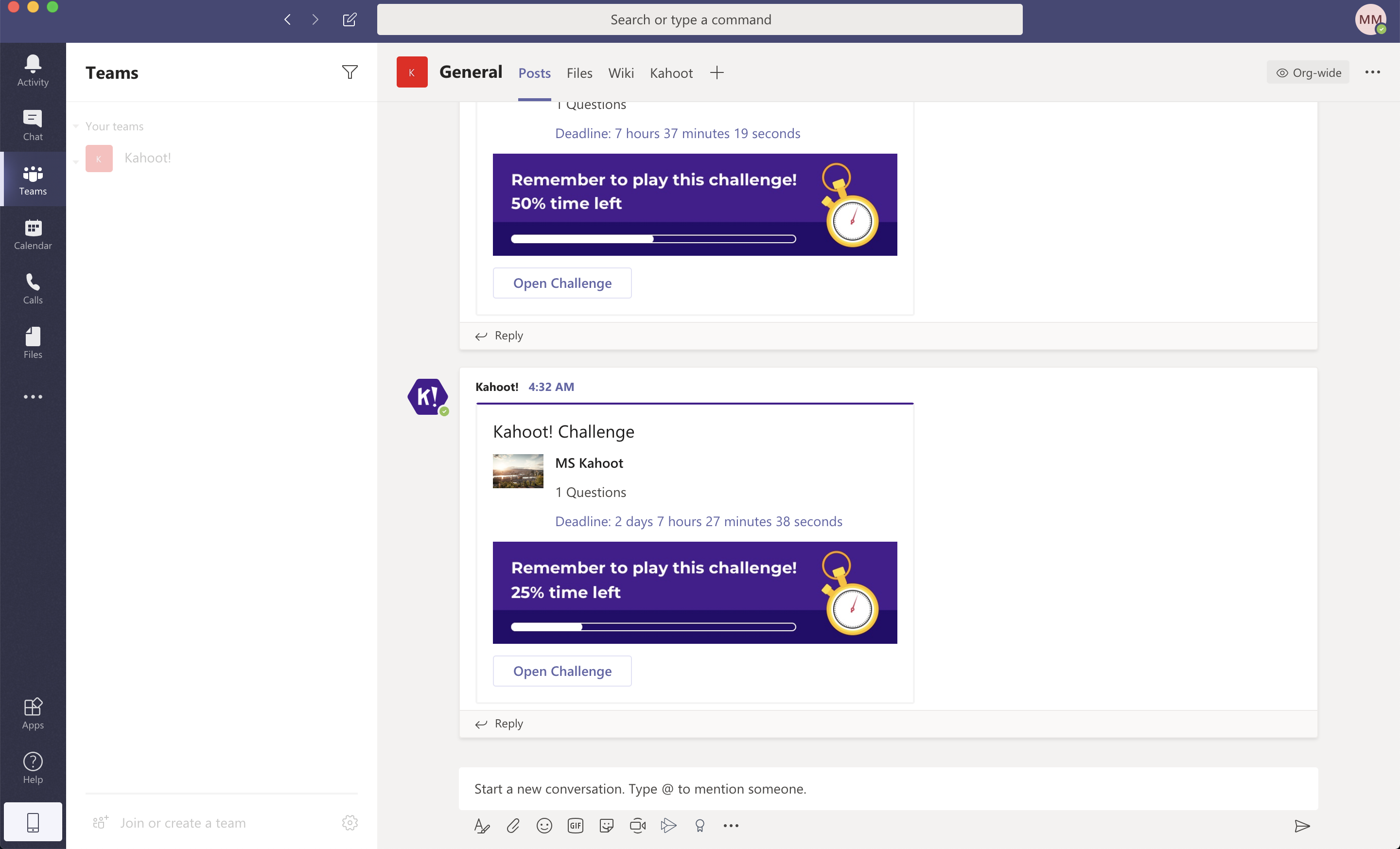 How to use Kahoot! with Teams
Firstly, get set up!
Log in to your Teams account, and install the Kahoot! app from the Teams Apps page. Add Kahoot! as a tab in the relevant team channels.
Now, the fun part!
Start a virtual meeting and share your screen if you want to present remotely
Choose the kahoot you wish to present from your list within Teams
Select Present for a live game or Assign to send a self-paced challenge into a Teams group
When assigning a self-paced challenge, the group will receive periodic reminders to complete it until the deadline is reached. Once the deadline has passed, the final podium will be shared for the group to see!
For a more in depth guide, check our support article and FAQ.
Prefer a more hands-on approach? Watch the recording of our webinar on how to make the most out of using Kahoot! with Teams!
Want to learn more about how to make presentations, virtual events, and training more engaging. Learn more about our various plans