With just a little over two weeks left before our first ever Kahoot! EDU Summit, we're excited to announce the lineup of speakers and more details on the event agenda!
Have you reserved your place yet? In this free, all-day virtual event on June 17, you will get to explore new products, hear inspiring tips from other educators, and learn new skills to kick-start back to school 2020. Relevant for teachers of all grades and higher education instructors, as well as school admins, the event will feature sessions from the Kahoot! team, Kahoot!'s partners, change-makers in education, and inspiring educators.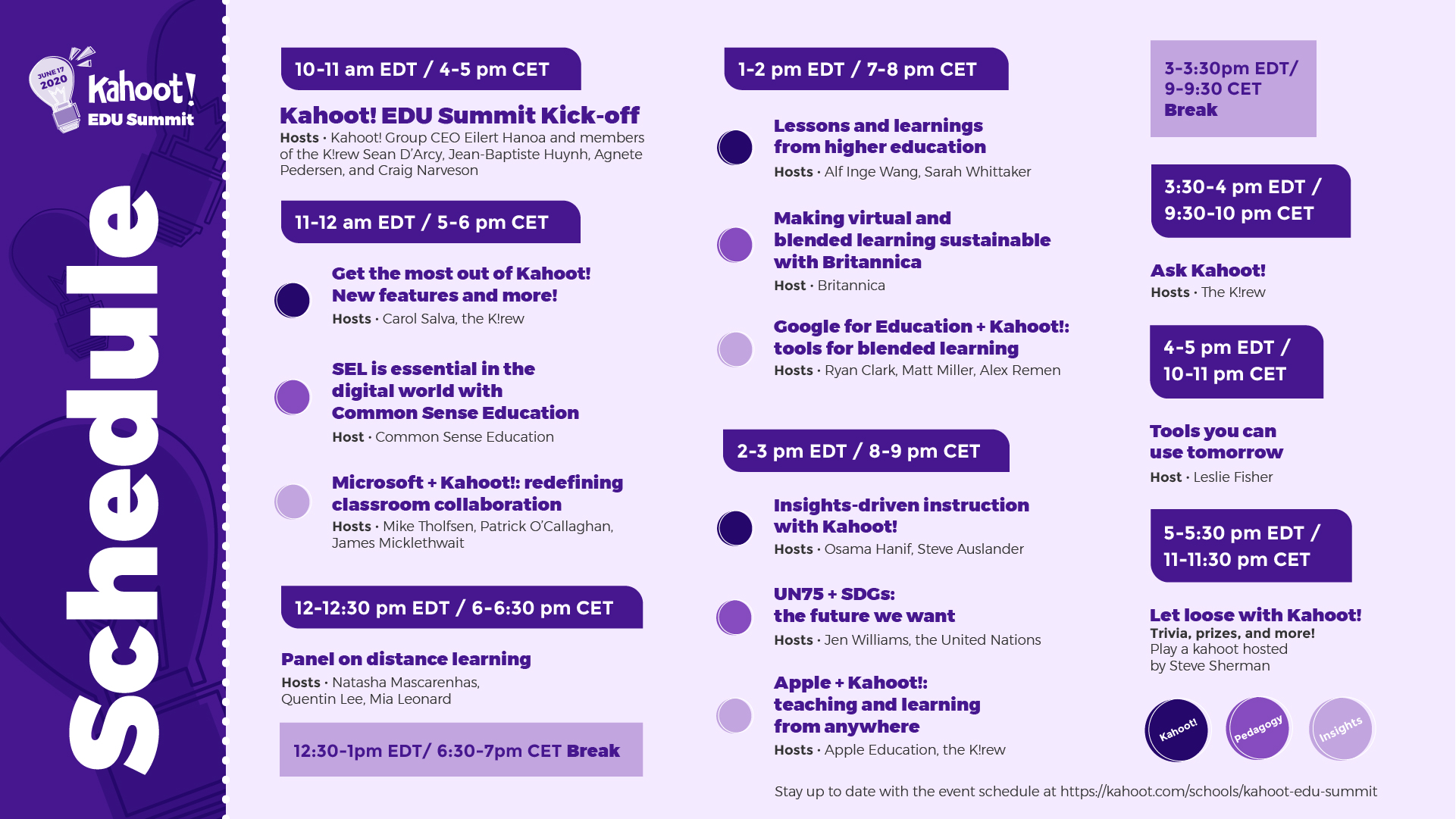 Here's a peek at the exciting agenda we're preparing together with our guest speakers:
Participate in live demos with EdTech hero Leslie Fisher to discover new ways to teach, engage your students and collaborate with colleagues.
Tune into a panel discussion on distance learning moderated by Natasha Mascarenhas, reporter at TechCrunch. She will host a discussion between Dr. Quentin Lee, principal of Childersburg High School in Alabama, and Mia Leonard, an elementary school teacher at Chicago Public Schools.
Discover how Microsoft and Kahoot! are redefining collaboration between teachers and students in a session we'll co-host with Mike Tholfsen, Product Manager at Microsoft EDU.
Experience Google for Education and Kahoot! integrations live with Ryan Clark, Partner Program Lead at Google, educator Matt Miller, and Kahoot! Product Manager Alex Remen, and hear more about Google's take on distance learning.
See live demos from Apple to learn how to make the most of tech tools in any learning environment, including ClassKit and Schoolwork
Take a deep dive into virtual and blended learning together with Britannica.
Learn how to integrate Social Emotional Learning (SEL) into your curriculum in a session hosted by Common Sense Education.
Hear from ESL educator Carol Salva on how to get the most out of Kahoot! for your class and get a walkthrough of new Kahoot! features and question types.
Get ready to align your curriculum with the United Nations' Sustainable Development Goals (SDGs) for more inclusive and impactful learning in a session co-hosted with UN representatives and Jen Williams.
Discover the best ways to use Kahoot! in higher education with Professor Alf Inge Wang and Learning Technology Team Manager at HCT Dubai Sarah Whittaker.
Join educator Steve Auslander and Kahoot! Product Manager Osama Hanif as they show you how to include insights-driven instruction into your class with the new Kahoot! Reports
Ask questions to our product managers and hear their answers!
Of course, there will also be kahoots played all throughout the event- including one big game at the afterparty with awesome prizes and Kahoot! swag.
See the full lineup and register today! Can't wait to see you all there!