The Kahoot! community often tells us about the importance of sharing high-quality kahoots and collaborating with other users. That's why we wanted to make it even easier to share knowledge, host live games and challenges, and co-create learning material. 
We're delighted to announce Groups, a flexible new way to share content about common topics and interests in order to learn from others and collaborate on content.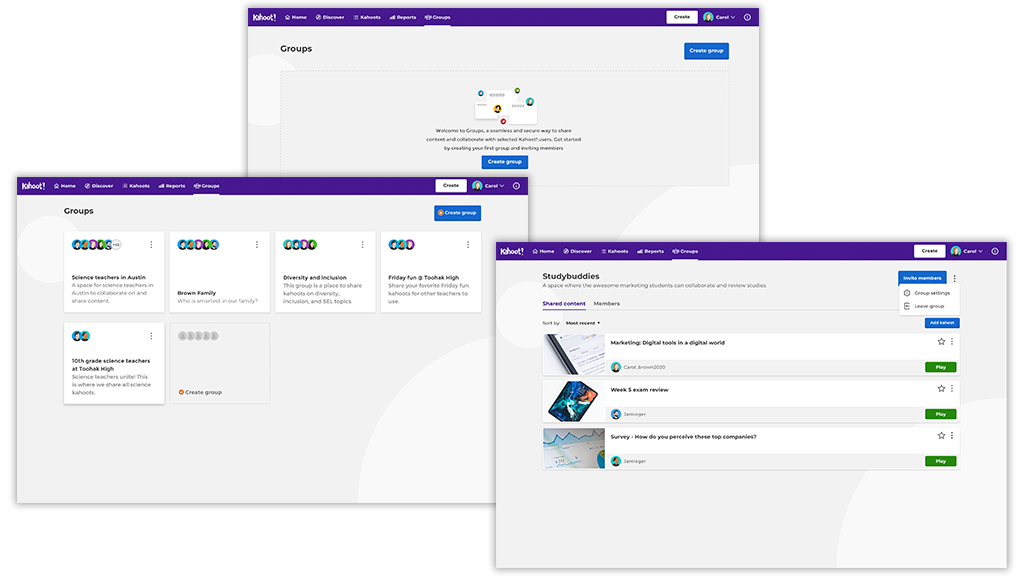 Any Kahoot! user can create and manage a group and invite a set number of members, depending on their subscription. There's no limit to collaboration: a group can include individuals from any part of your organization or an external group! Every group is private and secure.
As an admin of a group, you have full control over the group's content and can add or remove kahoots as required. As a group member, you can view and host kahoots that are shared within the group, but you cannot edit them. Group members can also share their own personal content to the group.
Share kahoots with specific groups and set their levels of access
Securely share kahoots to a group of individuals as defined by you, with full flexibility

Members of your group can play these kahoots as live games or as self-paced challenges

Members of your groups can access and host the kahoots you specify, but cannot edit them. Their hosting experience (i.e., how many players can participate in a learning experience) depends on

their

Kahoot! plan

Customize groups however you need – by department, network, location, event, etc.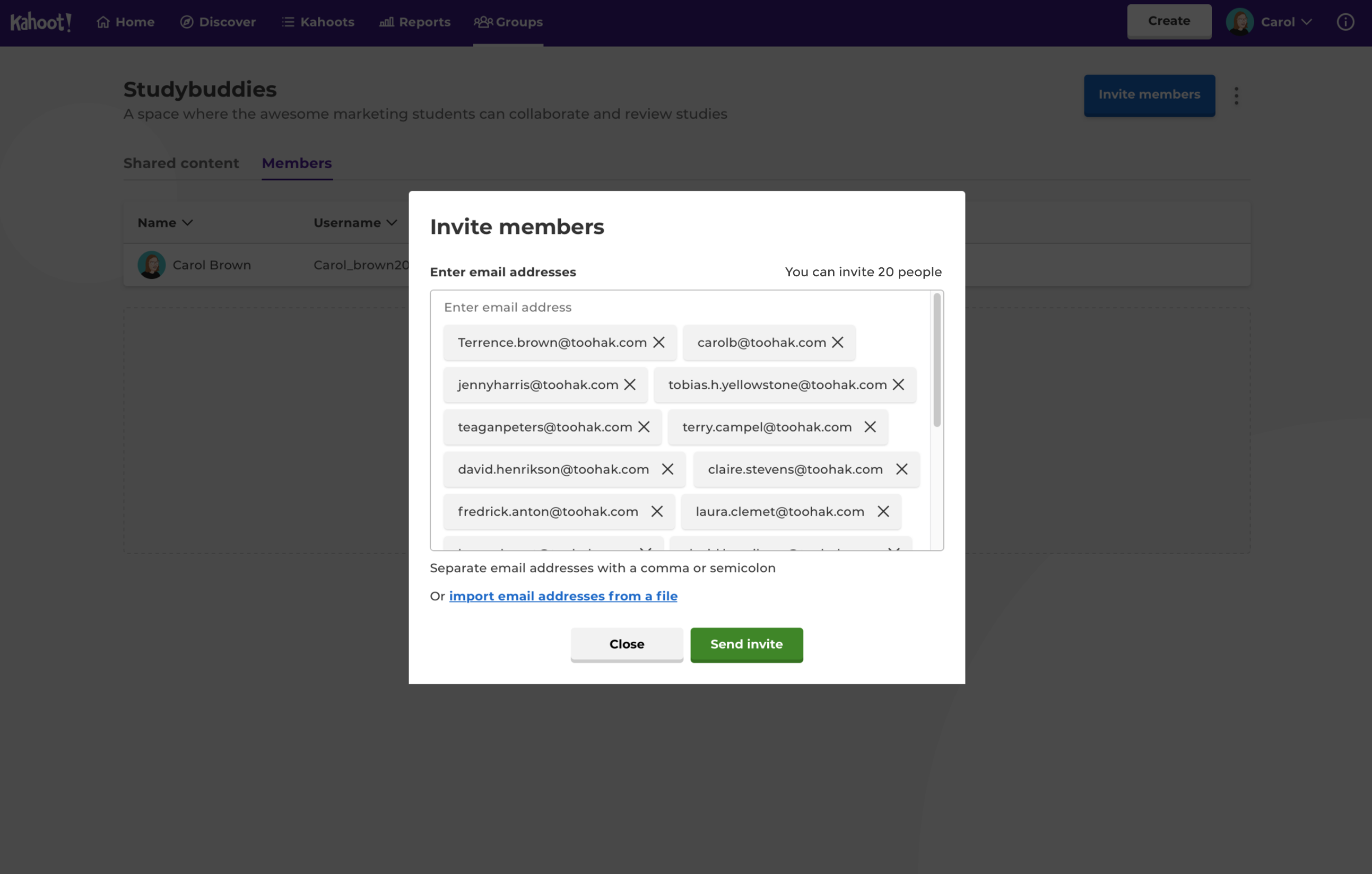 Build and retain full control over a secure library of content
Group admins maintain full control over content

Share content with external individuals, as well as those within your organization

Users from your organization can easily integrate into Kahoot! with Azure AD and OKTA SSO

Group members can only see the content of their own group

Invite new

or

existing individuals to view your content

Add and remove content and group members as you need

Coming soon:

manage multiple group admins and transfer ownership
Fuel collaboration across any group of people in a flexible way and benefit from collaborative learning
Collaborate with any audience – build a group by team, department, organization, location, or any other use case!

Group members can share their own personal content with others for input and collaboration

Coming soon:

recommended group types and recommended content for specific groups
Easy steps to create a group 
Log in to your Kahoot! account and select Groups from the top navigation bar. Then, choose Create group. Enter your group's name and add a description before inviting members to join. You can either invite members via email or by searching for their Kahoot! username. Group members do not require a paid Kahoot! subscription.
It only takes a couple of clicks to start adding kahoots to your group. Select the Add kahoot button and search for kahoots you wish to add to your group. Once you have found your chosen kahoot, select Add and the group members will now be able to find it in the Shared content tab in the group.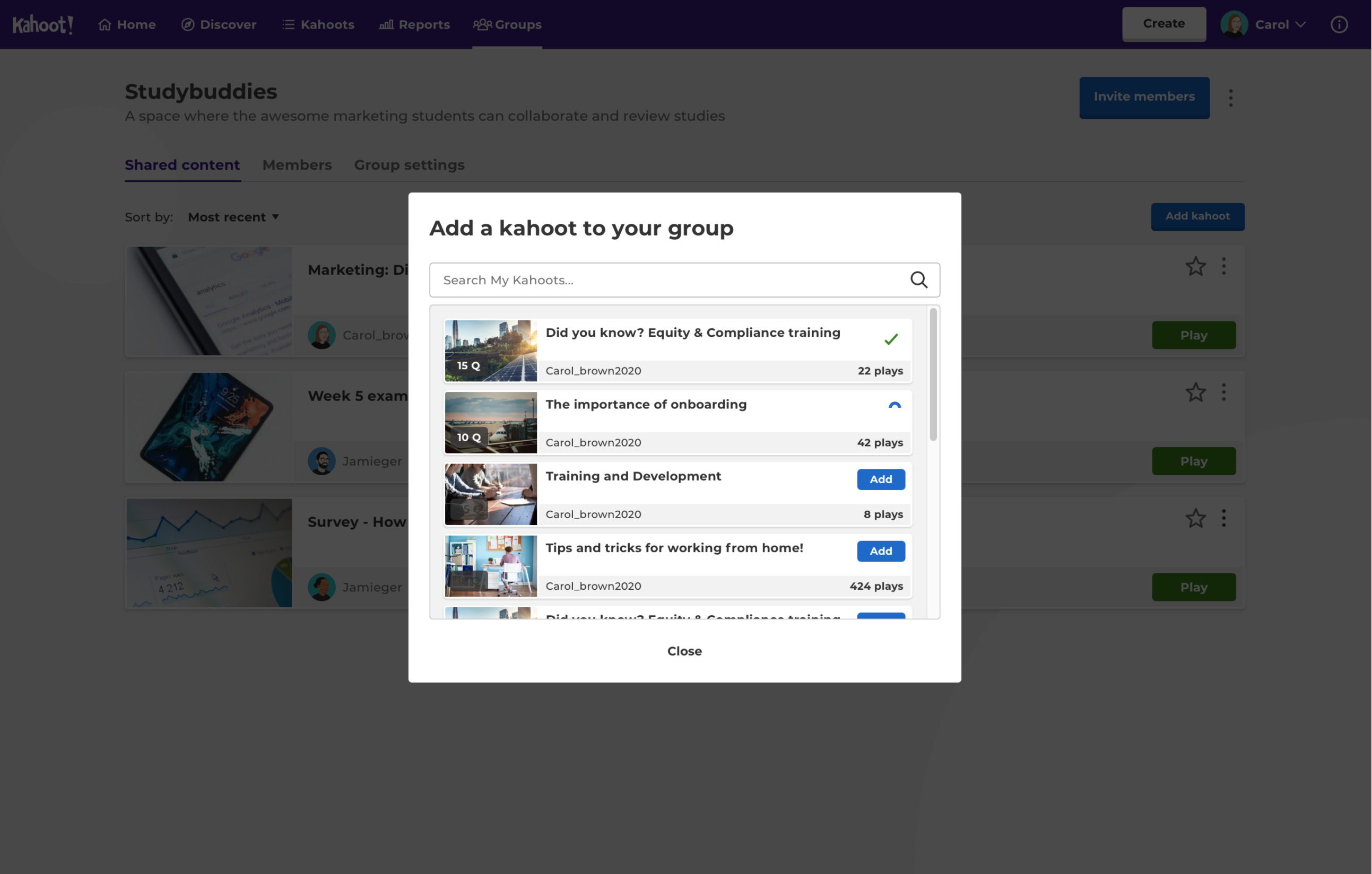 Once a user has accepted your invitation, they will be able to add their own kahoots to the group – as well as host kahoots already shared in the group by other members. Group members cannot edit kahoots shared by others.
Already using a team space to collaborate and share content? Learn how to get the most out of your team space and Groups in this blog post.
Log in or sign up to Kahoot! to start sharing and collaborating via Groups today!