How is your audience responding to a topic? How well do they understand it? What's their take on some important questions related to it? What do they think of your style as a presenter, meeting host, or trainer? To encourage participation and to ensure important content is remembered, it's crucial to foster two-way interaction and create an ongoing feedback loop with your audience. In addition, relevant feedback you collate can be presented to key stakeholders to demonstrate the value and importance of your training sessions.
According to the latest State of Learning and Development report by Mimeo, participant feedback is the only indicator of measuring learning outcomes for over 50% of trainers.
Kahoot! makes it easy for businesses to get both quantitative and qualitative insights in order to assess the efficiency of your session. Now, in addition to polls and word cloud questions, you can collect more detailed input from your audience by using the new open-ended questions. Give participants a voice and have them share feedback of up to 250 characters!
When are open-ended questions most useful?
A meaningful, well-structured and well-timed open-ended question can add great value in various contexts:
Collect feedback on your training session or presentation when wrapping it up
Assess how well your audience understands the topic
Kickstart a discussion
Break the ice at the beginning of a meeting, or wrap it up by having participants share their reflections
Gather input and assess expectations when preparing a future training session or presentation
Share participant feedback to demonstrate the value and outcomes of your session to stakeholders
Improve your team culture by encouraging employee feedback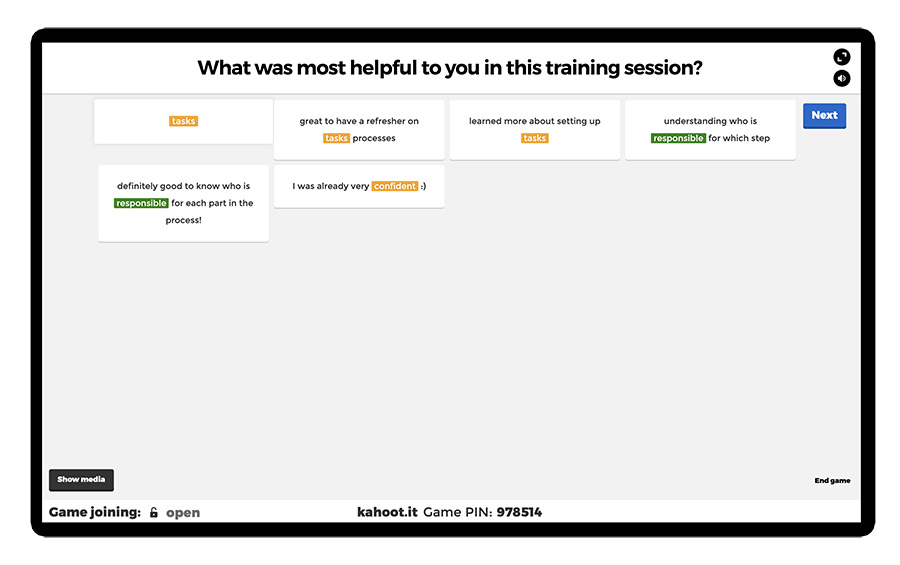 How open-ended questions work in Kahoot!
This feature is part of Kahoot! 360, our powerful collaborative learning platform which empowers all trainees to contribute to their own learning.
When creating a new kahoot, click Add question and select Open-ended question under the Collect opinions section. Think of the best way to phrase this question to collect feedback aligning with your goals. Participants are able to enter up to 250 characters when answering – see if you'd like to toggle the timer and provide them more time to think!
Once participants have entered their answer, they will be asked to highlight a keyword they think is the most important in the text. When participants' answers are displayed on a shared screen, highlighted keywords will make the main points easier to scan and help you quickly identify if there are any recurring themes within the shared feedback.
Tips for a using open-ended questions in your meeting or session
Here are a few things to keep in mind when adding an open-ended question:
Begin group discussions by sharing thoughts on-screen
Close meetings by sharing reflective thoughts
Share a follow up challenge to collect feedback with open-ended questions
Questions starting with "what" lower the threshold for providing input and may work better when you're opening your session
"Why?" might require more time to answer and thus put some extra pressure on participants – an idea would be to leave the why's for an open discussion between questions
Make sure there's no ambiguity or room for misinterpretation of your question – unless you do this on purpose to initiate a discussion
Add a good mix of open-ended, close-ended questions and polls for the best dynamics and engagement in your session
If you're looking for brief, more standardized input that can easily be analyzed qualitatively – consider going with a poll or a word cloud question instead
What tips would you add to this list? Join our discussion on LinkedIn!
NB: The quiz question type that was previously labeled as open-ended in the kahoot creator has now been renamed to "Type answer." Read more about this question type in our blog post "Test deeper knowledge in your next training session with "Type answer" questions".