Today, Spanish is the second most spoken language in the Kahoot! community, with 2020 seeing rapid growth across all audiences in Spain and Spanish-speaking countries of Latin America. According to Qustodio's 2020 annual report on children's digital habits, from February to April this year Kahoot! jumped up 104 positions to rank amongst the most popular education apps used by children in Spain, while schools transitioned to distance learning.
To better cater to our growing global communities needs, and as the first step in our strategy to make Kahoot! available in more languages, we are extremely happy to announce that we have now made our app for iOS and Android available in Spanish. You can now create, play, host live kahoots and assign self-paced challenges in Spanish. Be among the first to experience it!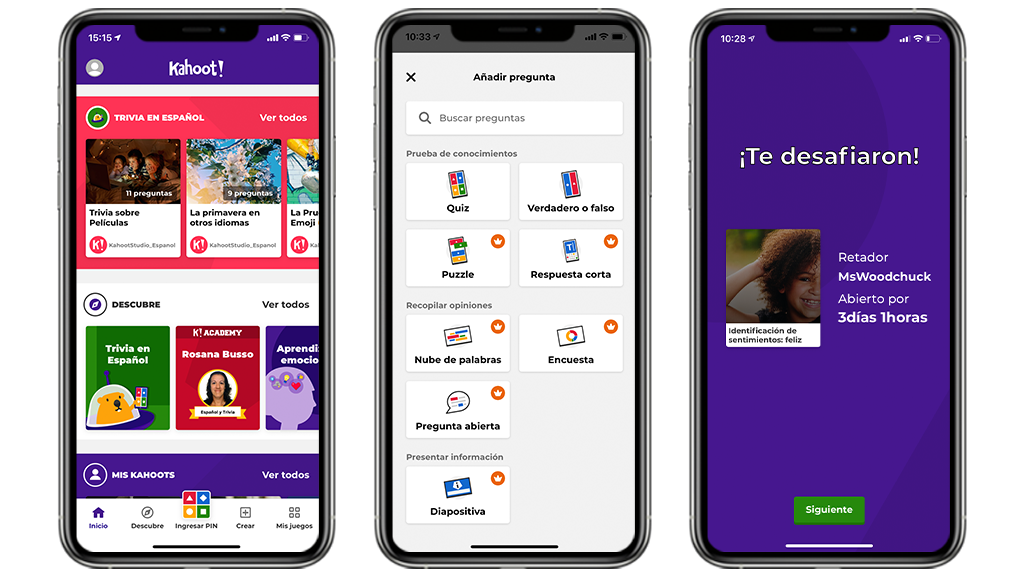 More accessible, intuitive and relevant experience for learners
As the Kahoot! experience is no longer limited to classrooms or school hours, having access to our app in Spanish will make it even easier for students to study through playing kahoots, as well as using our recently released study modes – flashcards, practice, test, and peer-to-peer challenges – for content review and test prep.
For younger learners and their teachers and parents, the addition of their native language means Kahoot! will be even more accessible, helping them make the most of the learning experience and incentivize participation even if they're not confident in English.
For Spanish-speaking teachers, business users and anyone using Kahoot! in a social setting, the Spanish version of our app will make the experience more relevant and ensure it's easy for anyone to join and play kahoots.
More languages coming soon for our global community
The Spanish version of the Kahoot! app marks the first big step in our strategy to ensure we are speaking the native languages of our global community. We plan to continue adding new local languages so that we can provide as many Kahoot! users as possible with an engaging and accessible learning experience. This fall, we'll be adding several new languages including Brazilian Portuguese, French, and Norwegian to the Kahoot! app.
In the near future, you will also be able to use these languages when playing on Kahoot.com. Stay tuned for more updates!
How to switch to Spanish in the Kahoot! app
Update the app to the latest version, or download it on your iOS or Android device if you haven't installed it before.
If your device language is set to Spanish, the app will switch automatically.
If your device language isn't Spanish, tap the profile icon within the app.
From your profile page, tap the cog icon to open settings.
Select Spanish from the Language dropdown.
¡Listo! Now you will be able to play, host and create kahoots in Spanish.
Share these instructions with your students so they can switch to the Spanish version and start using this today. In time for this launch, we've also made our newly created social and emotional learning (SEL) Kahoot! Academy collection available in Spanish. It will be a great starting point to testing the Kahoot! experience in Spanish with your students.
Share your feedback with us
This is the first version of Kahoot! in a new language, and we'd like to hear from you to help us make the experience even better, as well as find out which languages we should prioritize next. Please share your feedback by playing our Language request kahoot – it will only take 3-4 minutes.
Tweet to share this news with your students, colleagues and friends so they can try our app in Spanish.