According to recents stats from the Event Leadership Institute, over two thirds of professionals who recently hosted virtual events, said that audience engagement was their biggest challenge. When you aren't able to see participants in person, you need to adapt your content for digital use, overcome distractions, and encourage active participation.
If you're planning a virtual or in-person event and looking for ways to make it memorable for all participants, we're here to support you. Nothing engages audiences and provides participants a voice like Kahoot! We offer special one-time plans tailored to any event.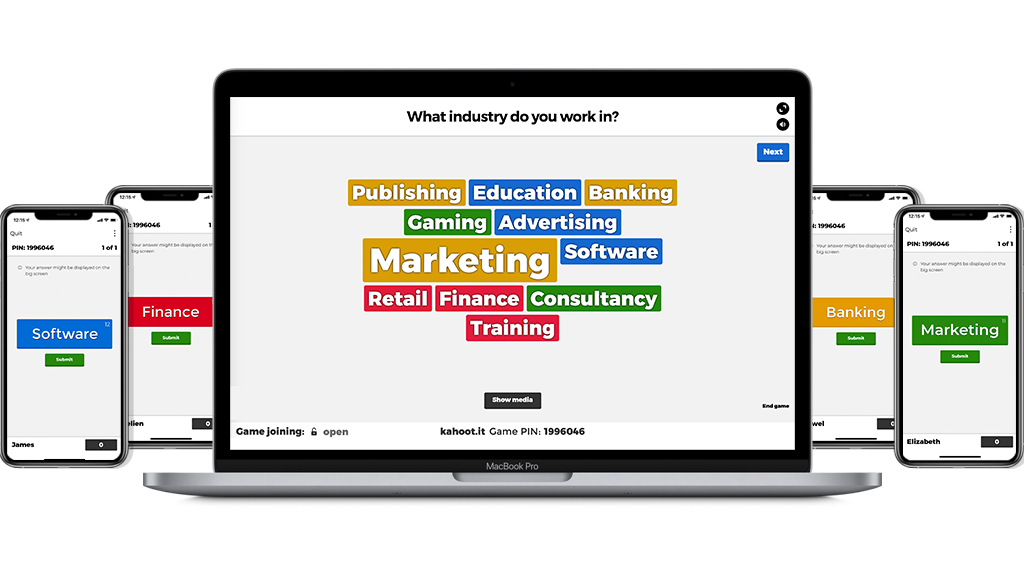 Choose one of our one-time Kahoot! event plans
With features such as word clouds and polls, we help you ensure online participants actively interact and take part in your event, while remembering key information. Here's what's included in our one-time event plants:
Combine various game-based audience participation features, including word clouds and polls, to engage participants throughout the entire event
Use Kahoot!'s player identifier feature to combine scores across multiple kahoots and host a tournament
Engage up to 2,000 participants within the event
Get professional onboarding support from an account executive
Get started without any app or integrations required
Add your company logo for a customized look
Access ready-to-play kahoots to save time creating content
If you already have an active Kahoot! subscription, contact us for custom options. If you're new to Kahoot!, read more about our one-time event plans and select one that best suits your needs.
Learn how our customers have successfully integrated Kahoot! into their virtual events
"Kahoot! really helps you to focus your messaging and to maximize retention of critical points," –  Susy Brown, Marketing Director at a leading multinational company producing skin care and makeup products, to learn why Kahoot! became the company's go-to tool for increasing product awareness and reinforcing key messages amongst internal and external participants at virtual events.
Whether you're hosting virtually or in-person, Kahoot! will help make your event awesome! Get started with our custom-made event plans today.