As many schools and businesses have gone virtual, teachers and professionals continue to face the challenge of keeping their students or remote teams engaged during virtual meetings. To support schools and companies in these times, we're excited to announce that Kahoot! is partnering with Zoom Video Communications, Inc. to bring Kahoot!'s unique game-based engagement to Zoom's 300 million daily meeting participants.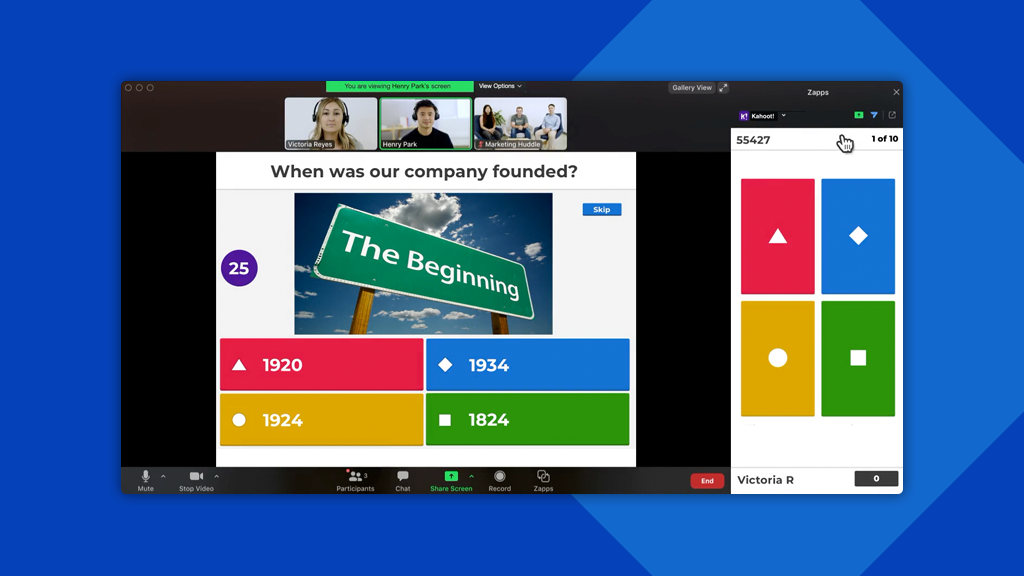 Zoom is one of the most popular video-first unified communications platforms on which our users host and play kahoot games and presentations fueled by Kahoot!. Kahoot! was announced as a Zoom Apps Launch Partner for this integration at Zoom's annual virtual Zoomtopia user conference, kicking off today.
Through the Kahoot! Zoom App, users will be able to access, host and play Kahoot! games with other meeting participants without ever leaving the Zoom call or needing a second device. Meeting hosts will have immediate access to their kahoot gameplay data and can share kahoots with those who couldn't join the meeting, and participants who played a kahoot can work to improve their score.
With this new integration, teachers and professionals will be able to easily make their virtual meetings more engaging and fun by giving attendees a way to actively participate, interact and take part in some friendly competition.
Professionals can also take their virtual presentations to the next level with Kahoot!'s interactive presentation tools, available in the Kahoot! 360 offering. With the interactive presentations feature, professionals can create virtual presentations that engage, connect and inspire audiences on Zoom.
As businesses and schools around the world have adopted a new reality in the post-COVID world, it has never been more important to stay connected and foster meaningful social interaction, whether it's during a virtual class, meeting or presentation. It's a perfect time to bring a seamless Kahoot! integration to Zoom Meetings, to support teachers and remote teams so they can achieve their goals and make virtual learning awesome.
The integration is planned to launch officially later this year. To learn more about Kahoot!'s integration with Zoom please visit the Zoom Apps Launch Partner page.