The Kahoot! WorkSummit is a free virtual event that connects our global community of business users with the latest thinking on corporate learning. 
Taking place on November 12 at 5 PM CET / 11 AM EST, attendees will discover the future of training and development from leading names in workplace culture and learning, including Jane Hart and thought leaders from LinkedIn, Microsoft, and Cambridge Assessment English, part of the University of Cambridge. Members of the Kahoot! team will also host interactive demos of our latest blended learning solutions.
The agenda is split into three sessions: 
Supporting Learning at Scale

Succeeding with Corporate Learning: Pedagogy & Learning

The Future of Corporate Learning 
Each session consists of bite-size talks that discuss the importance of placing the learner at the heart of any training and development program. What's more, attendees have the chance to win a $100 Amazon voucher during a Kahoot! Tournament. Reserve your place today!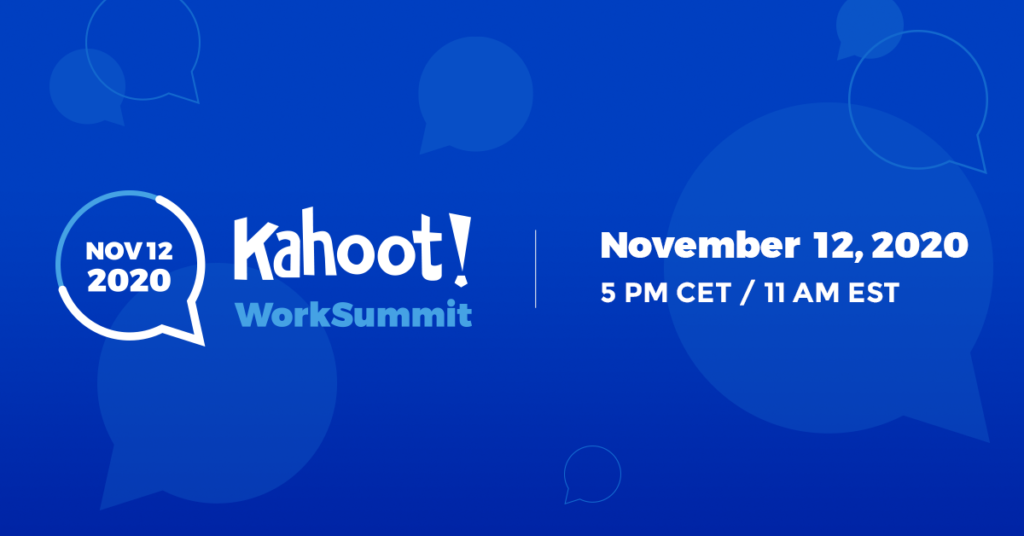 Attend talks from Jane Hart, LinkedIn, Microsoft, and more!
Some of the industry's most influential brands and thought leaders will host talks on the future of corporate learning. The insightful talks and discussions will engage anyone who's passionate about understanding the importance of workplace culture and learning in a time of distributed teams and remote work.
Highlighted sessions from guest speakers:
Keynote: Modern workplace learning – Jane Hart, author of Modern Workplace Learning, speaker, and founder
How adults learn: Designing corporate learning that succeeds – Olav Schewe, author, speaker, and EdTech founder
Structuring learning and assessment to set learners up for success – Dr. Sarah McElwee, Principal Research Manager at Cambridge Assessment English, part of the University of Cambridge
Plus speakers from LinkedIn and Microsoft
Discover how Kahoot! is shaping the next generation of corporate learning
We're excited to demo a range of new blended learning solutions at the Kahoot! WorkSummit: Learn how to deliver mobile learning with Kahoot! Courses, and discover a new interactive question type that helps facilitate collaborative in-person and virtual meetings. What's more, we'll detail how you can use new enterprise functionality to securely build a strong culture of learning throughout your organization.
Save your spot today!
Join the Kahoot! WorkSummit on November 12 by reserving your place today!