Connecting with students virtually can be challenging, when you're on one side of the screen, and they're on the other. Let your Bitmoji help you run the virtual lesson and make it awesome!
This school year, many teachers turned to Bitmoji to create a safe, familiar and motivating environment in their virtual lessons. According to teachers, they're "hooked," "addicted," or "obsessed" with creating their Bitmoji classrooms – and we can see why! Not familiar with Bitmoji yet? It's your personalized cartoon avatar that you can use in various apps – and it's been particularly popular among educators!)
With our new integration, you can add your Bitmoji to a live kahoot to help you liven up your virtual classroom, add a more personal and familiar feel to it, and better connect with your students. This feature is available for free for all teachers.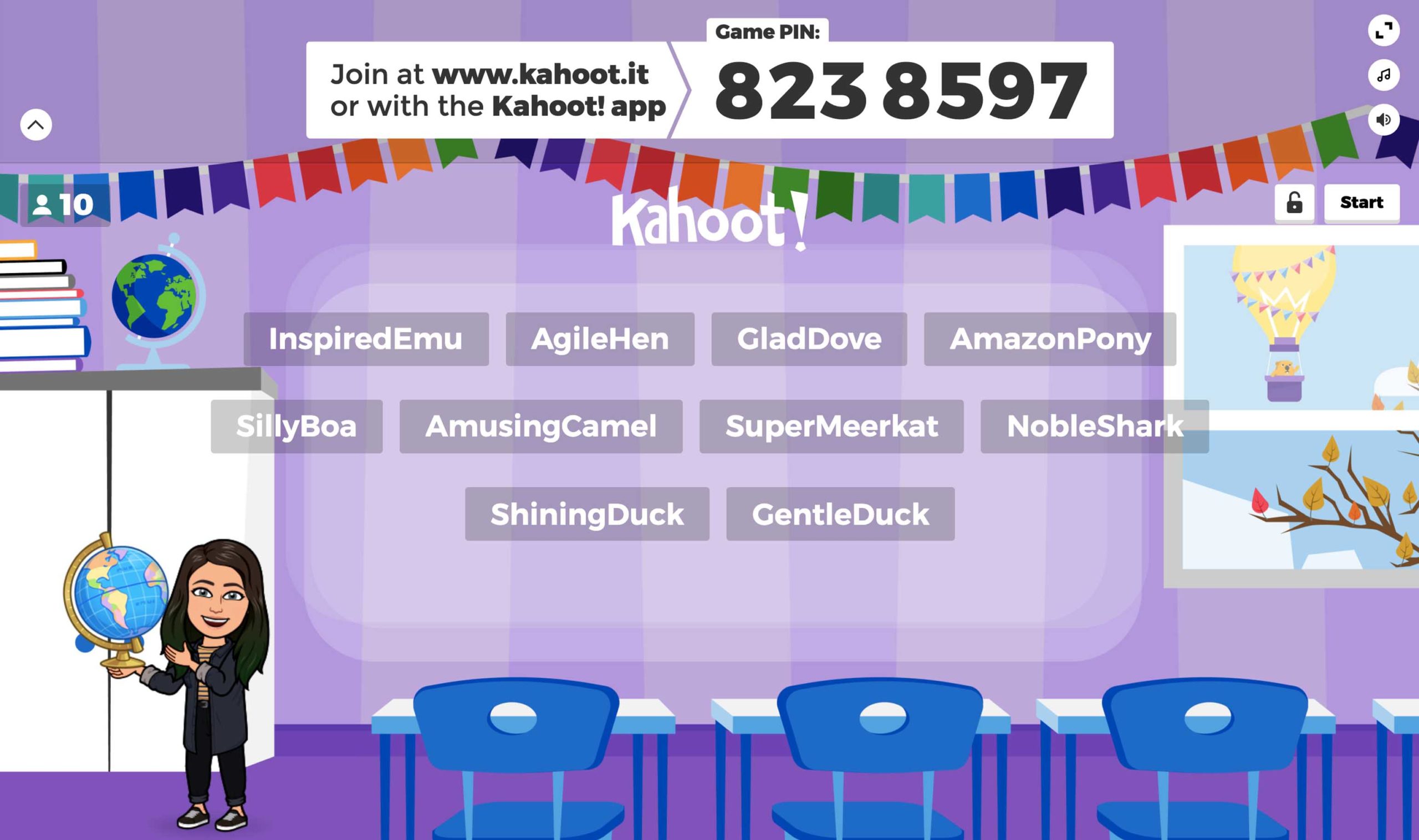 But that's not all! Not only teachers but anyone on Kahoot! can now use their Bitmoji as their profile picture. Add a personal touch and let the community know who stands behind those awesome kahoots! Moreover, students can use Bitmoji when competing in leagues. Read on for more details about each of these capabilities.
How to add Bitmoji classroom to a live kahoot
If you haven't designed your Bitmoji yet, you can do this within the Bitmoji app on your phone – it only takes a couple of minutes. Then, you need to add it as your Kahoot! profile picture. Here's how:
In your browser:
(Instructions updated in April 2021)
Log in to your Kahoot! account at kahoot.com.
Click on your profile picture in the top right corner. Under Settings, go to Profile settings.
In the User information section, click Connect with Bitmoji.
Select between two suggested options. You can select Connect with Bitmoji and scan the QR code with your phone camera to connect Kahoot! to Bitmoji. Alternatively, you can click Continue with Snapchat and use your credentials to log in.
In the Kahoot! app:
(Instructions updated in May 2021)
Make sure you're logged in to your Kahoot! account.
Tap your profile image in the top left corner of the screen.
Tap the image in order to change it and select Bitmoji. Tap Continue in the dialog informing you of third-party applications.
If you have the Bitmoji app on your phone, you'll be taken to the app and asked for permission to connect to Kahoot!. Tap Connect to confirm, and your Bitmoji will be automatically added to Kahoot!.
If you only have the Snapchat app installed on your phone, you will be asked to allow the Kahoot! app to access your Bitmoji through that app. Tap Continue to complete the process.
Now, you're all set to add a Bitmoji classroom to your live kahoot! Here's how it works:
Open a kahoot you'd like to host, click Play and Teach.
Toggle Bitmoji on in the game options.
Your Bitmoji will be displayed in the classroom-themed lobby while students are joining the kahoot and in the final podium.
Use a Bitmoji as your Kahoot! profile picture
Now that you've added a Bitmoji as your Kahoot! profile picture, it'll be displayed next to kahoots you've created, like this:
This feature is available for all Kahoot! users.
Liven up leagues with Bitmoji
The recently launched leagues within the Kahoot! app give learners an engaging and fun way to study together, compete and connect virtually. A league is a virtual group where learners can invite their friends, add kahoots, and follow a joint scoreboard as members are completing games. Now, with the addition of Bitmoji, competition will get an even more social and personal feel. Students' Bitmoji avatars will be displayed in the league lobby, on the scoreboard, and podium.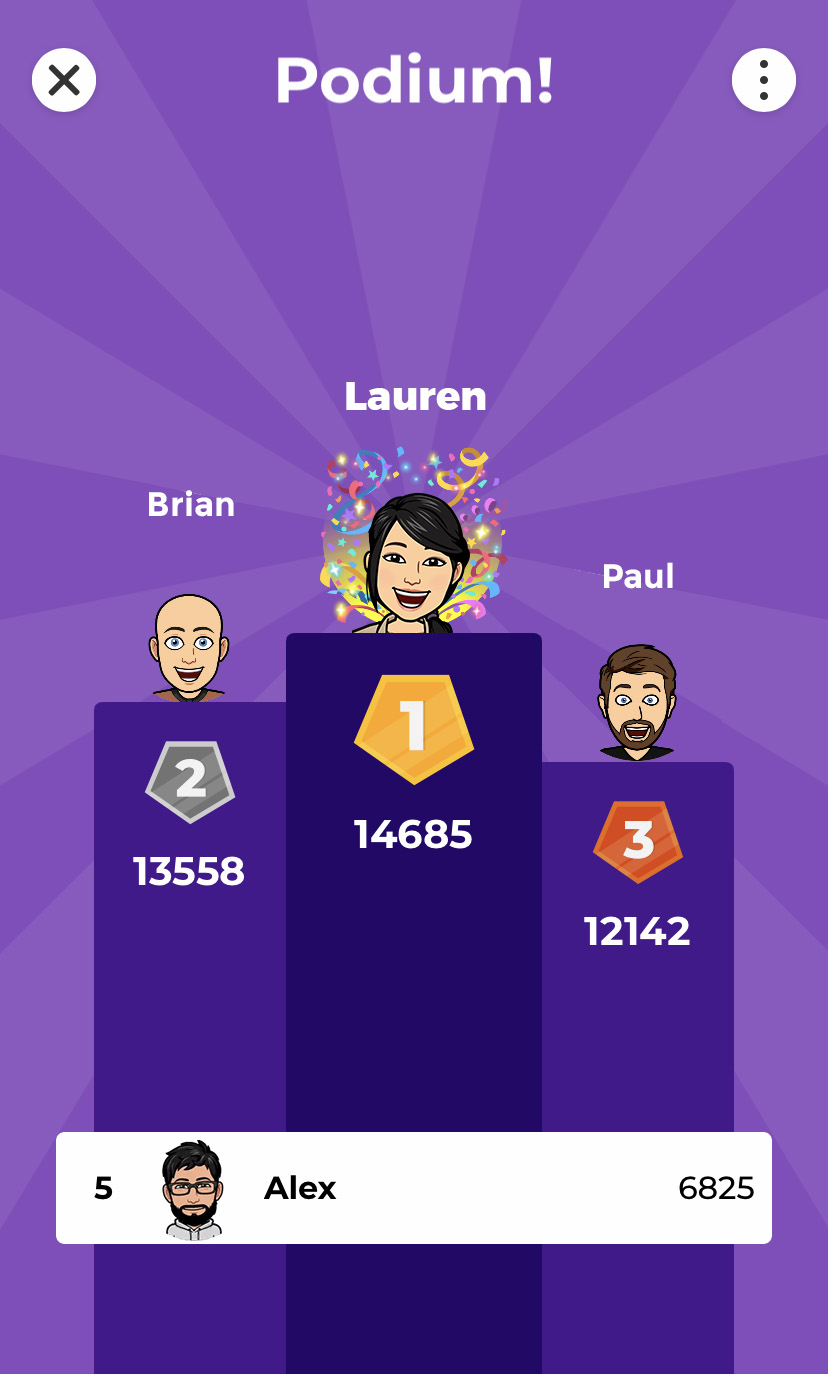 In addition to teachers, Bitmoji support is also available for anyone registered with a Kahoot! account for personal use. Surprise your friends with a Bitmoji in the next kahoot you're playing together!
We'd love to see your Bitmoji in action in virtual classrooms and other settings, so try this new feature today and share your experience by tweeting @getkahoot.