We're deeply committed to making study engaging for students within any learning environment, on their own or together with peers. As the Kahoot! experience is no longer limited to classrooms or school hours, we're proud to see that more and more students choose Kahoot! as their preferred tool to study, review content, prepare for tests and present their assignments. Every year, millions of students around the world sign up for a Kahoot! account to study and learn in a social and engaging way.
To better connect students both at home and in class, and to make studying with peers even more fun, we're announcing study leagues within the Kahoot! app. This new, social way to study increases engagement through friendly competition.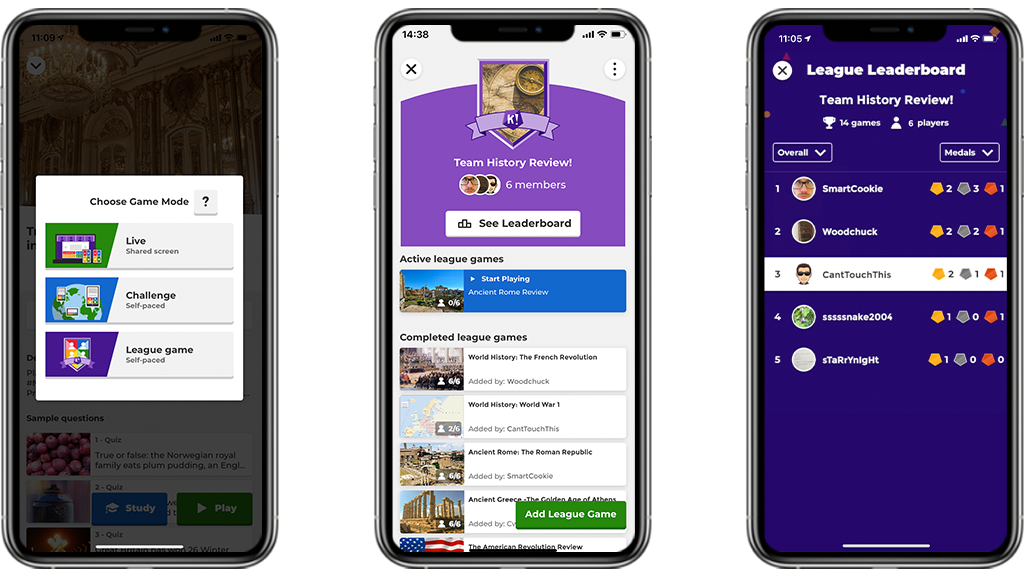 Studying together with peers no matter where they are
Powered by the Kahoot! app for iOS and Android, study leagues foster social learning and reimagine the concept of study groups. Students create leagues with their peers, and select the content they want to play and study together. Members of the league can earn medals and engage in friendly competition by completing the selected kahoots. Through the combined leaderboard within a study league, there is an additional element of motivation for peers to study.
With students being able to create study leagues and participate no matter where they are, this new feature will connect them with their peers in a virtual, social learning experience. The social learning element is particularly relevant now when many schools rely on distance or blended learning.
How students can create and participate in study leagues
To get started with a study league, all students need is the Kahoot! app on their smartphones, tablets or Chromebooks. Students then choose kahoots they'd like to play for studying, decide how and when to invite their peers, and add more kahoots as they go. Any member of a study league can add kahoots, turning content research into a collaborative experience and saves time spent on finding relevant kahoots.
Students can choose from millions of ready-to-play kahoots to add to study leagues, including high-quality content on a wide range of topics from Verified educators within Kahoot! Academy.
A student is able to invite up to 100 peers to each study league, and create as many new leagues as they'd like. This feature is available for free within our app for anyone registered with a student account.
Watch this demo video to see what the experience looks like for students:
Learners take control of their studying process
Alongside the study modes, student-paced challenges and kahoot creation tools within the Kahoot! app, study leagues provide an engaging way to learn new or revisit previously studied material, prepare for tests, and master topics. Students gain full control over their studying process.
This is aligned with our core "learners to leaders" pedagogy and takes it to the next level by empowering students to take ownership of learning and developing new skills in a social learning context.
Share this exciting news with your network and let us know what you think about our new study leagues feature.