Brainstorming helps foster a collaborative environment and culture of innovation where everyone feels heard and valued! It's a fantastic way to bring people together, share knowledge, and solve a company's most pressing issues.
Here at Kahoot!, we love a good brainstorm. Some of our most popular features started as a scribble on a post-it note. Brainstorming at the Kahoot! HQ involved a core set of supplies: pens, colorful post-it notes, a whiteboard, and plenty of caffeine, which often left us with piles of idea-laden paper to sift through!
But then, 2020 arrived.
COVID-19 has completely shaken up the world of work. It's accelerated the evolution of corporate learning and forced us all to adapt to new patterns of life, some of which (like flexible work locations) look set to continue in a post-pandemic world. 
It quickly became apparent that brainstorming over video calls, using a mishmash of traditional methods and hastily typed documents, is far from an engaging experience. That's what led us to reimagine and digitize brainstorming for the new normal of work.
Collect, discuss, and vote on ideas during virtual and in-person meetings 
Our process resulted in a gamified way for teams to collect, discuss, and vote on ideas. It's designed to keep everyone engaged, energized, and involved during virtual and in-person meetings and workshops.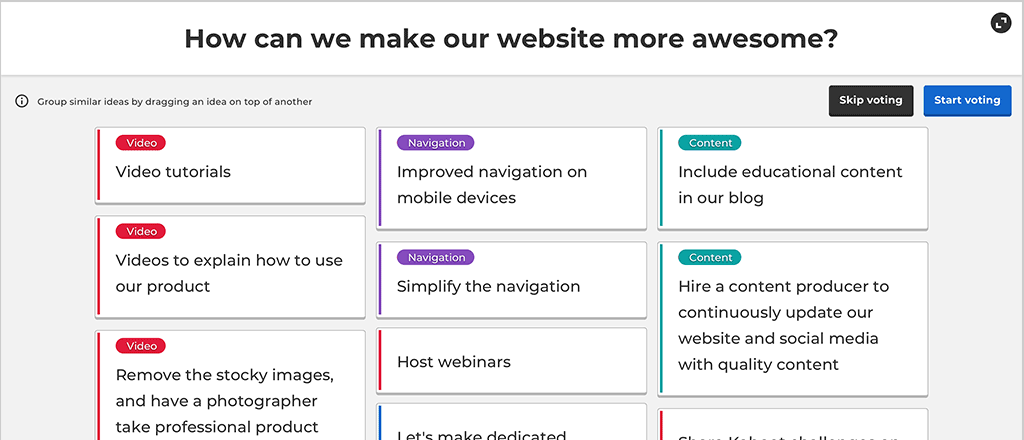 Simply ask a question that kicks off a discussion, and participants can submit up to three ideas. When the ideas are displayed on the shared screen, you can discuss and group similar topics before the participants individually vote for their favorites. Points are awarded based on the number of votes an idea receives. It's a structured, engaging way to share knowledge and ideas in a virtual or in-person setting. For example, it can be used to:

Finalize a product name during an ideation session 

Choose an editorial focus during a marketing meeting

Prioritize feature development during a product workshop 

Gather employee opinions during an all hands 

Facilitate discussions during a training session
We believe this new setup for brainstorming will spark discussions, as every participant has an equal say in the ideation process. Everyone has a voice.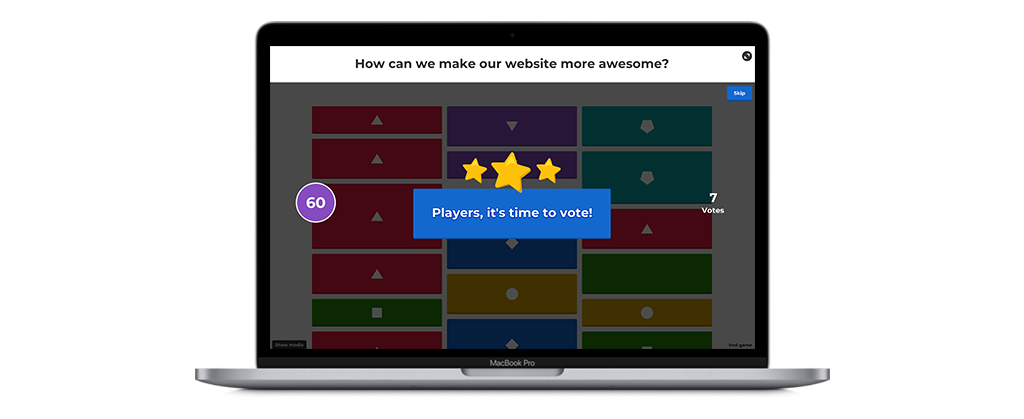 What's more, the voting functionality and discussion time allow the host to identify the best ideas quickly. Every idea is stored in the kahoot report, meaning the host won't have to collect and store mountains of post-it notes during in-person meetings or workshops.
See brainstorm in action! Watch Padraic Woods' session on interactive presentations and meetings at the Kahoot! WorkSummit. Watch on demand.
Brainstorm on the go
Of course, it's not only in meetings where the new brainstorm question type can be used to generate ideas and make every team member feel valued, heard, and involved. With Kahoot!, brainstorms can easily be created on the fly in just a few seconds, letting you quickly gather potential solutions to any blocker that suddenly arises.  
The brainstorm feature is also perfect for longer ideation workshops, both during the main discussion and breakout sessions. The host can present a kahoot to the whole group with slides, quiz questions, polls, and word clouds to provide context to the exercise before using brainstorm to address certain problem areas. In breakout sessions, each group can use a brainstorm to discuss solutions before presenting ideas to the wider group. 
We're excited to see how our community uses brainstorm: From reimagining meetings and solving blockers to sorting the best ideas for a virtual office party, the possibilities are endless. Buy now.