With schools going in and out of closures, "taking the pulse" of the class has become more challenging – yet more important than ever – for all teachers.
Whether you're teaching in class, virtually or across both environments, Kahoot! can help you facilitate frequent and quick pulse-checks, in addition to the academic aspects of formative assessment.
What can pulse-checks help with?
Teachers get really creative when it comes to new ways of using Kahoot! for assessment:
Kahoot is a fun interactive way to review or use for assessments with quick turn around for feedback @GetKahoot Great for in-person or when in remote! #together #pelhamproud pic.twitter.com/N9QGKEOfGZ

— KDay (@Day2DayELA) January 7, 2021
I definitely believe games like Kahoot! are perfect for gauging prior knowledge and would be a great tool for a pre-assessment before beginning a unit. After the challenge, you can export a spreadsheet with data on each question to see what you will need to spend more time on.

— Stacey Buchanan (@StaceyB_teacher) June 29, 2020
Here are some of the most common scenarios where Kahoot! can power up assessment:
Pre-assess existing knowledge. In a recent case study, ESL teacher Eman Alomari said that these insights help her plan future lessons in the best possible way;
Learn about students' expectations in the beginning of a semester, or when meeting a new class;
Check how students feel in the middle of a class – maybe they need some more time with a topic?
Open up for feedback in the end of a class, both when it comes to content and teaching. In a recent interview, AP Spanish and history teacher Gustavo Lovato said he was using kahoots as exit tickets in times of distance learning to see how much students learned every day;
Find out how students are doing in general: assessing and supporting their wellbeing is more important than ever. For inspiration, have a look at these kahoots from the social and emotional learning collection (SEL) by Kahoot! Academy.
How to use various Kahoot! questions for pulse-checks
Since students are using their nicknames to answer Kahoot! questions, it lowers the threshold for active participation. Depending on what the question is about, you can choose to open up for discussion, or review feedback on your own by looking at a report. Here's how you can use various question types for pulse-checks:
Multiple-choice quiz
This question type, available for free for all teachers, can help to pre-assess knowledge or check how confident the class feels about material by the end of the lesson.
Add a few pulse-check questions into any kahoot, or create a dedicated game only focused on this kind of assessment.
Keep answer alternatives clear and concise.
Make sure to turn off the points for this question. Toggle timer if you'd like to give students more time to think.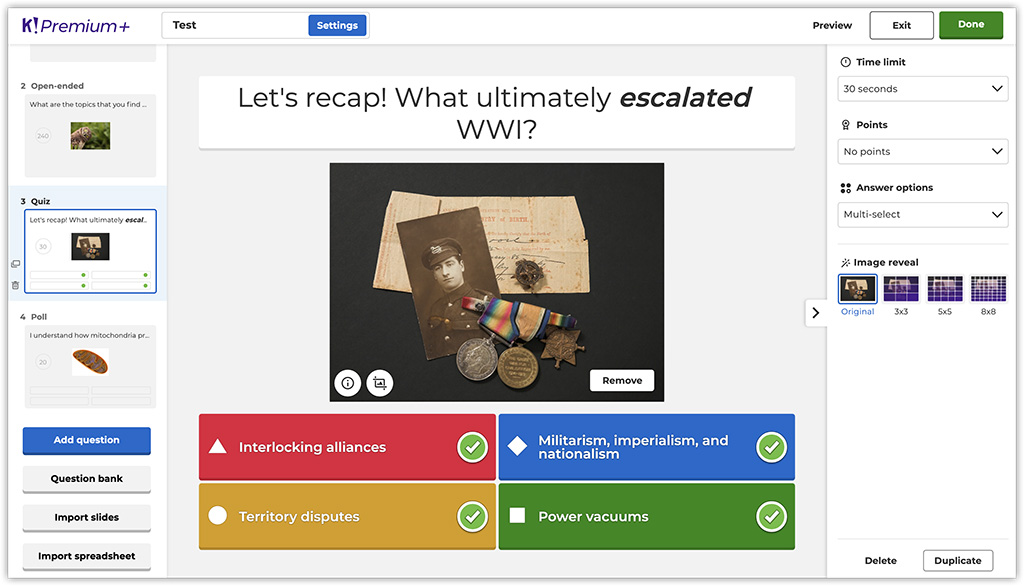 Poll
Adding poll questions to your kahoot will give you an easy way to gauge student feedback in real time. For example, you can use it as an icebreaker in the beginning of a class to assess expectations, or check in a few times during a class to see if you need to adjust instruction. Here are a few tips to optimize your poll question:
Keep it simple. Rather than asking one complex question, break it down into several shorter ones.
Don't use words that would lead students to picking a specific answer.
Avoid ambiguity in answer alternatives. To keep things simple, you can add statements and ask students if they agree or disagree.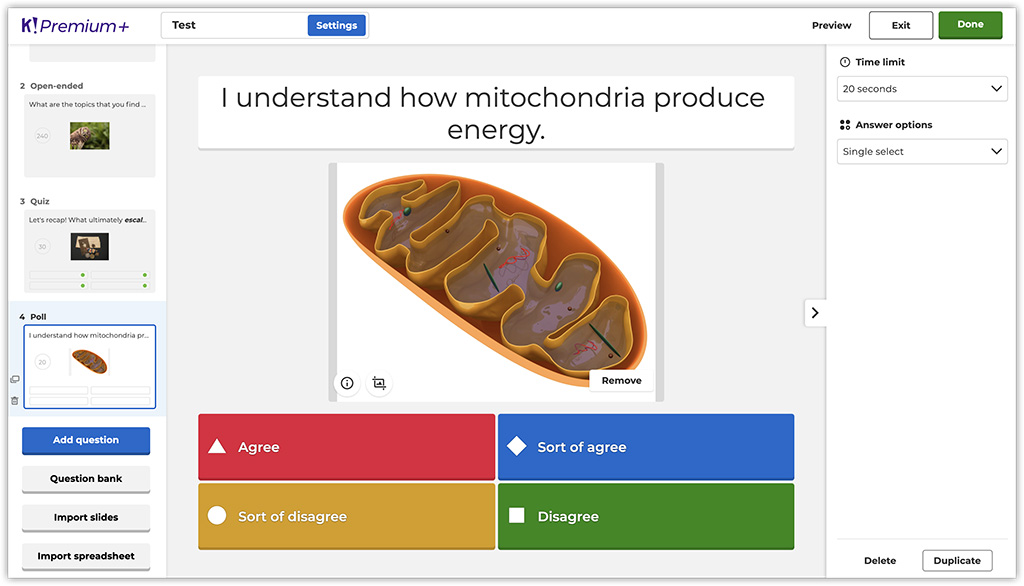 This question type is available in Kahoot! Pro, Premium,Premium+ and Kahoot! EDU.
Word cloud and open-ended questions
Word cloud and open-ended questions, two question available in Kahoot! EDU, our solution for schools and districts, are a great way to give each student a voice and get more granular in your pulse-check. In a word cloud question, students can submit answers up to 20 characters, and answers are displayed on a shared screen. For example, you can use this question type to check the mood of your class before you dive into teaching.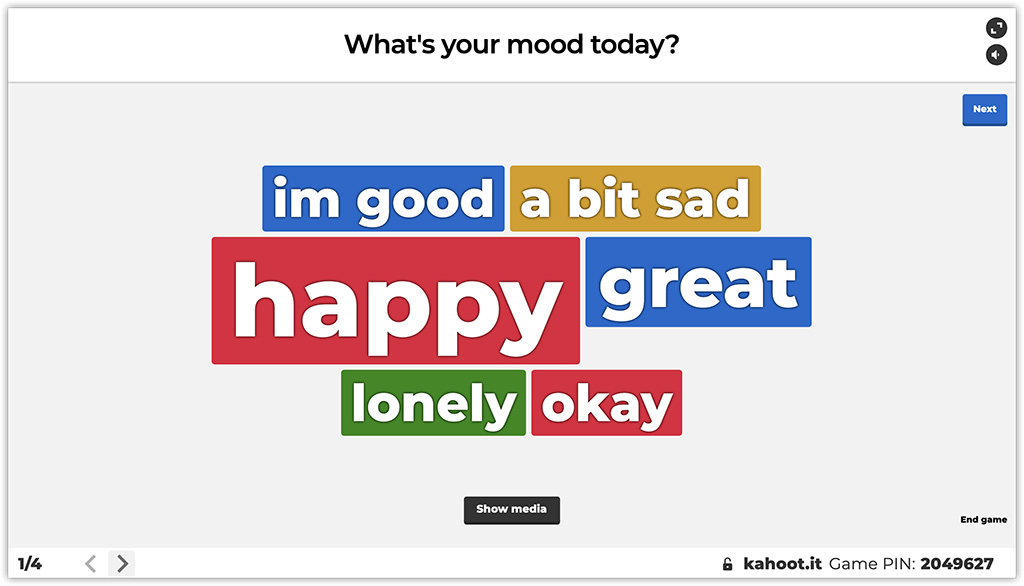 In an open-ended question, a freeform answer can be up to 250 characters which allows you to collect more in-depth feedback. In addition to asking this question in class, you can add it to a student-paced challenge so learners can take their time answering it.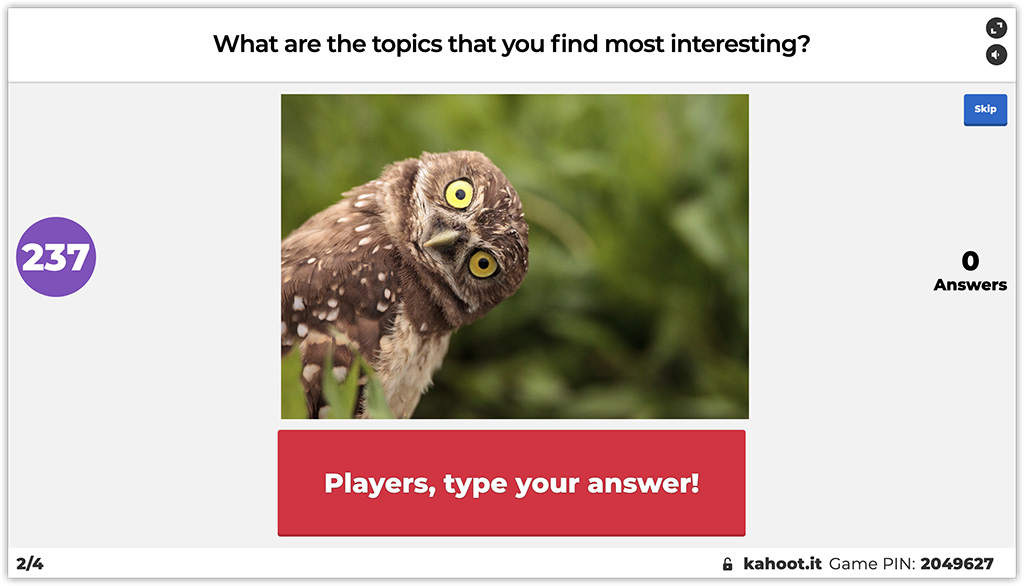 With the various Kahoot! question options you are able to pulse-check your students in a creative and engaging way, both in class and virtually.
How do you run pulse-checks in your class? Do you have examples of Kahoot! questions that help you with that? We'd love to read about your experience on Twitter!