Since launching in December 2020, brainstorm has provided teams with an intuitive way to collect, discuss, and vote on ideas during remote meetings, workshops, and strategy sessions. By energizing teams and giving everyone a voice, brainstorm breaks down digital barriers, facilitates deeper discussions, and enables distributed teams to share knowledge and plan for success. Importantly, the tool also helps innovation flourish: Thanks to a structured format, conversations and ideas flow organically – ensuring great ideas are easily surfaced! 
We're delighted to announce that we've further improved the experience: brainstorm now automatically adapts to the size of your audience! From today, you can use brainstorm to quickly crowdsource ideas from large audiences at events as well as spark discussions among small groups during meetings and workshops.
New to brainstorming with Kahoot!? Watch this recap!
Spark discussions and surface great ideas in meetings and workshops
Brainstorm creates an environment where everyone feels valued, heard, and involved in meetings and workshops. It keeps small groups energized and engaged through structured gameplay that enables you to easily identify great ideas and turn them into actionable tasks. It's perfect for in-person and remote meetings and workshops with small groups as everyone has a say in the ideation process. In addition to being available with Kahoot! 360 Pro, brainstorm for meetings is now available with Kahoot! 360 Plus!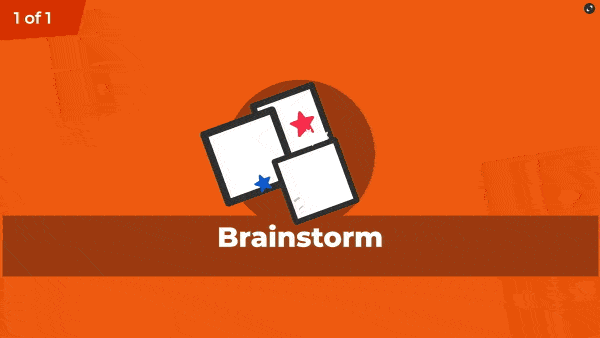 How to host awesome remote meetings and workshops with brainstorm! 
Share a question that kick-starts a discussion

Get participants to submit up to three ideas
Discuss the ideas when they appear on the shared screen and group similar topics

Ask participants to vote for their favorites individually

View the ideas with the most votes and discuss how to action them

Revisit and share outcomes with stakeholders after the session
Kahoot! tip: As well as collecting ideas with brainstorm, include audience participation features like polls, word clouds, and open-ended questions in your kahoot to gather opinions and feedback. 
Community spotlight: How 2Park Technologies improves strategy sessions with brainstorm
"I was amazed by how effective the tool was because we were sitting in our home offices, and we were able to have very, very good discussions. Everyone was heard, and everyone had a voice. It was more effective than normal, despite us meeting remotely. We could decide on very important strategies for next year," said Christer Halvorsen, Revenue Manager at 2Park Technologies, on using brainstorm during a remote strategy session. 
Read an in-depth case study on how 2Park Technologies identify quality leads and improve internal strategy sessions with Kahoot!.
Quickly crowdsource ideas from large audiences
As well as sparking discussions in small groups, brainstorm is now optimized to harness the power of large audiences! You can quickly crowdsource ideas from hundreds of participants and review the large volume of output in an easy-to-navigate report. This update makes brainstorm ready-made for in-person and virtual events and conferences. 
Tailor the number of ideas to keep everyone energized
To help brainstorms with large audiences maintain maximum momentum, the number of ideas a participant can submit automatically adapts to the size of your audience. This saves you time while still surfacing a large volume of great ideas that can be discussed during the event and revisited afterward in the report.
When brainstorming with over 500 participants, everyone submits one idea, while participants each submit two ideas in an audience of 333 to 500 people. When presenting to an audience of up to 333, participants can submit up to three ideas each. Brainstorm for events is available with Kahoot! 360 Pro.
Quickly identify key topics
When the submitted ideas appear on the shared screen, ideas are automatically grouped based on similar themes. This helps the host quickly identify the key themes instead of sifting through hundreds of ideas, meaning they can address the most common topics instead of focusing on outliers. Hosts can also group similar ideas by dragging an idea on top of another. Participants then vote for the group rather than the individual ideas. This is possible with both small and large audiences. 
Coming soon: large-scale voting
Currently, participants have the chance to vote for every idea that gets submitted. However, in the near future, ideas will be distributed equally to ensure every idea is seen by the same number of participants when brainstorming with large audiences.  
With the latest update to brainstorm, you can now quickly surface great ideas in a wide-range of settings! From facilitating in-depth discussions during meetings to quickly gathering and storing hundreds of ideas at events, brainstorm opens up a brand-new way to kahoot. 
Get started today and see how brainstorm energizes groups in meetings and events. See plans.