Did you know that in addition to multiple-choice quiz and other interactive questions, you can also add slides to your kahoots? This means you can create and teach an entire interactive lesson!
When some of your students or everyone in class connects from home, it's more relevant than ever to be able to teach and engage without having to switch between multiple tools. To enhance Kahoot!'s virtual learning toolkit, we've now made slides available for free for all K-12 teachers and students!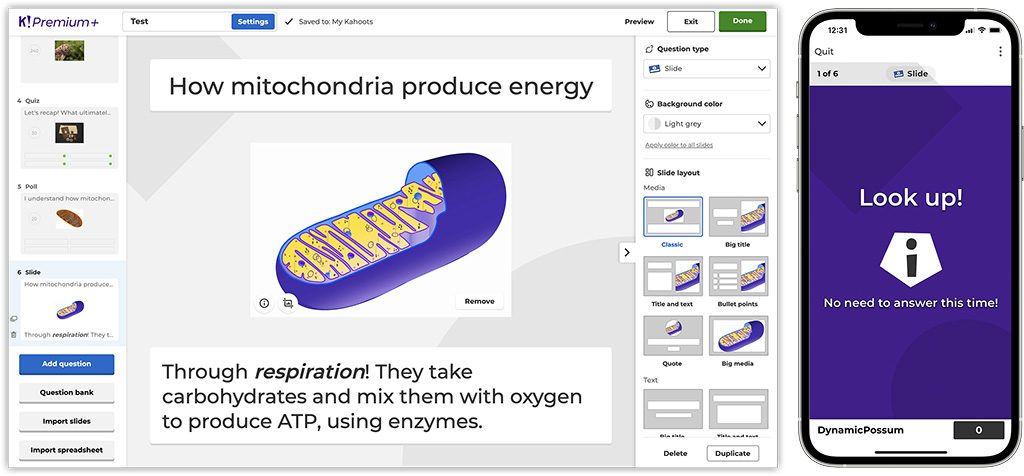 5 ways to use free slides in your kahoots
With a free teacher account, you get access to classic slides. In this layout, you can add a short headline, an image and a short explanatory text under it. Here's where slides can come in particularly handy:
Introduce a new topic
In the beginning of your kahoot, add one or two slides with some key points introducing new content so students have a better idea of what to expect in this lesson.
Provide additional context for the next question
Throughout your kahoot, you can add slides with any information students might need to answer the next question. For example, our ambassador Steve Auslander uses slides to incorporate short reading assignments in this kahoots:
"A slide instructs my students to turn to a certain page in their textbook. There is no timer so when they are done reading, we continue with several questions about the reading."
Explain the correct answer to the previous question
After a question, you can use a slide to explain why a specific answer was correct. For example, it can be particularly useful for explaining solutions to math problems.
Recap on the key points
In the end of your kahoot, a slide can help you sum up the key points. According to university instructor Bailey Betik, slides work great for a recap in her literature lectures:
"I use slides as checkpoints for topics we've just covered, as a way for students to recap and self-assess their understanding."
Get students focused
At any point in your kahoot, a slide is a great way to change up the pace of the lesson and get students focused. And it seems students like slides, too!
"Slides are super fun because you get to learn and read and put it all together with Kahoot!", said Avery, a student in one of the classes of our ambassador Steve Auslander.
Watch this video tutorial to see how you can create slides in Kahoot!:

Get more creative with advanced slide layouts
By upgrading your teacher account to one of these plans, you can unlock advanced slide layouts which will help you get even more creative with your learning content. For example, you can add lists with bullet-points, quotes, full-screen videos, and more when creating kahoots in your browser or in the Kahoot! app. If you're creating a kahoot on your computer, you can find slide layout options in the right-hand side panel:
Here, you can also change background colors of your slides for additional customization.
If you've already upgraded to Kahoot! Pro or another subscription, you'll get automatic access to this new feature.
Practical tips to make Kahoot! slides more engaging
For an engaging and dynamic learning experience with slides, keep the following recommendations in mind:
Try to avoid adding more than 3 slides in a row: keep a balance between interactive questions and slide content in your kahoot.
Keep the text concise: focus on the key information and make sure it's easy for students to scan visually.
Increase engagement with images or video: they work great to illustrate or emphasize the key points and get students' attention!
Slides are already available in your teacher account! Try this feature and tell us about the teachable moments it helped you create in class or virtually. We're looking forward to reading your feedback on Twitter – tag @GetKahoot in your post!