On our mission to make learning awesome, we aim to empower learners to unlock their full potential, regardless of age, background or native language. Kahoot! is already being played in all countries of the world – that's global learning unleashed!
As part of our strategy to make Kahoot! even more accessible, relevant and intuitive for our global community, particularly for young learners, we're continuously working on adding support for more languages in the user interface of our products.
Now, with the addition of German and Italian to the Kahoot! app, it's available in 7 languages! Recently, we added support for Spanish, French, Brazilian Portuguese, and Norwegian, in addition to English.
Just in the last 12 months, we've seen 50 million participating players in Germany and German-speaking regions (DACH) and Italy, including school students, educators, and company employees. We hope that support for these languages in our app will help bring the magic of learning with Kahoot! to even more people!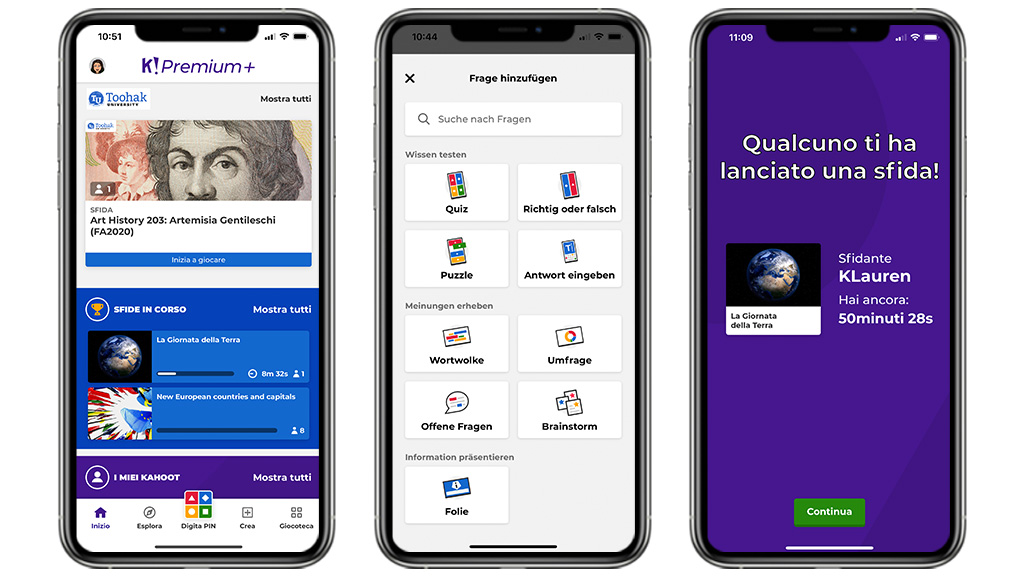 More accessible and inclusive learning for students of any age
Using the Kahoot! app interface in their native language will make it easier for young learners to participate in live games and student-paced challenges, use study modes, and complete the steps of kahoot creation, no matter learners' age, grade level or knowledge of English.
Remember that you can create kahoots in any language both in our web version and in the app! Or, you can select a relevant language in the Filters when searching for ready-to-play kahoots created by our community.
Make learning awesome for your entire family – including its youngest members!
Kahoot!+, our newest offering that makes learning awesome for families, is made available in German and Italian, too! Now, you can engage even the youngest family members in their native language. In addition to advanced Kahoot! features, Kahoot!+ also includes several learning apps for kids from the age of 3:
Introduce kids to math and algebra with Kahoot! DragonBox Numbers, Big Numbers, Algebra 5+ and Algebra 12+, and help them learn to read with Kahoot! Poio Read.
How to switch the language in the Kahoot! app
Update the app to the latest version, or download it on your iOS or Android device if you haven't installed it before.
If your device language is set to one of our supported languages, the app will switch to the respective language automatically.
If your device language is different, tap the profile icon within the app.
From your profile page, tap the cog icon to open settings.
Select your language from the Language dropdown.
Update the Kahoot! app to the latest version and try it in your native language. Spread the word to your students, colleagues and friends so they update to the latest version with new languages, too!